How is Casein Extracted from Milk?
Casein is a protein that is found in milk, and it can be extracted for use in a number of different applications. Along with use in a number of nutritional products, it can also be used as an ingredient in a number of items, including resin products. The process for extracting casein from milk will vary somewhat, depending on the reason for the extraction, but there are several elements to the extraction process that apply in just about every case.
Extracting this protein always begins with the refining process for whole milk. Just as whole milk goes through a process to separate the cream, the casein will also be separated by the use of filtering agents and various churning methods that allow the fat to rise to the top. Once the milk has been separated, the salt caseinate and calcium caseinate enzymes are retained in the skimmed milk. Removing the fat before attempting to extract the protein from the milk product greatly simplifies the process.
In order to remove the casein from the skimmed milk, the product goes through a process known as precipitation. Essentially, the skimmed milk is heated under strictly controlled conditions. As the heating takes place, the protein content begins to shrink and expel moisture. The result of this action is known as whey. At the same time, this process creates milk curd that is clumped with the whey.
The next step involves separating the whey from the curd. After the separation, the curd is subjected to pressure to further remove the water content. When the moisture content is reduced to an acceptable level, the curd is dried using a hot air system. Alternating heating and cooling then takes place until the substance is a combination of various size particles. These particles or grains contain the extracted milk protein.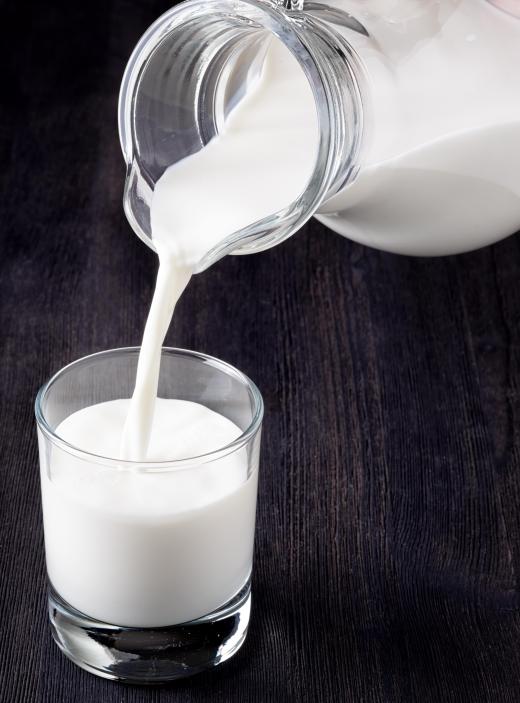 After the particles are dried, the will be milled and sifted according to size. The casein can then be packaged and sold to different manufactures for use in a wide range of products. It is usually sold in textures that are defined as coarse, medium, and fine.
AS FEATURED ON:
AS FEATURED ON:








By: lculig

Casein is sold in powder form as a nutritional supplement.

Jug of whey.

By: efired

One cup of milk supplies roughly 25% of the daily recommended calcium intake for adults.

By: ArenaCreative

Some bodybuilders supplement their diets with casein protein.