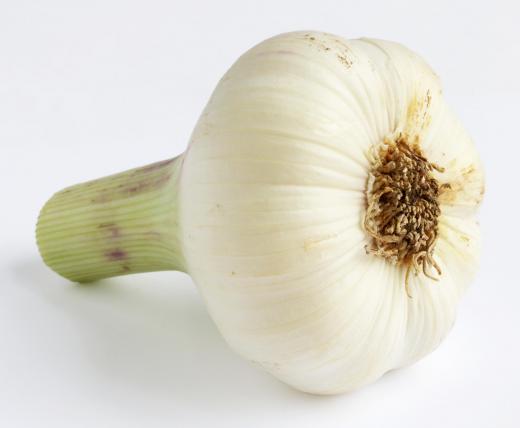 Garlic fingers are created from the same type of dough as pizza, and are usually made with melted butter, garlic, and various types of cheeses. Originally an Atlantic Canadian dish, garlic fingers are much like pizza because the pie is round and is the same size as a pizza pie typically is. Unlike pizza, however, this dish is cut into long strips instead of triangular slices. Various dipping sauces can be used for the fingers, as well.
The dough used to make garlic fingers is the same type of dough used for pizza and contains flour, salt, and baking powder. Toppings normally include butter, garlic, and melted cheeses. Other toppings such as dill, parsley, vegetables, and bacon can also be added to the pie. Although marinara sauce is not usually included in the garlic finger recipe, the long strips or "fingers" are often dipped into marinara sauce when served. Garlic fingers are often served with pizza or other Italian dishes.
Although this dish is eaten all around the world, it is quite popular in Wisconsin. Garlic fingers are sometimes referred to as pizza fries, especially in the United States and Canada. Similar to both pizza and breadsticks, this dish can be prepared in a variety of different ways. The pie can include many types of cheeses such as mozzarella, sharp cheddar, and goat cheese, or may not include cheese at all as a topping. When cheese is not incorporated into the pie, the fingers are normally just made with fresh garlic and butter.
Marinara or tomato sauce is the most popular dipping condiment for garlic fingers, but there are other sauces that can be used. Many people enjoy dipping the fingers in ranch dressing, garlic sauce, or hot salsa. If the fingers are not topped with cheese, they are sometimes dipped into cheese or cream-based dips. Many prefer to eat the garlic strips without sauce or dip, as well.
Garlic fingers can be found as a menu item in many restaurants in the United States and Canada. It is common for restaurants to serve pizza and breadsticks, as well as garlic strips. The fingers can also be found in the frozen foods section of many grocery stores and markets. Many people prefer to make their own garlic fingers at home, which can be both cheaper and healthier than buying them at the store or eating them in restaurants.


By: tospark

Head of garlic.

By: yellowj

Melted cheese may be used on garlic fingers.

By: adisa

Garlic fingers can be found in the frozen foods section of many grocery stores and markets.