Lentil burgers are patties made from cooked lentils that are eventually fried or baked to give the appearance and texture of a beef hamburger. Although there are vegetarian recipes for lentil burgers, there are just as many recipes that are not specifically vegetarian and instead are designed for people who enjoy the low glycemic index of lentils, the taste and the nutrients they provide. There are two main ways that the patties are formed, the first relying solely on the moisture of the ground lentils to stick together. The second method uses eggs or another binder to hold the lentils in a patty shape. Just like a beef hamburger, lentil burgers can be flavored with fried onions and spices such as cumin or filled with cheese.
The lentils used to make lentil burgers first need to be softened. They can be soaked for a few hours in water or stock, sometimes with onions or other flavorings in the water. Similarly, lentils can be softened in boiling water with some spices or ingredients such as bacon that can enhance the flavor of the lentils when formed into lentil burgers. Canned or prepared lentils also can be used, although special attention needs to be paid to the type of liquid in which they are packed and any additional ingredients the manufacturers might have added, including salt.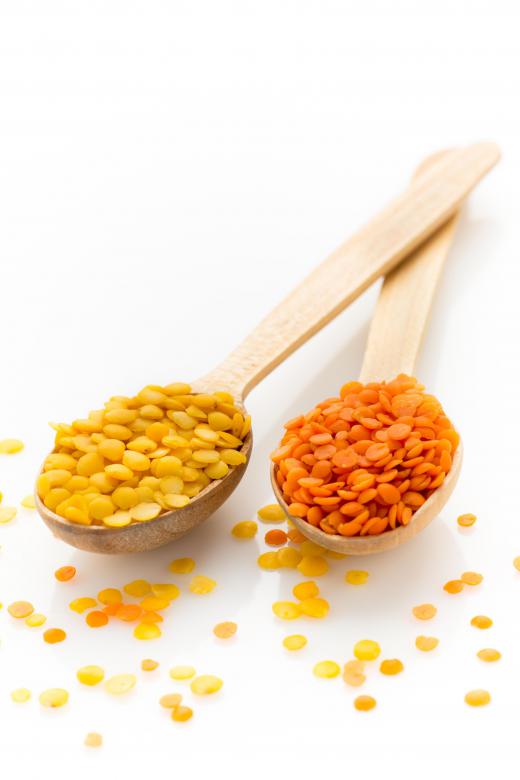 There are a few common ingredients that are added to lentil burgers to ensure that they form patties and maintain their shape and texture while cooking. Breadcrumbs are often used, because they will absorb moisture, keep the inside of the patty warm and help tie together the individual lentils. Whole eggs or egg yolks are sometimes added to the mixture to thicken the texture and create strong adhesion between the lentils, allowing them to endure less delicate handling. Other ingredients that are added can include onions, walnuts, peppers, olives or even other grains — such as quinoa — which can add even more protein to the burger.
Once all the ingredients are mixed with the lentils, everything is placed in a food processor or blender and pulsed until roughly combined. The texture of the final batter should not be smooth or too fluid, and whole lentils should still be visible. The thick batter can then be formed into patties that can be fried, grilled or baked. In some instances, lentil burgers are refrigerated or partially frozen so a crust will form on the outside and maintain their shape as they are cooked.
AS FEATURED ON:
AS FEATURED ON:








By: gitusik

Lentils can be crushed and used to make patties.

By: GraphicCompressor

Grilling works well for cooking lentil burgers.