What are Some Crepe Fillings?
Crepes are thin, usually flour, pancakes, originating in France. Crepe fillings can be of almost any sort, but generally fall into either a sweet or a savory category. Traditional fillings are sweet, and in Brittany, where they originated, they are served with a traditional cider. Crepes that use savory fillings are often referred to as meal crepes, and can contain virtually anything you can imagine eating in a wrap of any sort. Dessert crepes are usually made with wheat and a little bit of sugar, while meal crepes usually use buckwheat instead, and no sugar.
Jam is one of the more popular fillings for dessert crepes, and may be any sort of fruit jam or sauce. Strawberry jam is particularly popular, especially when combined with fresh strawberries and a whipped cream. This sort of crepe is often dusted with a light layer of powdered sugar, as well, to make it even more sweet.
Nutella® is also a very popular filling for dessert crepes. Nutella® is an Italian hazelnut spread that was developed during World War II to deal with a shortage of chocolate. It contains a relatively small amount of chocolate, with hazelnut as the main base. Nutella® can also be found in crepes made in Paris and sold on the streets, often out of small crepe kiosks lined with Nutella® jars to advertise. This type of crepe often includes sliced bananas as well, and may be sprinkled with powdered sugar.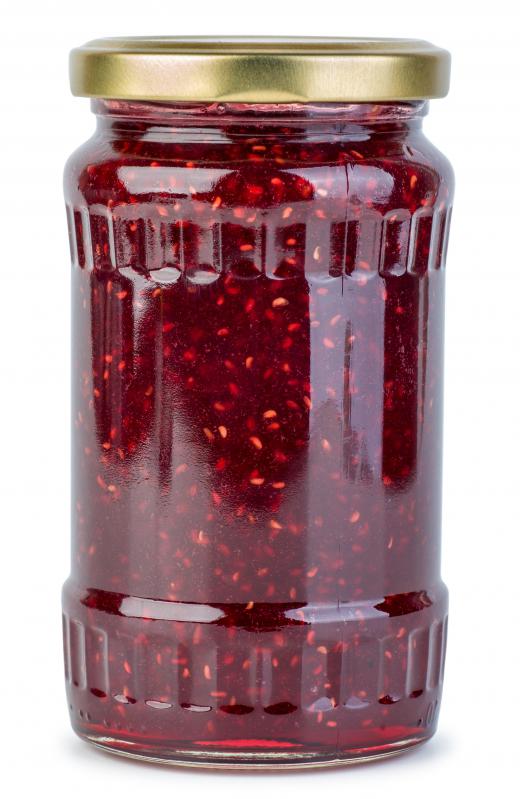 Other dessert crepe fillings include actual chocolate, whipped cream or just straight cream, nuts such as hazelnuts and almonds, cinnamon, blueberries, raspberries, strawberries, huckleberries, pineapple, mango, papaya, peaches, apples, nectarines, ice cream, maple syrup, agave, lemon, nutmeg, and all different sorts of sugar. Almost anything sweet that can be thought of to add to a dessert can be used, usually either in a semi-liquid form or else sliced thinly, to complement the delicate nature of the crepe itself.
Very popular meal crepe fillings include meats and cheeses, making them into almost sandwich-like wraps. One popular crepe uses prosciutto, an incredibly thinly-sliced smoked ham, and a tangy cheddar, also thinly sliced. This makes for a rich savory flavor blended with the sharpness of the cheese, that can be served either as a lunch food or as a more savory breakfast.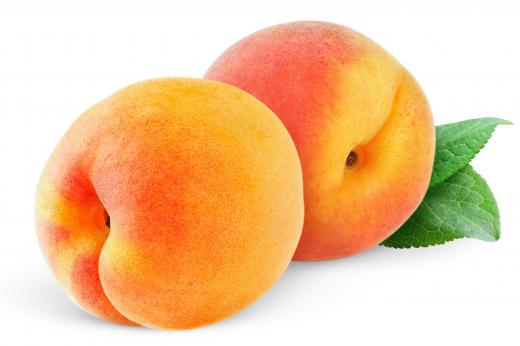 Mushrooms and cheese are also popular meal crepe fillings, and can create almost an omelet-like food, with the dough of the acting the part of the eggs. Artichokes, broccoli, asparagus, and eggplant are also used in crepes for lunch or dinner, and almost any vegetable of decent substance may be used, although those with more savory flavors tend to be preferred. Greens are not often used, although occasionally one will see more hearty greens like collards or kale.
AS FEATURED ON:
AS FEATURED ON:








Dragonfruit can be used as a crepe filling.

By: Roman Ivaschenko

Jam makes a good filling for crepes.

By: Liv Friis-larsen

Nutella is a very popular crepe filling.

By: Anna Kucherova

Sliced peaches can make a sweet crepe filling.

By: razmarinka

Rich Mexican chocolate and cinnamon combine for a decadent crepe filling.

By: tashka2000

Papaya can be used in a dessert crepe.

By: volff

Mango can be used in a dessert crepe.

By: silencefoto

Kale is sometimes an ingredient in crepes.

By: margo555

Huckleberries.

By: Elenathewise

Almonds, which are often used as a crepe filling.

By: gtranquillity

Whipped cream can be used as a sweet crepe filling.

By: WimL

Asparagus is included in savory crepes.

Sliced prosciutto can be used to make savory crepes.

By: daffodilred

Mushrooms are frequently used as crepe fillings.

By: Okea

Pineapples are used as desert crepe fillings.

By: giotti52

Strawberries are commonly used as desert crepe fillings.

By: mitrs3

Applesauce may be used a crepe filling.