What Is a Chocolate Crepe?
A crepe is a thin, circular pancake that is usually made from wheat or buckwheat flour. Batter is evenly poured into a hot pan or plate and then flipped with a spatula until cooked. A chocolate crepe is simply a pancake that has been filled with melted chocolate. Sometimes other ingredients are included in with the chocolate, such as fruit, syrup or cream. The pancake is then flipped over and sealed to cover the chocolate filling.
Preparing and cooking a chocolate crepe is a relatively easy task, but it can take up to an hour and fifteen minutes to complete. The pancake batter is first mixed in a food processor until it is smooth in consistency. The mixture is then refrigerated for about an hour. While the batter is cooling, the chocolate is melted in a pan and sometimes mixed with other ingredients such as cream cheese and sugar. The filling is set aside and kept warm while the pancake is made.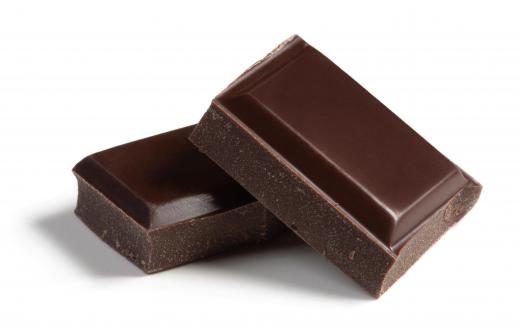 A small amount of batter is poured in the middle of the pan and the pan is then tilted so that the batter covers the entire bottom surface. The pancake is then flipped and cooked for a few seconds longer until dry, and then removed and placed on a rack. Another amount of batter is poured into the pan and the process is repeated. The crepes are stacked, using grease paper as dividers between them so they do not stick together.
Once the pancakes are completed, the chocolate filling is spooned into the center of each. At this point the chocolate crepe can be topped with cream or fudge sauce, or basically any other topping that the cook desires. The crepes are then carefully rolled up, or simply flapped over once so that they loosely cover the chocolate filling. Melted chocolate and other ingredients are typically poured over the top of the crepe to finish the presentation.
Crepe, from the Latin word crispa, meaning "curled," originates from Brittany, France, and is considered to be the French national dish. They can also be filled with a number of other ingredients, including eggs, cheese, and meats, and can be served for breakfast, lunch and dinner. Crepes are known by a variety of names and can be found throughout the world. A chocolate crepe can also be made by simply mixing the melted chocolate into the batter, and flavoring the crepe in that way.
AS FEATURED ON:
AS FEATURED ON:








By: Andris T

Chocolate can be melted and used to fill crepes.

By: Vidady

Flour from the buckwheat plant is often used to make crepes.

By: Liv Friis-larsen

Nutella is a very popular crepe filling.