What is an Oil Substitute?
Cooking oil of any type is especially helpful in baked goods, since it helps to bind ingredients together and keeps baked goods moist. But for those of us interested in lowering calories or cholesterol in the diet, using too much cooking oil can be unattractive. Of course you can use switch to oils high in monounsaturated fats (good fats). For instance, choosing canola oil over vegetable oil will lower saturated fat in your diet.
An oil substitute can also be another substance that will have some of the binding and moistening properties of oil, without any fat. For baked goods, the most popular oil substitute is applesauce. It doesn't have much flavor and can easily make muffins, cakes, pancakes, or brownies, to name just a few, lower in fat but still moist and delicious. The guideline for using this substitute is to first and foremost, use unsweetened applesauce. Instead of adding oil, use applesauce in one-half the amount of the oil called for in the recipe. Applesauce can also be a substitute for butter or margarine in most baked goods, except for piecrust and pastry.
Just about any fruit puree will make an acceptable oil substitute in baking. Bananas don't even need to be cooked and you can make excellent banana bread without using any type of oil or shortening. Bear in mind that fruit with a strong flavor may be detected. This is why applesauce is often preferred. Furthermore, applesauce contains a fair amount of pectin, which can help keep baked goods firm.
There are certain winter squash variants that make a good oil substitute. Pumpkin, especially from sugar pumpkins is probably the best of these. Mashed sweet potatoes may work too. These may have a stronger flavor in certain baked goods, but in baked items with lots of other strong flavors, pumpkin may not be quite as detectable.
Another oil substitute alternative is called thick water. This is a combination of cornstarch and water, which is heated to a certain thickness degree and then cooled before using. It can impart firmness and retain a certain amount of moisture, and it may be a better substitute for things like salad dressings, where what you're really looking for is to add thickness. Alternately, you may be able to use skim milk in place of oil in certain recipes.
Cooking spray may be used as an oil substitute though it does contain a certain amount of oil. However, it is usually a very low amount, and will keep things from sticking. Non-stick cookware can also help you lower oil in any goods that needed to be cooked on a stovetop or baked in a pan. Another excellent emulsifying ingredient is soy lecithin, which you can find in refrigerator sections of natural foods stores.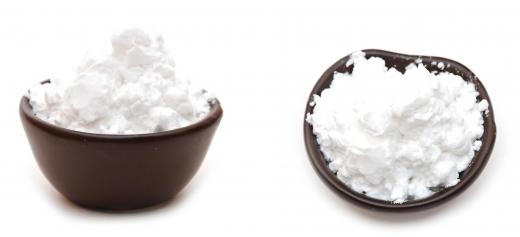 It's a common misconception that a diet should be completely or as near as possibly fat free. This is not true, and if you're trying to lose weight, don't cut all oil from your diet. Oil helps us absorb fat-soluble vitamins and boosts the nutritional content of food we eat. A little oil on a salad actually makes the salad more nutritious. The goal is moderation and choosing lower fat oils with good types of cholesterol. Keep track of what a serving size really is, and add oil in lower amounts. When you do want to splurge by eating a baked good, chances are you don't need the extra oil and can use an oil substitute instead.
AS FEATURED ON:
AS FEATURED ON:








Cooking oils.

By: chris32m

Glasses of skim milk, which can sometimes be substituted for oil.

By: rimglow

Applesauce.

By: vadim yerofeyev

Cornstarch, which can be mixed with water to make an oil substitute.

By: Nikolai Sorokin

Bananas can be used as an oil substitute.

By: mustafa_dastekin

An oil substitue can be used to make brownies.

By: branex

Widely viewed as one of the healthiest types of cooking oil, canola oil is low in saturated fats.