Beekeeping and agriculture have a storied marriage dating back a half-dozen millennia or more. In France, with a particular affinity for bees and their byproduct, most every municipality produces a slightly distinct honey based entirely on the most prevalent flowers in each region. Many areas produce several types of honey — a few multi-floral blends from free-roving bees and many others from beehives confined to a certain type of flower.
Some prize a particular French honey for strictly culinary purposes. Honeys from a long list of individual flowers are produced, made from hives used by dedicated flower farmers or greenhouse operations. The honey will be extracted from a hive before it is moved to another crop of flowers, producing honeys with particular notes of flavor and color. Chefs might use, for example, a carrot honey instead of sugar to sweeten the frosting of a carrot cake. Recipes may call for an herb like rosemary or orange zest as well as sugar, which could be accommodated with a rosemary honey or an orange blossom honey.
While a French chef is thinking of culinary uses, others may focus their French honey purchases on bees using flowers with reputed health benefits. Many a French honey is derived from medicinal flowers that are commonly used as alternative or complementary medicines. For instance, eucalyptus or lavender plants are natural antihistamines, so honeys made from eucalyptus or lavender flowers are reputed to help ease congestion and lessen the pain of a sore throat. Different flowers may have been used for generations as folk remedies to ease symptoms or fight disease for many types of disorders.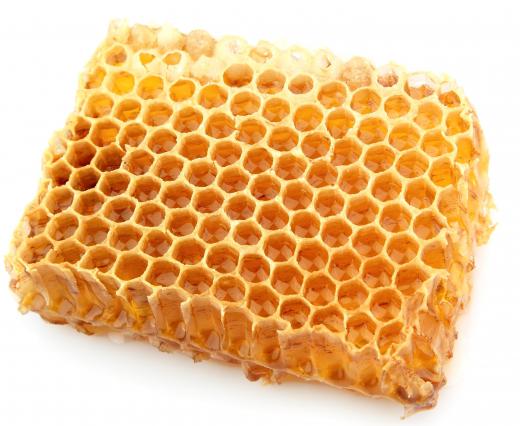 French culinary author David Lebovitz notes various medicinal uses for French honey. Honey made from heather, Lebovitz states, is regularly used to treat urinary tract infections. The plentiful French wildflower aubepine is hailed by herbalists for creating a honey with relaxing qualities. A long list of flowers with potentially medicinal qualities is available online from the University of Washington's Medicinal Herb Garden, an illustrated database.
According to the Honey Traveler Web site, at least 42 types of flowers contributed to their own type of French honey at the beginning of the 21st century. Some, like alfalfa honey and ivy honey, have subtle tones of flavor and color, while others like blackberry, buckwheat or lemon honey are easily distinguishable by taste and even color. As the climates and topography change from region to region, so too do the types of flowers that grow and contribute to each distinctive local, multi-flower honey.
AS FEATURED ON:
AS FEATURED ON:








French honey.

Piece of a honeycomb with French honey.

By: Steve Oehlenschlager

French bees produce honey with varying flavors based on the prevalent flowers of each region.

By: monticellllo

Many people use French honey strictly for culinary purposes.