15 Best Pots and Pans for Glass Top Stove
Choosing the best pots and pans for a glass top stove is crucial for both cooking performance and surface care. Look for flat-bottomed, non-abrasive cookware that distributes heat evenly. What materials have you found to work best on your glass top stove?
With their sleek appearance and easy-to-clean design, glass top stoves are popular with many homeowners. This type of range has largely replaced traditional electric stoves with coil burners, especially in newly built and remodeled homes.
While glass top stoves offer many benefits, they do place some restrictions on the type of cookware you can use. Some pots and pans can scratch or even crack the cooktop, so you want to make sure you choose suitable cookware with a flat bottom. We've made it easy for you by compiling a list of the best pots and pans for glass top stoves.
Our Favorite Cookware for Glass Top Stoves
When it comes to cookware for glass top stoves, there are a lot of great options available. We've scoured the market and evaluated countless cookware sets to find the 15 best pots and pans for glass top stoves. Read on to see our recommendations and get all the essential details about every option on the list.
1. Duxtop Professional 17-Piece Stainless Steel Induction Cookware Set
This complete set of cookware from Duxtop features durable pots and pans made of high-quality stainless steel. The heavy-bottomed vessels are made of three layers: magnetic stainless steel on the bottom, heavy-gauge aluminum in the middle, and an 18/10 stainless steel cooking surface.
The aluminum core promotes quick and even heating, and the magnetic stainless steel base works perfectly on an induction cooktop. The layers are joined with impact-bonding technology, which uses pressure and friction instead of adhesive. This process creates a secure, long-lasting bond, ensuring that this cookware can stand up to a lifetime of consistent use.
The premium stainless steel cooking surface is durable and nonreactive, so you don't have to worry about unpleasant metallic flavors when you cook with tomatoes or other acidic ingredients. The steel cooking surface is excellent for searing meat and creating flavorful pan sauces.
This complete cookware set includes everything you need for a well-stocked kitchen. There are two frying pans and a large saute pan with high sides and a lid. Each of the two small saucepans has a lid, as does the double-handled casserole pan. There is also a large lidded stockpot that can be used with the included steamer basket and pasta insert. Three cooking utensils (fork, spoon, and slotted spatula) complete the set.
Bottom line: A high-quality set perfect for replacing all your pots and pans or outfitting your first kitchen with durable stainless steel cookware.
2. Cuisinart Multiclad Pro Stainless Steel 12-Piece Cookware Set
From Cuisinart, this cookware set contains 12 pieces made of gleaming stainless steel. This cookware boasts a stunning two-tone look; the lids, steamer basket, and cooking surfaces have a shiny mirror finish while the pots and pans have brushed exteriors. Durable stainless steel construction makes these pieces ideal for glass top stoves and induction cooktops.
Every pot and pan has a tapered rim for drip-free pouring. The tight-fitting lids help seal in heat and moisture, and they are dishwasher safe just like the rest of the cookware. These heavy-bottomed pots and pans feature tri-ply construction that has an aluminum core inside the layers of stainless steel. The aluminum layer promotes quick and even heating, and the steel cooking surface makes it easy to brown, sear, and saute your favorite foods.
This is a set of versatile kitchen basics, including two lidded saucepans and a deep saute pan with a lid. There are two skillets, a large stockpot, and a steamer insert as well.
Bottom line: A solid set of essential cookware that's a good choice if you are willing to take a little extra time for cleaning and maintenance.
3. Anolon Advanced Hard-Anodized Nonstick 12-Piece Cookware Set
This set of nonstick cookware from Anolon offers a bold aesthetic and exceptional performance on glass top stoves. Stainless steel details stand out against the stark black pots and pans, and the glass lids allow you to monitor whatever you are cooking. The nonstick cooking surface makes it easy to move delicate foods such as fish.
While traditional nonstick pans have a reputation for being easily scratched, these hard-anodized pans are far more durable. Feel free to use metal spoons and spatulas while you're cooking. The durable nonstick coating is also suitable for temperatures up to 400 degrees. However, these pots and pans won't work on an induction cooktop.
This 12-piece set includes three sauce pans. The two larger saucepans have lids, and the smallest one has a pour spout. The 3-quart saute pan includes a lid. You also get a big, high-sided skillet with a lid and a smaller frying pan. The final piece is an 8-quart lidded stockpot.
Bottom line: If you prefer the ease of cooking on a nonstick surface and are willing to hand-wash your cookware, this set is a good value.
4. Calphalon 10 Piece Tri-Ply Cookware Set
Featuring brushed stainless steel exteriors, the pots and pans in this Calphalon set are sure to upgrade the look of any kitchen. The reflective silver cooking surface is useful as well as beautiful; it allows you to monitor the browning of whatever you are cooking so you can finish and serve it at the perfect doneness. This reflective surface is designed to retain its beauty over years of use, and it stands up to any type of cooking utensil.
The pots and pans in this set feature tri-ply construction with aluminum in between stainless steel layers. The bottom layer is magnetic, allowing compatibility with induction cooktops. Every piece in this set includes an oven-safe tempered glass lid. The long handles of the pans have stay-cool properties, and the tall handles on the pot lids are easy to hold. This dishwasher-safe stainless steel cookware carries a full lifetime warranty.
This 10-piece set features durable pieces in standard sizes. You can outfit your kitchen with a basic set of beautiful pots and pans, including a covered skillet and a lidded saute pan. Also included are a 5-quart covered stockpot and two smaller lidded saucepans.
Bottom line: A solid choice if you only need a few pots and pans and are willing to pay more for premium materials and quality construction.
5. All-Clad D5 Brushed Stainless Steel 10-Piece Cookware Set
Featuring 10 pieces of 5-ply stainless steel cookware, this set offers professional-grade performance on any glass top stove or induction cooktop. The pots and pans in this set are American-made and feature 5-ply bonded construction. The alternating layers of aluminum and stainless steel ensure exceptional heat distribution and retention, so it's easy to sear, simmer, braise, or roast.
The stainless steel cooking surfaces have a beautiful mirror finish that offers excellent performance. Whether you're a budding home cook or a professional chef, you can trust these pans to help you create delicious meals. The mirrored steel doesn't pick up stains, watermarks, or fingerprints, and it is easy to clean by hand or in the dishwasher.
This set of heavy-bottomed cookware includes versatile pieces that can handle everything from daily meals to holiday dinner parties. You get an 8-quart lidded stockpot and two smaller covered saucepans. Along with two standard skillets (8-inch and 10-inch), there is a large lidded saute pan.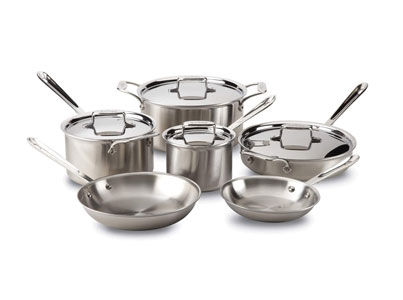 Bottom line: A professional-grade set perfect for dedicated cooks who are ready to invest a lot of money in premium stainless steel cookware.
6. Rachael Ray Brights Hard-Anodized Aluminum Nonstick 10-Piece Cookware Set
Featuring Rachel Ray's signature bold colors, this 10-piece set of nonstick cookware brightens up any kitchen with easy-to-use pots and pans. Premium materials ensure reliable nonstick performance without a high price tag. Each striking piece features a gray finish with bright, colorful handles and silver accents. The double-riveted handles have a rubber coating that makes them easy to hold even with oven mitts on.
Nonstick pots and pans simplify cooking and cleanup. You don't have to worry about food or debris sticking to the cooking surface. Scrambled eggs, pancakes, and poultry are just a few examples of foods that are easier to cook in a nonstick pan. All the cookware in this set is dishwasher-safe.
You can replace old cookware or furnish a new kitchen with this affordable 10-piece set. There are two saucepans with glass lids and a large covered saute pan. You also get two frying pans and a covered stockpot that holds 6 quarts.
Bottom line: If you prefer cooking on a nonstick surface, don't have an induction cooktop, and don't need oven-safe cookware, this attractive set offers great value.
7. GreenLife Soft Grip Healthy Ceramic Nonstick 14-Piece Cookware Set
GreenLife's nonstick ceramic cookware provides an alternative to traditional Teflon, which can become unsafe at high temperatures. The pots and pans in this set feature a nonstick ceramic coating that's derived from sand and free of lead and harsh chemicals. The light-colored cooking surface makes it easy to monitor the color of browned butter, caramel, or seared meat. You can also watch over simmering soups or stews through the clear glass lids.
The pots and pans are made from recycled aluminum, and the curing method for the ceramic coating reduces carbon emissions compared to traditional nonstick coatings. Each aluminum pan has a reinforced base that heats evenly on a glass top stove but is not suitable for an induction cooktop.
This set of healthy nonstick cookware includes a variety of pots and pans as well as four nylon cooking utensils: a ladle, slotted spoon, slotted flipper, and slotted fish spatula. There are two skillets and two covered saucepans. You also get a deep-sided covered saute pan and a lidded stockpot.
Bottom line: These bright nonstick pots and pans provide an affordable and eco-friendly alternative to Teflon cookware, but they may not be the best choice for longevity.
8. All-Clad D5 Brushed Stainless Steel 7-Piece Cookware Set
This smaller set from All-Clad offers all the benefits of 5-ply bonded stainless steel at a lower price point than the 10-piece set. Each piece features five bonded layers of aluminum and stainless steel that work together to provide even heating on any glass top stove or induction cooktop.
These heavy-bottomed pots and pans are crafted in the United States and are designed to remain warp-free through decades of use. The durable stainless steel handles and lids are easy to hold and have a mirrored finish that complements the brushed steel look of each pan's exterior. All the pieces in this set are safe for the dishwasher but are also easy to clean by hand.
The perfect option for outfitting your kitchen with top-quality basics, this set includes four pans and three lids. The 10-inch skillet is a versatile size and has a flared rim that prevents drips when pouring. The small saucepan, deep saute pan, and 8-quart stockpot all have tight-fitting lids.
Bottom line: This pricey set is ideal for passionate home cooks who want professional-grade equipment but don't have storage space for numerous items.
9. All-Clad Copper Core 5-Ply Bonded 7-Piece Cookware Set
Featuring a gleaming silver finish and unique copper core, this All-Clad cookware set offers premium performance and exceptional durability. Handcrafted in the United States, each vessel includes five bonded layers of high-quality stainless steel, aluminum, and copper. Strong handles and tight-fitting lids offer additional benefits.
The cooking surface of each piece is 18/10 stainless steel with a starburst finish that is nonreactive and resists sticking. The stainless steel base makes this cookware suitable for induction cooktops. Between the steel layers are two sheets of aluminum with a copper core in the middle. Together, aluminum and copper provide lightning-fast heating, and the copper improves responsiveness to minor temperature changes.
This smaller cookware set sticks to the essentials. It includes an 8-quart covered stockpot and a 3-quart saute pan with a lid. The medium-sized saucepan also has a lid. The 10-inch uncovered frying pan has smooth flared rims.
Bottom line: This small set of top-of-the-line copper core cookware offers great performance and durability but may be too expensive and heavy for many home cooks.
10. Nutrichef Pre-Seasoned Cast Iron Skillet 3-Piece Cookware Set
Want to enjoy the benefits of traditional cast iron without risking your glass top stove? This three-piece cookware set from Nutrichef is the answer. These cast iron skillets are specially designed for glass top stoves, so you don't have to worry about cracks and scratches. You can also use these pre-seasoned skillets on an induction cooktop.
This non-nonsense cookware set includes three cast iron frying pans in different sizes. Each pan is pre-seasoned, which provides a smooth cooking surface and prevents the pans from rusting when not in use. Cast iron offers exceptional heat retention and performance, so you can use these pans to sear, braise, and roast meat as well as saute vegetables. The dual pour spouts on each pan help prevent drips and spills
This set includes three skillets. The 8-inch size is great for eggs and smaller dishes. The 10-inch skillet is a versatile size for any recipe, and the 12-inch skillet is large enough to hold a whole chicken for roasting. You also get three silicone sleeves designed to fit over the cast iron handles (which can heat up quickly).
Bottom line: Seasoned cast iron users will appreciate the great value this set provides, but the care requirements for these non-lidded skillets may be overwhelming for newcomers.
11. T-fal Ultimate Hard-Anodized Nonstick 17-Piece Cookware Set
Reinforced with titanium, this nonstick cookware set from T-fal offers a wide range of pieces for an affordable price. The nonstick cooking surface of each pot and pan is durable and scratch-resistant, so you can use metal utensils without fear. The hard-anodized aluminum exterior makes this cookware an excellent choice for glass top stoves. However, these vessels are not compatible with an induction cooktop.
The black finish on this nonstick cookware matches the comfortable black handles. Stainless steel accents add just the right amount of shine. The glass lids are vented to release steam and reduce the risk of boil-over accidents. Each pan has an innovative thermo spot indicator ring that turns red when the pan is preheated to the perfect temperature, so you know exactly when to add your ingredients.
This 17-piece set offers exceptional value for an affordable price. There are three frying pans of varying sizes, and the largest one includes a lid. There is also a small "one egg wonder" pan and a square griddle. All three saucepans have lids, as does the large saute pan. The 3-quart steamer insert fits inside the 5-quart lidded Dutch oven.
Bottom line: With its non-standard inclusions (griddle and one-egg pan), this set of nonstick cookware is a good value for cooks who have adequate storage space.
12. Paula Deen Signature Nonstick 15-Piece Cookware Set
The colorful nonstick cookware in this set from Paula Deen is perfect for any kitchen with vintage or farmhouse-inspired style. Made of heavy-duty aluminum with a bright speckled finish, these pots and pans offer good performance at an excellent price. The colorful handles include a copper hanging ring for versatile storage options.
These stain-resistant pans are easy to wash and can handle oven heat up to 350 degrees. While this cookware is not dishwasher safe or suitable for use on an induction cooktop, it is a beautiful and affordable choice for any kitchen with a glass top stove. The shatter-resistant glass lids have round handles with lovely copper accents.
This set includes a versatile mix of pots and pans as well as a 5-piece set of measuring spoons. There is a large lidded stockpot and a covered saute pan. Both saucepans have lids, and there are two open frying pans as well.
Bottom line: For a low price, this set offers nonstick performance and convenient see-through lids, but the pots and pans aren't designed to last a lifetime.
13. BulbHead Red Copper Nonstick Copper-Infused Ceramic 10-Piece Cookware Set
Featuring nonstick performance and a colorful look, this BulbHead cookware set is a modern alternative to traditional Teflon. Aluminum Red Copper cookware has a nonstick coating of copper-infused ceramic that's durable, scratch-resistant, and nontoxic. Occasional seasoning, keeps the nonstick surface performing optimally, so you can reduce the amount of oil or grease in your cooking.
This unique cookware is easy to clean; just wipe down the surface with a soft cloth. You can also use the dishwasher if you prefer. These pots and pans are oven-safe up to a temperature of 500 degrees, but they're not suitable for induction cooktops. The nonstick surface doesn't contain any harmful chemicals that can degrade at high heats. With proper care and seasoning, you can plan on using this cookware for years.
Offering 10 pieces for an extremely affordable price, this set includes two skillets (8-inch and 10-inch). You also get two lidded saucepans and a large 6-quart stockpot with a lid. The aluminum steamer basket fits inside the stockpot.
Bottom line: This nonstick cookware set is pretty and affordable, but durability seems inconsistent; many user reviews complain of food sticking, discoloration, and scratches.
14. CUSINAID 10-Piece Aluminum Nonstick Cookware Set
Featuring pots and pans with a ceramic nonstick coating, this CUSINAID set offers essential kitchen basics at a good price. These pieces feature impact-bonded construction that pairs an aluminum core with a stainless steel base that is perfect for glass top stoves and induction cooktops. This multi-layered hard-anodized design offers fast and even heating. These durable pans aren't as heavy as some other styles, so they are a great choice for cooks with limited mobility.
The ceramic nonstick coating is safe for use at high heats, so the pots and pans in this set can be used in the oven (up to 500 degrees). The glass lids are oven-safe up to 390 degrees. Each piece features a beautiful copper exterior with stainless steel handles. Designed to resist warping and rust, this cookware is ready for years of use.
Designed for versatility, this set includes the most popular sizes of pots and pans. There are two frying pans of different sizes as well as two saucepans with lids. You also get two double-handled stockpots with tempered glass lids.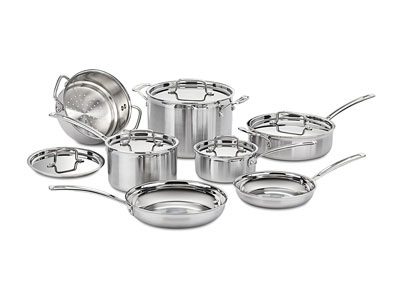 Bottom line: With its beautiful copper finish and low price, this nonstick cookware is a good bargain, but user reviews point to significant durability issues over time.
15. Duxtop Whole-Clad Tri-Ply Stainless Steel Saute Pan with Lid
If you aren't ready to replace all the cookware in your kitchen, you can start with a single pan. This tri-ply stainless steel pan from Duxtop is extremely versatile and made of premium materials. With this pan, you can get a feel for cooking in stainless steel before you decide to buy more pots and pans.
Top-quality stainless steel construction means this pan works just as well on an induction cooktop as it does on a glass top stove. This heavy-bottomed skillet features three bonded layers: a thick aluminum core in between two layers of stainless steel. Whole-clad construction is designed to eliminate hotspots for even cooking.
This 3-quart saute pan is perfect for a wide range of recipes and uses. You can saute vegetables, cook eggs, braise meats, and simmer stews. Because the pan is oven-safe, you can also use it for roasting. The handle stays cool on the stove, and the stainless steel lid has a comfortable handle.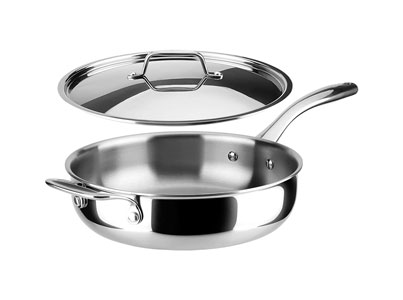 Bottom line: This high-quality lidded saute pan is a good choice if you want to try out stainless steel before committing to a whole cookware set.
What is the Best Cookware for Glass Top Stoves?
Stainless steel is one of the best materials you can choose to use for a glass top stove. This is because it's smooth and tends to be heavy enough to be stable and sturdy, but not so heavy that it will scratch the smooth stove surface.
This is one reason our favorite option is Duxtop's 17-piece stainless steel induction cookware set. This complete set will provide you with nearly everything you need to stock a new kitchen or replace old kitchenware.
It's also made with 3 layers—the magnetic stainless steel base makes it excellent for induction stovetops, as well, the aluminum in the middle helps conduct heat quickly and evenly, and the stainless steel cooking surface ensures there is no leaching of metallic flavors into your food. The wide bases on the pots and pans also help to conduct heat better on a glass top stove.
This triple-layered material makes this set extremely durable and easy to care for and clean. It's even dishwasher-safe! Not to mention, it looks sleek and nice in any kitchen.
What Is a Glass Top Stove?
A glass top stove is a type of electric stove that has a sheet of specially designed ceramic glass over the heating elements. It offers an elegant alternative to a traditional coil-style electric range along with many other benefits:
A sleek, modern aesthetic
A flat, easy-to-clean cooking surface
Faster heating than traditional electric coils
Many contemporary kitchens feature glass cooktops. Induction cooktops look similar, so they are sometimes confused with electric glass top stoves.
What's the Difference Between a Glass Top Stove and an Induction Cooktop?
Like an electric glass top stove, an induction cooktop has a smooth glass top. However, an induction cooktop uses an electromagnetic field to provide heat to cookware made of ferrous metal, such as cast iron or steel. The heat is confined to the pot or pan itself, leaving the cooking surface cool to the touch. Induction cooktops can be fairly pricey, but they offer unique benefits in terms of safety and efficiency.
What To Look for When Cooking on a Glass Top Stove?
One of the most important ways to care for your glass top stove is to use the right kind of cookware. The ceramic glass surface is prone to scratches from heavily textured materials. Using the wrong type of cookware on a glass top stove can damage it.
Choosing the best cookware for your glass top stove isn't just about preventing damage to the cooking surface. You also want to make sure you get cookware that will perform well and give you the best value for your investment. When you're looking for the best cookware for electric glass top stoves, there are some essential factors to consider.
Cooking Surface Features
One of the top considerations when shopping for new cookware is the cooking surface itself. You'll probably want at least one shallow pan (skillet) with a wide base for sauteing and frying. It's also good to have a pot or two: high-sided vessels that can hold pasta water or soup. A griddle is useful if you often cook pancakes.
Along with depth, you need to consider the item's cooking surface. There are two basic categories:
Uncoated: Common examples of uncoated surfaces are stainless steel and cast iron. They are exceptionally good at facilitating the Maillard reaction, which gives browned meat and vegetables outstanding flavor.
Coated: Teflon is one common type of nonstick coating. Another example is enameled cast iron. These pots and pans have a slippery surface and are great for delicate foods such as eggs and fish.
If you enjoy making a wide variety of foods, you may want to have a mix of nonstick and uncoated cookware.
Weight
The weight of your pots and pans has a significant impact on their usability. For example, a lightweight pan is a must for cooking methods that require you to lift and turn the pan. Cooks with limited mobility may also prefer lightweight cookware.
However, heavy pans have their uses as well. When recipes call for a "heavy-bottomed" pot or skillet, they generally mean a vessel that is comprised of several layers of metal. For low-and-slow cooking methods, such as braising, a heavy pan is essential for heat retention and even cooking. Most oven-safe pans tend to be heavier as well. These hefty pots and pans are usually listed as "multi-ply"; common options are tri-ply, 5-ply, and 7-ply.
With a glass top stove, you'll need to make sure you choose pans that are fairly easy for you to lift. Dragging them across the cooktop can cause scratches and cracks.
Versatility
If you're an avid cook, you'll probably want at least one or two pans that can handle both stovetop and oven cooking. Having a large skillet or pot that's suitable for high oven temperatures makes it easy to braise, roast, and bake a variety of foods.
Cast iron is extremely versatile and good for stove-to-oven cooking, as is stainless steel. If you prefer nonstick pans, make sure to check the manufacturer's instructions for use in the oven. Some nonstick cookware is not suitable for use in the oven.
Appearance
Your cookware can impact the overall aesthetic of your kitchen. Like most parts of your kitchen, high-quality cookware is an investment and not something you will likely change often. It's important to consider appearance when choosing pots and pans.
If you have a modern or minimalist vibe in your kitchen, consider sleek stainless steel. Traditional copper and enameled cast iron pieces look fantastic in a farmhouse kitchen. If you want to bring a pop of color to your glass top stove, look for nonstick cookware with brightly colored handles and bases.
Cleaning and Maintenance
While you're thinking about what kind of cookware will be best to use on your glass top stove, don't forget that you'll need to clean it too. Some pots and pans require special tools or cleaning products.
Both nonstick and stainless steel pans are fairly easy to clean; they are usually dishwasher-safe. If you do your dishes by hand, you'll need to invest in soft brushes that won't scratch the smooth cooking surfaces.
Cast iron and copper cookware require a little more care and maintenance. Copper can discolor fairly easily, so you may need to clean it often with a copper-friendly cleaning solution.
Seasoned cast iron has a reputation for being difficult to clean, and you can't put it in the dishwasher. However, cast iron enthusiasts claim that maintaining a well-seasoned pan is fairly easy. Enameled cast iron is a somewhat more forgiving choice, as it can handle standard dish soap and even an occasional trip through the dishwasher.
Handle Style and Material
Most cast iron pans are a single piece, but not all cookware has handles made of the same material as base and cooking surface. Different handle designs and materials offer unique benefits:
Cast iron or stainless steel: These handles are oven-safe at high temperatures and create a seamless appearance because they match the rest of the pan. However, these handles heat up quickly and can cause burns if you forget to use oven mitts.
Cool-touch materials: These handles are designed to prevent heat transfer from the base, so they stay cool during cooking. Silicone is a popular option, and there are stainless steel models as well. Not all of these materials are safe for extremely high heat, so check the instructions before placing a pan with a cool-touch handle in the oven.
Ergonomic: Some pots and pans have "comfort-grip" handles for easy lifting. Most ergonomic handles are made of silicone or plastic that is not designed for use in the oven.
Lid Design
Many cookware sets include lids for some or all of the pots and pans. There are several different types of lids:
Stainless steel and cast iron lids are durable and safe for use in the oven, but the lid handles can get hot very quickly.
Glass lids allow you to monitor whatever you are cooking, but they may crack or break.
Some lids have a small vent that allows steam to escape. This can prevent liquids from boiling over, which can be dangerous and messy. However, some recipes require non-vented lids that retain all the heat and moisture inside the vessel.
Included Pieces in the Set
While you can buy pots and pans individually, cookware sets are usually more cost-efficient. Small sets may include three to five items, and there are also larger sets that have more than 15 pots, pans, lids, and accessories. Regardless of size, most sets include some standard pieces: a large stockpot (usually around 8 quarts), a saucepan (approximately 4 quarts), and a large frying pan, with a 10-inch or 12-inch diameter.
All-inclusive sets with 10 or more items make it easy to replace all your cookware at once or to set up your first kitchen. However, while a large set may offer the best financial value, it isn't always the best choice. You may not need (or have storage space for) all the items.
A smaller set of cookware is a good choice if you just want to upgrade a few of your existing pots and pans. You can also get a small set to try out a new type of cookware, such as enameled cast iron or titanium, before deciding to replace all your pots and pans.
Popular Types of Cookware for Glass Top Stoves
When shopping for cookware for a glass top stove, you'll generally find a range of options featuring several common materials.
Aluminum
Many of the most affordable pots and pans on the market are made of aluminum. Lightweight with good heat conductivity, this type of cookware is a versatile choice. Look for anodized aluminum, which is treated to create a durable and nonreactive cooking surface.
Copper
Copper is another material that is an outstanding heat conductor, and it has a gorgeous aesthetic. Uncoated copper pots are beautiful to display and great to cook with, but they require kid-glove treatment when it comes to maintenance. Copper pots with stainless steel lining are a great alternative; they have the look of copper but offer easier maintenance.
Titanium
Titanium is lightweight and strong, and it can last even longer than stainless steel. You can find both "pure" and "reinforced" titanium cookware. Pure titanium can have uneven heat distribution. Titanium-reinforced pots have a durable aluminum base that provides better heat distribution and nonstick properties.
Ceramic
Traditional ceramic cookware often has a highly textured surface that can be problematic on a glass top stove. But there are "ceramic" cookware sets that are made of silicone-coated metal rather than clay. These silicone ceramic pots and pans won't scratch a glass cooktop, and some experts regard them as healthier than traditional nonstick surfaces such as Teflon.
Cast Iron
Classic cast iron cookware has a dedicated fan base and several benefits, including extreme durability and excellent heat retention. Cast iron pans are often passed down from one generation to the next. However, a standard cast iron pan has a rough texture that can scratch a glass top stove. A good alternative is enameled cast iron.
Frequently Asked Question on Glass Top Stove Cookware
What type of cookware should be used on a glass cooktop?
Stainless steel tends to be the best type of cookware for a glass cooktop, as it's smooth, not too heavy, and easy to care for. Whatever material you choose, it's best to avoid something too textured or heavy, so you can avoid scratching your cooktop surface. You'll also want a wide base, as this larger cooking area helps ensure more even heat conduction in your cooking.
What pans should not be used on a glass top stove?
Pots and pans that are cast iron, ceramic, glass, or stoneware all tend to be heavy (and some have textured surfaces, as well). These materials may scratch or otherwise damage the smooth surface of a glass top stove.
Why are glass top stoves bad?
One big downside to glass top stoves is that, being electric, they tend to heat more slowly and unevenly than alternatives. The glass on the top may make it heat even more slowly than other electric stoves, as glass is a poor heat conductor.
Besides heating, glass top stoves are prone to scratches and cracking if not cared for properly. Be sure to use compatible cookware to avoid this problem.
What is the difference between a glass cooktop and a ceramic cooktop?
Most smooth top stoves are actually made of a blend of glass and ceramic, to give them some of the beneficial properties of both materials. These types of stovetops are known for being easy to clean, but also for the potential to scratch or crack easily.
Is calphalon cookware safe for glass top stoves?
Yes, Calphalon cookware is safe for glass top stoves. In fact, Calphalon's 10 piece tri-ply cookware set is one of our favorites. Similar to Duxtop, it has 3 layers—stainless steel exteriors and an aluminum core.
Can you use induction cookware on a glass top stove?
Yes, induction cookware should be appropriate for not only induction stovetops, but any other type of stove, including glass tops.
Can you use Paula Deen cookware on a glass top stove?
Yes, Paula Deen cookware can be used on a glass top stove. But proceed with caution—be aware that it is made of heavy-duty aluminum, which could have the potential to damage a delicate glass surface if not handled carefully. Make sure the bottom of the pot or pan is clean so that no small granules scratch your stovetop, and try not to move the pan around a lot during use.
Can you use visions cookware on a glass top stove?
Technically, yes, Visions cookware is safe for a glass top stove—but it may not be the best choice. You'll need to be extra careful during use, as glass against glass could lead to scratches or cracks on the stovetop or the cookware if you're not gentle with it.
Can you use cast iron cookware on glass top stoves?
It's not recommended. Cast iron cookware is heavy and even has a rough texture that could possibly damage a glass stovetop. It is possible, though, if you handle your cookware with extreme care. You might enameled cast iron cookware, as this gives the pots and pans a smooth finish to prevent damage to your stovetop.
Can ceramic cookware be used on glass top stoves?
We recommend avoiding ceramic cookware for a glass stovetop. It's rough texture and heaviness lead to higher risk of damaging your glass stovetop.
Can hard anodized cookware be used on glass top stoves?
Yes. Hard anodized cookware is usually on the heavy side with a smooth, flat bottom. It is safe for a glass top stove. Just be careful not to let it slide across the stove surface, as this type of cooking vessel may occasionally leave metal marks or residue that appear to be scratches. If this does happen, remove it quickly so it doesn't lead to permanent scarring.
Is a Glass Top Better Than a Coil Range?
When searching for a new appliance, it is always a good idea to weigh the pros and cons of each different type of appliance available. When it comes to cooktops, we've already discussed the differences between a glass stove top and an induction stove top, but what about a coil range?
Coil ranges have been around since we started using electric stovetops. Coil ranges have metal tubes that encase the electrical wire that heats the stove. These coils tend to get hot much faster than a glass top stove. However, they also take much longer to cool down after use, which could pose a burn risk for any small children or pets that like to be on countertops.
Over time, the coils can shift and sink into the stovetop, causing them to heat unevenly and cook inefficiently. Glass tops seem to heat up a bit slower than coil ranges. However, glass tops will heat up evenly every time.
Coil ranges can also be more tedious to clean because of their design. Glass tops are flat, which makes it easier to wipe up spills and messes. While you may enjoy the ease of cleaning a glass top offers, coil ranges are slightly more durable than abrasive sponges, heavy pots, and heftier cleaning products. 
Both types of stove top have advantages and disadvantages. If you prefer a stove top that is easier to clean, flat, and heats evenly every time, a glass top may be the right choice for your home.
How Long Will My Glass Stove Top Last?
An electric glass top stove should last around 14 years. An induction stove, however, may only last 8-10 years. Induction cooktops can burn out faster than electric cooktops due to the design and the magnets wearing down. You can always extend the life of your appliances by taking proper care of them.
With an induction cooktop, you will want to make sure that your appliance is not left on for long periods, especially when not in use. Be sure to clean any spills or messes as soon as they happen. 
How To Care for Your Glass Top Stove
Glass stovetops have a fairly durable surface for cooking. However, unfortunately, they are not scratch resistant. Many things can lead to scratches on the surface of your cooktops, including harsh cleaners, abrasive sponges, and heavy pots or pans. 
Cleaning
Glass and ceramic stovetops are incredibly easy to clean due to their flat surfaces. However, how you clean them and what you clean them with can make a huge difference in the lifespan of your appliance.
Soft sponges or soft-bristle brushes are great tools to have in your stove cleaning tool belt. These tools can help scrub away those tough stains while leaving your cooktop shiny and scratch-free. Sponges with abrasive scrubby sides can cause tiny scratches to build up on the surface of your stove and lead to larger cracks that could ruin your appliance. 
Harsh cleaning products can also cause build-up on your stovetop and wear down the ceramic surface. When this happens, it can create an environment more prone to scratches. White vinegar can easily clean most stains your cooktop may encounter. If you have tougher stains like baked-on food, baking soda, and mild dish soap will easily remove them.
Daily Use
After cooking on your glass top stove, you will want to turn it off and let it cool down before wiping up any spills or stains that happen during cooking. You'll want to avoid cleaning the stove top if it is still hot. Applying any cleaning products to a hot cooktop could result in cracks or scratches on the surface.
It is best not to use pots and pans that are heavy or not made with a smooth bottom. Heavy pots and pans can cause cracks if they fall or are placed down too hard on the stovetop. Additionally, pots and pans with textured bottoms can cause scratches on the surface that could build up and turn into larger cracks.
It is best to avoid sliding pots and pans around on your cooktop, as this can also result in scratches or cracks, especially if you're using a pot or pan without a smooth bottom. Finally, avoid placing any pots or pans that are hot on the stovetop when it is cooled off.
Conclusion
There are countless cookware sets on the market, but not all of them are ideal for a glass top stove. Before you buy, consider the essential elements of your cookware: material, design, appearance, durability, and price. Use our list of the best pots and pans for glass top stoves to find the perfect cookware set for your kitchen.