Medjool dates are a type of tree fruit that originate in the Middle East and North Africa, but they can be cultivated with some success in a number of desert-like regions around the world. Dates in general make up an important part of Middle Eastern cuisine, but medjools particularly are prized for their large size, their sweet taste, and their juicy flesh even when dried. They are often enjoyed on their own as a snack or as a flavoring element within a larger meal or baked confection.
Difference from Other Sorts of Dates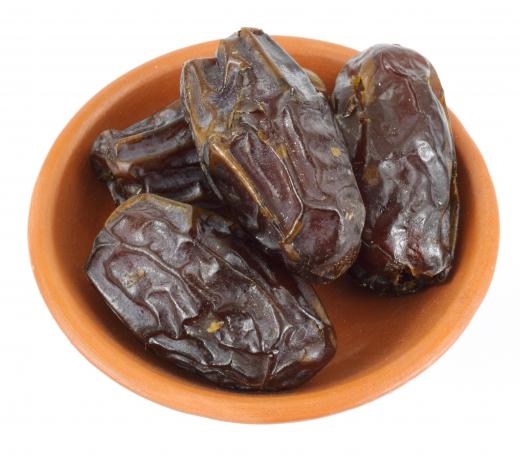 There are many different varieties of dates, though all share some basic characteristics. They grow on date palm trees, for instance, and are native to hot, arid climates. Their fruit can be eaten fresh but is more commonly dried, which lengthens its lifespan and prevents early spoilage. Medjool dates are widely regarded as the "best" variety of dates. They are certainly the largest and are usually also the most expensive to buy. Many consumers believe that they have the richest flavor as well.
Medjools are often informally known as the "king of dates," the "diamond of dates," or the "crown jewel of dates" in reference to their elevated position. They are what is known as a "soft" date. The fruits are usually categorized as soft, dry, or semi-dry in reference to their texture and taste. Soft dates are usually considered to be the most exquisite in part because of how much harder they are to grow, as well as how much more susceptible they are to loss by birds and insects.
Taste Basics
Most people describe medjool dates as having a rich, almost caramel-like taste, and mentions of honey and cinnamon are also common. They are usually served dried, but this drying happens naturally in most cases. The most traditional way to prepare dates of any kind is to allow them to ripen and then sun dry while still connected to the tree. When picked at the right time, medjools need no additional treatment or care before serving.
Nutritional Profile
Medjool dates only contain about 66 calories each. They are a good source of fiber and contain high levels of the essential minerals potassium, magnesium, copper, and manganese. Most do contain a significant amount of fruit sugar, but this can make them a good alternative to more caloric desserts. In the Middle East where they grow wild, they are a popular food for nomadic travelers as they provide a lot of energy and healthful nutrients with the added benefit of being readily available.
How to Enjoy Dates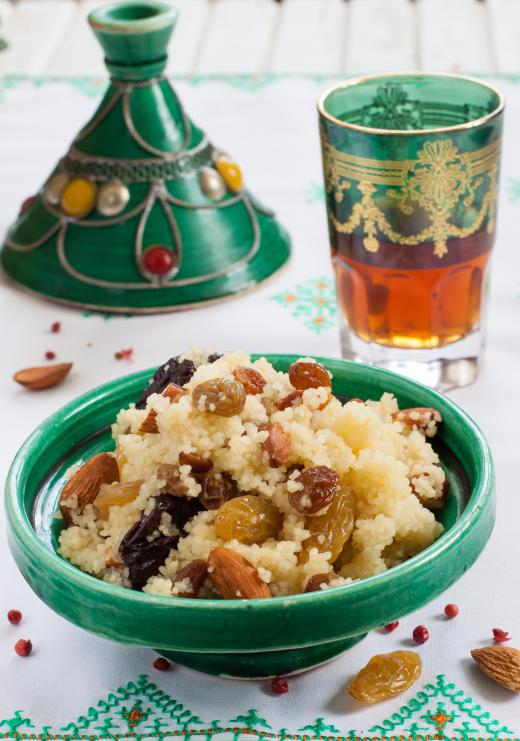 One of the easiest ways to enjoy medjool dates is to eat them on their own, either as an independent snack or alongside other finger foods like hard cheeses, crackers, and crusty breads. The dates do contain a pit, but it is big and generally very easy to remove.
The fruit's large size also lends well to stuffing once the pit has been removed. Walnuts, almonds, and honeycomb are some of the more traditional things that cooks can put inside, but there is a lot of room for creativity. Some people put other fruits, small pieces of chocolate, or savory meats into the pit cavity in order to create a one-of-a-kind taste.
Use in Cooking
Medjool dates also feature in a number of recipes. Many North African stews call for sliced medjools, for instance, and they are commonly mixed with yogurt for breakfast in countries like Iraq and Iran. They add sweetness to a number of cooked meat dishes and can also be incorporated into the batter of many different breads and baked goods.
Where They Grow
Date palms that give rise to medjool fruit are believed to be indigenous to the North African coast and Arabic Peninsula. Fossil evidence suggests that the fruits were enjoyed by ancient people in countries as far apart as Saudi Arabia and Morocco, and the land between these countries remains the primary growing area. Many California farmers have had some luck cultivating the trees, however, as have some people in Australia. They are often much harder to grow than other date varieties because of how sensitive the fruits are to air quality and soil moisture. They often take a tremendous amount of work to grow on demand, which is part of the reason for their relatively high price.
Cultivation at Home
The most basic way to grow a medjool date palm is to plant a pit and wait for it to sprout, though this is also the most time-consuming and potentially frustrating method. It can take up to 20 years for a sprouted pit to yield a tree that actually bears fruit. Home gardeners wanting to try their hand at growing medjools are usually better served by purchasing established plants from nurseries or local distributors or grafting branches from existing palms onto new plants. Trees typically need a lot of care, as well as close attention to sunlight and soil quality, in order to thrive. Some gardeners have had success cultivating the plants in indoor greenhouses, though the best fruits tend to come from trees exposed to more natural outdoor settings.
AS FEATURED ON:
AS FEATURED ON:








By: Bert Folsom

A bowl of medjool dates.

Medjool dates growing on a date palm.

By: dinostock

Medjool dates are often stuffed with walnuts or other nuts.

By: www.doglikehorse.com

Medjool dates originated in the Middle East.

By: seagull_l

Medjool dates are a popular sweetener in the Middle East and North Africa.