10 Best Pull through Knife Sharpeners in 2023
A sharp kitchen knife is necessary for any kitchen, whether you are dicing carrots or slicing cucumbers. Dull knives dampen a cook's ability to quickly and safely slice and dice in the kitchen. Every cook, whether a beginner or a knife enthusiast, needs a sharp knife to work safely and efficiently in the kitchen. Once a cook invests in a set of knives, it doesn't make sense to throw knives out when they begin to dull.
When you purchase a knife sharpener, whether an electric sharpener or manual one, you can make the most of the knife set you have. While an electric knife sharpener can be effective in some cases, it's best to use a manual sharpener to maintain control over the sharpening process. You may have a knife block that comes with a honing rod, but these aren't as effective as knife sharpeners are. Here are some of our favorite pull-through knife sharpeners, but you might ask yourself: What is a pull-through knife sharpener?
What is a pull-through knife sharpener?
A pull-through knife sharpener is pretty much exactly what it sounds like. It's a tool that lets you put a clean, sharp edge on a knife blade by pulling the knife edge across an abrasive surface. By repeatedly drawing the blade through the tool, you remove metal from the edge to remove any nicks or bumps in the metal. Beyond smoothing the edge, a pull-through knife sharpener also restores the most important characteristic of a sharp blade: the angle of the edge. Also known as the bevel, this angle varies between western-style and Asian-style kitchen knives, and is also different for pocket knives and hunting knives and for serrated knives.
A handheld, pull-through knife sharpener consists of an upright stand or a handle connected to a boxy section. Both types have from one to four fixed or adjustable angled slots. A good-quality manual knife sharpener will have a solid, no-slip base on the handle and the body of the tool and the slots will be designed to guide the blade at the precisely correct angle for the type of knife you are sharpening.
Adjustable pull-through models allow you to change the angle within a given slot, so you can sharpen various blades to the correct angle in one sharpening slot. Each of the slots holds a different abrasive sharpening surface made of ceramic, metal, or a combination of materials.
Unlike electric pull-through knife sharpeners, manual sharpeners give the user more control and tend to take off less metal with each sharpening, making knives last longer. Knife sharpening is a task that every cook should do in the kitchen. Finding the best manual knife sharpener can be tough, so we've narrowed down the list of the best sharpeners to keep your knives sharp. There may not be one best manual knife sharpener for every style of cooking, but this list of our favorite sharpeners will help you find the best sharpener for you.
How we picked our favorite pull-through knife sharpeners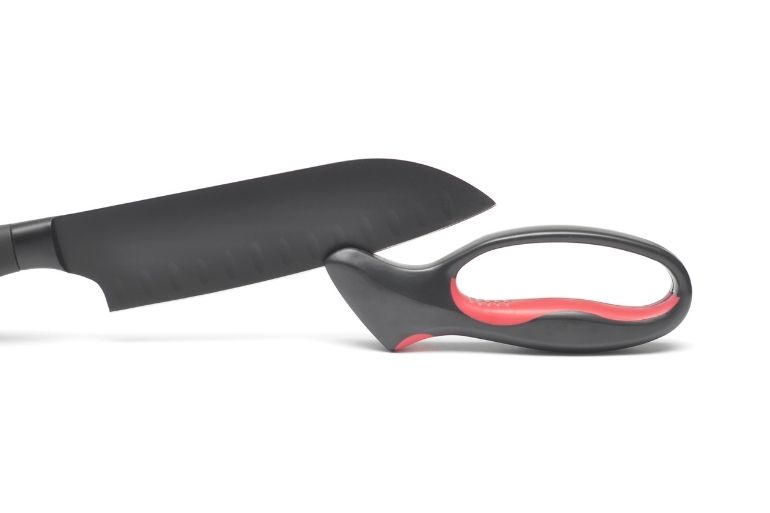 We researched dozens of sources and read through knife sharpener reviews to come up with our list of favorite pull-through manual knife sharpeners. We listened to experts' advice and read manufacturer's descriptions, and looked at hundreds of reviews to create our comparison.
Ease of use. Can just about anyone use the tool out of the box? Does it require assembly? Are instructions clear?
How many settings? This refers to both grit of the abrasives and whether the tool can handle different angles. Coarse, medium, and fine grit abrasives will take different amounts of metal off the blade with each pass.
What sharpening abrasives are used? Diamond is the hardest and will outlast other abrasives and most knives, but is expensive. Another gemstone, sapphire, along with tungsten carbide and ceramic abrasives, won't wear as well as a diamond sharpener. Still, their lower cost can make them the better value if you don't sharpen many knives.
How fast will it sharpen a blade? Sharpening your knives is important for the safety of your kitchen and the quality and appearance of the meals you work so hard on. Take your time and treat your blades with respect. It will only be a few minutes of your time every few weeks or even months. When you're done, your blade will work well right away and the edge will last for a good while.
Is safety part of the design? Look at how well your fingers and work surfaces are protected by the design of the sharpener and handle.
Does the maker promise durability? That will come down mainly to the type and quality of abrasives used, but a poorly constructed sharpener will likely end up in the trash even if its sharpening surfaces never wear out.
Will it fit with your kitchen? If the sharpener isn't likely to stay out on the counter in your kitchen, matching the decor isn't a big deal. But being able to store your new tool in a convenient drawer makes it more likely that you'll use it as much as you should.
How's the price? The value? A basic sharpener can cost just a couple of dollars, but they are often awkward to use and do a poor job from day one. You can also get one that will pass down through generations of cooks if your budget is larger. But there are many quality pull-through knife sharpeners available at prices that are reasonable for anyone. Look for a warranty with any but the cheapest units.
How will you clean it? Similar to sharpening a pencil, every time you give your knives a new edge, you'll leave behind some of the original material. With knives, those are metal particles, and you don't want them hanging around to stain a countertop or add crunch to your food. Make sure the manufacturer explains how to keep your new tool clean with minimum effort.
RAZORSHARP Knife Sharpener
Bottom Line: This is a workhorse sharpener that will keep your knives in great shape for many years. Take some time to try out the various angles and experiment with the pressure and speed of your pull. You'll soon get the feel and will be able to put a consistent edge on your favorite knives, whatever blade style you prefer. As a bonus, RAZORSHARP includes a scissor sharpening slot. The unit is well weighted and has a non-slip base, so it doesn't move around during use. And users are enthusiastic about the manufacturer's response time and return/replacement policies.
PriorityChef Knife Sharpener for Straight and Serrated Knives
Bottom Line: The PriorityChef Sharpener did the job for many users, even some who know how to use a whetstone to put a perfect edge on a blade over the course of an hour or more. Overall, this pull-through sharpener impressed most users, but it is limited to sharpening western-style blades as it only provides one angle.
Brod & Taylor Classic Knife Sharpener
Bottom Line: This is a sharp-looking tool that will go with most modern kitchen designs. It uses an innovative spring-powered angle adjustment that is supposed to accommodate any style blade. The newbie learning curve on this unit appears to be a little steeper than other sharpeners we looked at.
SHARPAL 191H Pocket Kitchen Sharpener
Bottom Line: For folks who prefer to keep their hands away from the sharpener, this little unit provides a good option. It is small, though, only a couple of inches across, which may make new users nervous.
AnySharp Pro Chef Metal Knife Sharpener
Bottom Line: Pretty to look at and easy to store, the AnySharp Pro is probably not the right tool for real kitchen enthusiasts. But it does the job for folks who don't use their knives a lot and only occasionally need to sharpen a blade.
ZWILLING J.A. Henckels 4-Stage Pull Through Knife Sharpener
Bottom Line: This is a quality, German-engineered (but China-made) sharpener. It has a solid heft and is stable on the counter. Users generally praise the quality and durability of the edge they obtain on either blade style, but you may need a few more pulls than the instructions indicate to reach peak sharpness. A little pricey if not on sale.
Chef'sChoice ProntoPro
Bottom Line: Once users get the hang of the back and forth sawing motion and the need to press down more than they might be used to, most find this an excellent, easy-to-use pull-through knife sharpener. One word of advice, wipe the blade and clean the wheels between each step to avoid scratching your blades.
KitchenIQ 0009
Bottom Line: Small, cheap, and basic, this sharpener will keep your standard western-style blades sharp with minimal effort. But don't expect this one to last for many years under heavy use.
Mercer Culinary Double Diamond
Bottom Line: A solid pull-through sharpener with fewer features than you might expect for the price. A tendency to move slightly during use requires extra care and attention to avoid mishaps.
DEKEAN Knife Sharpener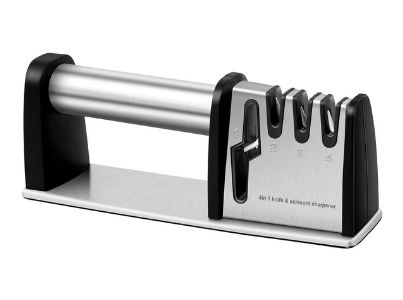 Bottom Line: A solid knife sharpener with fewer features than you might expect for the price. A tendency to move slightly during use requires extra care and attention to avoid mishaps.
What to look for in a pull-through knife sharpener
Once you've looked at the various designs and features of a few pull-through manual knife sharpeners, you'll understand the tradeoffs between style/design, storability, and how well a given design will fit your hand size and strength. Plus, you'll be savvier with what safety features should protect your hands and your counters and the different abrasives included do to blades and when to use them.
Especially for first-time pull-through knife sharpener buyers, we recommend finding a sharpener that has some weight and a quality no-slip base that holds on various surfaces. Especially for dull knives, you'll be working with the tool steadily for longer than you might expect, and there is a learning curve. Make sure your pull-through sharpener will stay put on the counter the whole time you're working with it.
And take a hard look at the handle. I have broken more than one plastic handle off a sharpener, leaving me with an easier-to-store but unsafe tool. Check how the handle is attached as well as what it is made of. Until you get used to working with your new sharpener, you are likely to put more pressure on the handle than you should, and you don't want it to snap while you're learning.
See how firmly you must pull the blades across the abrasives to sharpen properly. That's what the handle and no-slip feet have to hold up to and you want them both to last as long as the sharpener still sharpens.
Types of pull-through knife sharpeners
There are 2 basic pull-through knife sharpener designs. Flat plastic or metal sharpeners that sit upright on a flat base, some with a short pedestal, like a small can, to raise the sharpening business off the counter. These have multiple sharpening notches across the top. Some use a spring-loaded "self-adjusting" angling device that requires a little more skill by the user to get the angle right. Some are held in place only by the stickiness or weight of the base (no hands keeping the sharpener still). Other uprights are rounded plastic and metal blobs, with a no-slip base and indentations for grip.
We find the handled design easier for most users. It removes some of the nervousness that the no-handle or no-hands designs can cause and gives more control. The larger size of most of these units also allows more options, whether more sharpening stages or the ability to handle different blade styles. And, as long as the no-slip feet are good, they tend to be more stable.
How to use a pull-through knife sharpener
Now it's time to look at your knife collection. Will the pull-through sharpeners you are comparing handle your needs? If you only have a few favorite knives to maintain, you won't be putting a lot of wear and tear on your sharpener and might be OK with a tool made for light-duty sharpening.
If you have a lot of knives you'd like to sharpen (especially if they're mixed use, some for kitchen, some for camping, etc), you're best off with a sturdier (and easier to clean) model.
Make sure the sharpener you select has both western and Asian-style sharpening slots, if you need both, and check that they are set at the correct 20-degree or 15-degree angle. Also, check the abrasive materials used at each stage, how the manufacturer describes the action of each abrasive and whether the abrasive rods or wheels are made of a solid abrasive material or just have a coating.
Test the blade by trying to slice through a piece of notepaper, a ripe tomato, or an onion. A dull blade won't handle any of those.
Then practice: Choose the right angle for the type of blade and put the heel of the blade (widest part, not the pointy bit) into the coarse slot. Pull the blade smoothly towards you across the abrasive while applying gentle pressure. If you don't get results at first, use a little more pressure until you can see and feel it working. Keep in mind that you'll have to move the blade to keep even pressure against the abrasive if the knife is curved.
When your blade is sharpened, use the Fine setting a couple of times until it's razor sharp. Then rinse and dry your knife and put it away until you need that perfect sharp blade.
Why trust us with your kitchen efficiency and safety?
All of our team spend lots of time in the kitchen and share the joy that comes with prepping a great meal with family and friends and a good, sharp knife. Between us, we've also (naturally) made just about every mistake you can when sharpening knives. Sometimes that came down to inexperience or a lack of attention to the job at hand. (Remember not to mix too much wine with your sharpening chores).
We all agree, when it's time to make things happen in your kitchen and you grab a dull knife, it can throw off your whole gig. When that happens, to recover momentum and get a beautiful meal out on time, you need reliable sharpening results fast.
So sure, some of us still take the time and concentration required to run a vintage Japanese knife over a sharpening stone for an hour. But for daily use in the kitchen, the pull-through manual sharpener is our got-to-have sharpening tool. We've kept hundreds of knives of different quality and styles in good shape and safe to use for many years using well-built manual pull-through knife sharpeners.
Commonly asked questions about pull-through knife sharpeners
Are pull-through knife sharpeners any good?
The old saying goes that a poor craftsperson blames their tools. Suppose someone picks up a sharpener by glancing at the box, takes it home, and just takes a stab at sharpening a knife without reading up and watching some how-to videos. In that case, it's theoretically possible for a pull-through knife sharpener to damage your blades.
But, for any reasonably careful user who buys a decent-quality knife sharpener, this is a tool that does what it advertises.
Pay attention to the angle of your blade. Don't rush or rely on the instructions for how many pulls you make – let your knife tell you. Pull evenly and smoothly and follow each step in the process, and your new knife sharpener will keep your knives safe and good looking until you pass them on to the kids.
Are pull through knife sharpeners bad?
Pull-through sharpeners easy-to-use are an excellent addition to any kitchen, but they can strip too much metal from dull knives if incorrectly used. It's best to pick the best knife sharpener for you and to make sure you're using the sharpener correctly to avoid damaging your knives. The best knife sharpeners effectively sharpen a knife without stripping the blade edge. A knife sharpener can help any cook in the kitchen, whether you're a novice chef or a knife enthusiast.
Do pull-through knife sharpeners work?
Knife sharpeners can work well to sharpen knives, but they need to be used correctly to avoid damaging an expensive knife set. Knife sharpeners are made with materials to sharpen knives. Knife sharpeners help a cook achieve a proper angle and pressure when sharpening knives. When incorrectly used, knife sharpeners can remove too much material from the knives and make the surface of the knife uneven.
How does a pull-through knife sharpener work?
All knife sharpeners work by reforming the edge of a metal blade using friction and abrasion. Just like you can rub a stick on a sidewalk to grind off some of the wood and make it pointy, rubbing a steel blade against a rougher, harder (like diamond hard) surface does the same thing. When using the coarse setting on a sharpener, you are shaving off larger amounts of metal, to remove little chips and bends that develop on your knife blades as you use them every day. You'll know when it's doing its thing: you'll hear the grinding as you draw the blade back. Running the steel across the abrasive at a precise angle gives it back the original shape it had from the factory.
Because that is a relatively "coarse" sharpening process, the first knife sharpening pass leaves a good bit of metal shavings behind and may not flatten out the smallest nicks. Your knife will cut better but not great and won't stay sharp for long.
The second (and sometimes third) stage in sharpening your favorite knife is similar to using a finer grade of sandpaper to put the finishing touches on a nice piece of wooden furniture or a car fender. The much finer grain of a ceramic rod will polish off any remaining rough spots and finish the very edge of the blade for maximum sharpness.
How long does it take to sharpen a knife?
One answer is as long as you have. Even a quick run through your sharpener or across a honing rod should improve the edge for a short while. But your cuts won't be clean, and your fingers won't be as safe as they should be. Most knife sharpener manufacturers instruct you to use about 6 pulls across the coarse slot and 3-6 pulls across the fine slot.
Our experience, which is echoed by a lot of user reviews, is that you can expect to do a bit more work than that. Especially if your knives haven't been properly sharpened since they got home from the store years ago, it will take some work to grind them down just to get back to the right angle.
How many pulls will depend on how much pressure you use and how slowly you move the blade. But don't try to substitute pressure or speed for technique. Push hard, and you'll do more damage than good, and zipping the blade lightly across the abrasive won't remove as much material with each pass. Take your time, think about what is actually happening to the blade, and remember that your patience with this chore will pay off with a sharp edge for months to come.
Do pull-through knife sharpeners wear out?
We've seen sharpening whetstones at museums that are literally thousands of years old. Some are just slivers now. All are certainly much smaller than when they started, but they usually started very big – think of the cartoon blacksmith spinning sparks from a tire-sized sharpener and a sword.
So yes, even the hardest materials wear down over time when used to change the shape of something as hard as steel. But you should be able to tell whether the particular manufacturer you are comparing is using top-grade materials that are suited to your sharpening needs.
If you work your knives hard and sharpen them frequently, you might go through one or two good-quality pull-through sharpeners over the course of your kitchen career. Any more than that, and you need to do more research and upgrade your sharpening gear!
What is the best pull-through knife sharpener?
As we've examined in detail in this post, the best pull-through knife sharpener is the one that works best for you. Our crew found the RAZORSHARP pull-through knife sharpener had the best combination of weight, handling, stability, blade options (including scissors and serrated blades), and sharpening performance.
Can you sharpen scissors with a pull-through knife sharpener?
Not all pull-through sharpeners include a slot for touching up your scissor blades, and the regular knife slots will likely make your scissors less sharp than when you started. Also, even if your sharpener can handle scissors, the technique and feel is different, so practice on an old set till you feel you've got it down.
Where to buy pull-through knife sharpeners?
Pull-through knife sharpeners are available at many online and local kitchenware and hardware stores. Amazon offers literally thousands of models at every price point and detailed reviews from users at all experience levels.
What Do the Pros Use to Sharpen Knives?
Have you ever wondered what professionals use to sharpen their knives? When you see a chef slice through a juicy tomato with ease, it can be tough not to envy a blade that can pull off such a feat.
Professionals typically use a sharpening stone or steel. However, occasionally, you might find a pull-through sharpener in a commercial kitchen.
Stone
A stone is the most common tool professional chefs use to sharpen their knives. Sharpening stones and whetstones are ideal for professionals who've mastered the art of sharpening. The oil or water on the stone helps catch the bits of metal that come off during sharpening, allowing for a cleaner edge.
Sharpening Steel
A sharpening or honing steel is a long, thin rod made of ribbed steel. They're common in home and commercial kitchens because they're pretty simple to use and highly effective. They also allow you to control how sharp the blade gets.
Pull-Through Sharpener
Pull-through sharpeners aren't quite as popular among professional chefs. However, they have their place in kitchens where inexperienced workers need to do a quick sharpening job. A pull-through sharpener is a safe alternative if you don't know how to operate a sharpening steel or stone.
Can Pull-Through Knife Sharpeners Ruin Knives?
When you learn how to sharpen a knife, you'll learn all about the proper angle, force, and tools. If you don't know how to use a sharpening steel or stone to sharpen a knife, you can cause significant damage.
Fortunately, pull-through sharpeners help even the most inexperienced chefs sharpen knives. However, there are some issues these easy-to-use sharpeners can cause.
Not All Knives Are the Same
One of the most significant issues with a pull-through sharpener is its one-size-fits-all approach. Unfortunately, not all knives are the same, which is why so many chefs prefer a whetstone or steel. For example, some knives require uneven beveled edges. In contrast, others are made with lower-quality metal that might chip more easily. A sharpening steel or stone allows you to hone your edge precisely.
Can't Control Pressure
Although a pull-through sharpener is easy to use, it won't allow you to properly control pressure along the knife's blade. Unfortunately, the best way to get a long-lasting edge is with precise control over the edge's thickness.
Won't Work on Some Bolsters
Many knives have a bolster, a wide area that allows the blade to blend into the handle. The edge at the bottom of the bolster is thin and sharp. However, on many larger knives, the bolster is significantly thicker than the main cutting edge. When the bolster is wide, it won't fit into the opening on a pull-through sharpener.
Can You Sharpen a Serrated Knife With a Pull-Through Sharpener?
Serrated knives are hard-working kitchen tools. However, when they go dull, sharpening them requires some elbow grease. For blades with large serrations, you can use your pull-through sharpener. That said, you should only sharpen serrated knives with large serrations. Always leave micro-serrated edges to the professionals.
How to Choose Between a Steel and a Pull-Through Sharpener
Have you been struggling to decide whether to buy a new sharpening steel or opt for an easy-to-use pull-through sharpener? Each option has its pros and cons, but if you've never used either, it can be a tough choice.
A honing steel or stone is an excellent choice if you're comfortable sharpening manually. These tools allow you to have total control over your knife's blade. They're also the best way to get a precision edge on knives with bevels, such as certain Japanese blades.
A pull-through sharpener is your best bet when you want something that's quick and easy. In addition, they don't require special training, which is why most people choose them. Although they might be tougher on your blade, you won't have to worry about damaging it due to inexperience or a lack of knowledge.
How Do You Clean a Pull-Through Sharpener?
Pull-through knife sharpeners might look tough to clean, but they're not. First, rinse them with a bit of soap to remove any metal debris. Then, if you want to remove any black scuffs, you can use a bit of Dawn or Soft Scrub to clean them off.