Best Greens Powder for Bloating: A Dietitian's Guide to Choosing Right
If you're struggling with bloating and digestion issues, incorporating a super greens powder into your diet may be just what you need. These powders are packed with nutrients and antioxidants that can help support a healthy digestive system and assist with bloating discomfort.
Super greens powder is made from dehydrated, powdered vegetables and leafy greens. Consuming super greens powder is an excellent way to increase your intake of vitamins and minerals and help make up for gaps in your diet. 
In this guide, we'll explore our top picks for the best greens powders for bloating support. If you sometimes struggle with bloating discomfort and other digestive issues, investing in a super greens powder could offer the aid you've been seeking!
Why Choose Greens Powders to Help with Bloating
Before we delve into our top picks for the best super greens powders for bloating support, it's essential to take a moment to answer the question, "Why should you take a super greens powder to help with bloating?"
The average person's diet consists of certain foods that can contribute to bloating, including carb-rich pasta, carbonated sodas, and salty snacks. All of these food items can leave you feeling overly full and uncomfortable.
Let's be honest: sometimes it's hard juggling between life, maintaining a well-balanced diet, making sure we are getting enough greens, and hitting our daily intake of crucial vitamins and minerals. Supplementing your diet with a nutritional greens-based beverage, like an all-natural super greens powder shake, is an excellent way to add dietary fiber and gut-positive flora to the mix. 
Although greens powders aren't a substitute for fruits and vegetables, they are a great way to incorporate more nutrients into your diet. The best greens powder will be plant-based and made entirely of natural ingredients, without added sweeteners or stimulants. 
If you have a specific health concern you're trying to address, you should consult your doctor to determine which kind of supplement is best for you.
In short, choosing a super greens powder to help balance your digestion can be an easy way to add additional nutrition to your diet while assisting with the uncomfortable feelings associated with bloating and supporting a healthy digestive system. You simply can't go wrong!
Top 10 Super Greens Powders
If you've been searching for the best super greens powder, you'll want to check out these top picks. No matter your preferences and budget, one of these options is bound to suit your needs.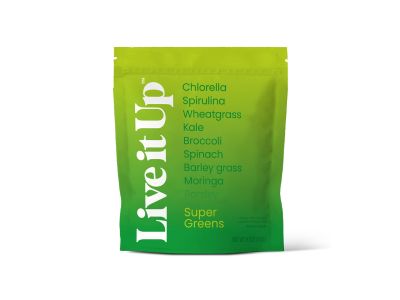 If you're looking for the most nutritious super greens powder designed to support digestion and help with bloating, it's hard to find a better option than Live it Up Super Greens. After all, this best-selling powder is jam-packed with more than 20 superfoods. This greens powder also contains probiotics and digestive enzymes to aid bloating and replenish healthy gut flora, which makes it the best greens powder for bloating. 
Live it Up's formula is made with organic vegetables and all-natural ingredients, including superfoods such as kale, spirulina, barley grass, burdock root, dulse, alfalfa, and peppermint leaf. It also contains significantly more protein, vitamins, and minerals than many other greens powders, making it a strong choice for well-rounded nutrition.
Unlike other super greens powders that often have a grassy, unpalatable taste, Live it Up Super Greens (formerly Ensō Supergreens) is a refreshing option that contains natural sweeteners like monk fruit to make each sip more delicious. 
This greens powder mixes well with a variety of beverages, from water and tea to smoothies and milk. Entirely caffeine-free, Super Greens is a healthy alternative to coffee and a great way to start your morning, though you can enjoy it at any time of day. The pleasant flavor also complements soups, pasta dishes, sauces, casseroles, and more.
Live it Up Super Greens is manufactured in the USA, formulated with high-quality non-GMO ingredients and is entirely vegan. Many consumers have found it to be a dairy-free, sugar-free, and low-carb solution to their stomach discomfort. With its high-quality ingredients, nutrient-dense profile, and formula designed to support gut health, it is no wonder why it ranked first as the best greens powder for aiding bloating.
Bottom Line: Drinking a glass of Live it Up Super Greens is a fantastic way to enjoy a well-rounded nutritional greens supplement while balancing digestion, assisting with bloating, and supporting your overall health.
Although not specifically designed to aid bloating, Amazing Grass Greens Blend contains numerous potentially helpful ingredients for gut health, including a fiber blend, digestive enzymes, probiotics, and probiotics. 
Advertised as "clean and green," Amazing Grass Greens Blend is made with organic, plant-based, non-GMO ingredients, such as spinach, chlorella, green tea leaf extract, and maca root. It's also sugar-free and gluten-free. 

However, despite the great list of ingredients, this organic greens powder doesn't actually provide a significant amount of many key vitamins and minerals. For example, although it provides 58% of the % Daily Value of vitamin K, it provides less than 10% of the % Daily Values of vitamin A, calcium, iron, and potassium. Potential customers should have a look at the supplement facts to see whether this greens powder is right for their nutritional needs.
Unlike many green powders that are only available in one container size, with Amazing Grass Greens Blend, you can choose from a variety of package options ranging from 15 to 100 servings per container.
Bottom Line: Amazing Grass Greens Blend has an excellent list of clean, organic ingredients and is available in bulk. However, it contains relatively small amounts of certain key vitamins and minerals.
Bloom Nutrition Green Superfood has become popular on social media thanks to its promise of quickly assisting with bloating and inflammation, as well as the immune system. Unlike most green superfood powders, it's available in a variety of flavors, including coconut, mango, and citrus, in addition to the "green-tasting" original.
In some ways, Bloom Nutrition's powder lives up to the hype, providing a lengthy list of nutrient-dense superfoods like barley grass, spirulina, and chlorella, as well as fiber, probiotics, antioxidants, digestive enzymes, and varied fruits and vegetables. 
There are also numerous adaptogenic herbs such as licorice root, ashwagandha root, and ginseng root in this vegan, sugar-free, non-GMO product, though prospective customers should note that it contains wheat and soy.
Although the % Daily Values are relatively minimal for many vitamins and minerals (as well as fiber), this is a pretty good source of iron, providing 9% of your % DV.
Bottom Line: This super greens powder has an excellent ingredient list for digestion and immunity and is one of the few products available in different flavors. Though low in other vitamins and minerals, it's relatively iron-rich and could be particularly helpful for individuals with anemia.
Country Farms Super Greens is likely to appeal to people who prefer to avoid tasting their greens. This nutritional powder comes in several flavors, including berry, apple banana, and even chocolate! 
Considering the reasonable price, it boasts an impressive list of ingredients, including a notable blend of 10 different mushrooms to promote calm and focus. The mushroom complex is probably what sets it apart from other greens powders, as many products don't contain even a single mushroom variety. 
The long list of other ingredients is also impressive and is full of recognizable fruits and vegetables, as well as organic greens like kale, aloe vera, barley grass, and alfalfa leaf. You'll also find fiber, prebiotics, and probiotics (though a somewhat limited 100 million CFU). Perhaps surprisingly, the packaging doesn't mention digestive enzymes.
Although the Country Farms blend is sugar-free, this greens powder lists maltodextrin and stevia among its ingredients, rather than exclusively using natural fruit sweeteners.
Bottom Line: If you're looking to purchase a decent super greens powder that won't cost you an arm and a leg, Country Farms Super Greens might be the right option, and its mushroom blend is particularly impressive.
If you often enjoy a morning smoothie, you might consider adding NutraChamps Super Greens Powder to the mix. Although it can be a bit gritty, this powder is rich in antioxidants, digestive enzymes, and wholesome greens, making it a strong contender among the best super greens powders for bloating. 
Some customers choose it specifically for its relatively high fiber content, as a single serving contains 20% of your daily fiber needs. Another impressive consideration for your digestive health is the probiotic blend, which features nine different strains for a total of 10 billion CFU.
Although this greens powder does have stevia leaf extract, it's sugar-free and has a pleasant berry flavor. There are 40 wholesome ingredients, mainly based around an organic blend of powdered greens like spirulina, wheatgrass, and chlorella, as well as an antioxidant-rich blend of nutritious fruits and plant extracts to help support immunity. 
Thanks to the varied ingredients, high fiber content, and lack of artificial additives, this is a popular choice for a reliable, thoughtfully manufactured greens powder.
Bottom Line: If increasing your daily fiber intake is a priority, consider adding NutraChamps Super Greens Powder to your diet, as each scoop contains 20% of your dietary fiber requirements.
While a tub of Organifi Green Juice might cost a little more than some other green powders, it's hard to argue against its tropical coconut flavor and impressive dietary fiber and iron content.  
This powder boasts a lengthy list of carefully selected ingredients featuring a wide variety of superfoods, organic greens, prebiotics, and natural flavors. It is a nutritionally complex greens blend containing everything from wheatgrass, moringa leaf, and matcha powder to turmeric, red beet, and ashwagandha powder.
Organifi appears to be marketed largely to those interested in maintaining a healthy body weight, with an emphasis on micronutrients that limit cravings and round out a balanced diet. To support healthy digestion, it contains prebiotic fibers, yet seems to lack any type of probiotic, so consumers will have to add that to their diet separately.
Free from GMO ingredients, gluten, and pesticides, Organifi is a high-quality option with a decent taste.
Bottom Line: Organifi Green Juice can serve multiple purposes, from supporting digestive health to aiding your weight loss plan. Despite the higher price tag and lack of probiotics, it's a good choice for those hoping to achieve multiple health goals simultaneously.
Garden of Life is one of the most popular vitamin brands, and their Raw Organic Perfect Food Green Superfood powder has been designed to keep you regular and assist with bloating. 
There's little to criticize about the ingredients list, which is full of organic greens packed with amino acids, essential fatty acids, and antioxidants. Digestive enzymes and probiotics are also prominently featured, helping you maintain a healthy gut.
Unlike most green superfood blends, Garden of Life adds a wide range of healthy sprouts to the usual range of greens, fruits and vegetables. It's nice to see ingredients like organic chia seed sprouts, organic amaranth sprouts, and organic lentil sprouts (among many others) in the mix. 
Garden of Life is known for its high manufacturing standards, and this product is no exception. It is entirely vegan, organic, and non-GMO, without unnecessary fillers or preservatives. It's also stevia-free and doesn't appear to contain any other sweeteners. 
Although this arguably makes it healthier than some of its competitors, the taste isn't quite as palatable as many other greens powders.
Bottom Line: This stevia-free, non-GMO super greens powder comes from a reputable company that produces trusted nutritional products. Although not as rich in fiber or as tasty as some other greens powders, it's a safe, nutritionally-complete bet!
If you regularly enjoy a warm cup of green matcha tea (or like adding matcha to recipes), you could switch to Live Conscious Beyond Greens and enjoy the same taste – but with the added possible benefits of nutritional and digestive support. 
Although this product has fewer leafy greens and vegetables than most of the other super greens powders on this list, it contains a unique mushroom blend that offers its own potential health benefits. Milk thistle, rhodiola, and echinacea are among the other standout ingredients to balance focus and stress, along with prebiotics and probiotics to support a healthy gut and immune system. 
Their formula also features green chlorella, a superfood that contains protein, vitamins, minerals, fiber, and antioxidants. However, some consumers may object to the inclusion of ingredients like stevia, salt, and xylitol, which arguably make the Live Conscious powder less "natural" than some other super greens blends.
Bottom Line: If you're already a regular matcha drinker, you'll likely find this mushroom and greens powder an easy addition to your daily routine, though it lacks the depth of clean superfood ingredients found in some other products.
Ancient Nutrition Organic Super Greens features a blend of wholesome ingredients, including leafy greens, fruit and vegetables, mushrooms, and seeds. These combine to create a stomach-friendly nutritional green drink that also supports the immune system. 
It's available in mint, watermelon, and greens flavors, so most consumers will find a product that suits their taste preferences, though the texture of drinks can be a bit gritty. Alternatively, it's available in tablet form.
In terms of ingredients, Ancient Nutrition's super greens blend has been formulated with gut health in mind, with digestive enzymes, probiotics, and digestion-supporting organic flax and chia seeds. The packaging even refers to this product's usefulness in aiding constipation, bloating discomfort, and occasional diarrhea. 
In addition to the usual greens, fruits, and veggies (think oat grass, wild blueberry, noni fruit, and spirulina), this USDA-certified organic powder also features mushrooms and "botanicals" ashwagandha, milk thistle, and turmeric root. It's a very "clean" ingredients list that's free from added sugar, and it's also free from dairy, gluten, soy, and GMO ingredients.
Bottom Line: The carefully chosen ingredients in Ancient Nutrition Organic Super Greens make it a strong choice for those hoping to supplement their nutritional intake while also balancing digestion.
Despite being a relatively new superfood company, Your Super has developed a strong following and client base thanks to its reliance on transparent labeling, sustainable ingredient sourcing, and avoidance of unnecessary additives.
Unlike many other super greens powders, which often contain dozens of ingredients, including greens, fruits, vegetables, digestive enzymes, probiotics, amino acids, and more, Your Super Super Green has a very short yet wholesome list of ingredients. 
Their formula is made with just six types of greens: moringa, chlorella, spirulina, wheatgrass, barley grass, and baobab, all of which are vegan, non-GMO, and sourced from small organic farms.
Although the ingredients in Your Super Super Green are excellent, this powder is likely to appeal more to those interested in supporting their immune system and micronutrient content (especially vitamin A) than specifically balancing their digestive health and assisting with bloating. Notably, this blend doesn't contain any prebiotics, probiotics, or digestive enzymes.
For those interested in more complex nutritional support, Your Super offers a range of other superfood powders (designed for balancing hormone levels, energy and stress), each with a similarly simple yet appealing recipe. Your Super blends can be added to smoothies, water, and other beverages, or combined with any recipe.
Bottom Line: Your Super Super Greens is organic, vegan, and sustainably sourced and packaged. Made with just six green superfoods (which means no probiotics), it's likely to appeal to those who want a simple recipe without any unfamiliar ingredients.
Key Considerations for Super Greens Powder
Selecting the best super greens powder can be challenging, as there are several top-notch options on the market. To make the decision-making process easier, try focusing on these important factors:
Nutrients
Additives
Organic, Clean Ingredients
Sourcing and Labeling
Taste
Let's briefly explore these crucial factors to ensure you choose the best greens powder for your body and budget.
Nutrients
Hoping to enjoy a greens powder supplement to aid bloating and  help you hit your daily vitamin and mineral intake? Not all super greens powders are equally nutritious. Take the time to read each product's label to see just how much nutrition a single serving offers.
Additives
Unfortunately, additives are a common issue with drink powder products. While they're not as prevalent in super greens powders, it's not uncommon to find thickeners like carrageenan (made from seaweed) or gelatin (sourced from animals).
If you're looking for the purest and healthiest green drink powder, you'll want to avoid products with excessive additives. Be especially careful of powders that contain food color dyes, as some dyes contain carcinogens.
Organic, Clean Ingredients
Before you buy a container of super greens powder, be sure to check the ingredients label. 
If the label features anything other than nutritious vegetables and leafy greens, it might be best to move along to a different product. Remember, not all greens powders are gluten-free or vegan-friendly!
Also, because these powders are made from vegetables and leafy greens, they can contain potential pesticides, so it's important to choose products with organic ingredients. Many greens powders undergo third-party testing to confirm ingredient purity.
Sourcing and Labeling
Is your chosen super greens powder made in the USA and clearly labeled? If not, you might want to consider selecting a different product. 
After all, not all countries adhere to the same strict guidelines as the Food and Drug Administration (FDA), meaning that products manufactured overseas could contain potentially harmful substances.
Taste
Even the healthiest super greens powder can be a waste if you don't like the taste. For that reason, it's vital to select an option that, at the very least, is palatable – though many greens powders have been carefully crafted to have a pleasant and refreshing flavor. 
If you don't want to invest in multiple options to determine which is the best-tasting greens powder for you, consider reading consumer reviews to get an idea of how your chosen super greens powder tastes.
Final Thoughts
When combating bloating discomfort and seeking digestive support, incorporating the best greens powder into your routine can prove to be an effective strategy.
Packed with a blend of nutrient-dense greens and often enriched with digestion-supporting compounds like probiotics and enzymes, the best greens powder should offer a gentle and natural way to assist with bloating. 
We've presented several available options of the best greens powder for bloating, with Live it Up Super Greens being our top pick regarding nutrition, ingredients, and taste. Still, your best option depends on your personal preferences, health needs, and budget.
Explore more health and wellness topics by checking out related articles now!
Frequently Asked Questions
If you have additional questions about super greens powders, you're not alone! For more information, check out these common queries.
Can you drink too much green powder?
Drinking too much green powder is unlikely to cause serious illness, but it is possible to overdo it. Consuming more than the recommended serving size could cause nausea, digestive discomfort, and constipation.
As with any health product or supplement, following manufacturer instructions is vital when enjoying green powder shakes, smoothies, and drinks.
Can greens powder make you bloated?
Consuming an excessive amount of super greens powder could make you feel bloated, so it's crucial to read the manufacturer's guidelines when consuming greens powders. 
Regular exercise, adequate hydration, and a balanced diet are also essential and can help you when you are feeling bloated.
How often should you take super greens?
Most super greens powders are designed for daily consumption, so drinking a super green powder shake or drink once a day is (in most cases) entirely safe. 
Consulting with your primary care physician (PCP) and reading the instruction guide for your chosen powder can help you decide on the best consumption for your unique needs.