How can I Prepare an Afternoon Tea?
Afternoon tea is a time-honored tradition in Britain and many former English colonies, although the hectic pace of modern life has turned afternoon tea into more of a special treat and less of a regular event. If you want to prepare an afternoon tea for family members and guests, the process is fairly simple, once you decide what sort of afternoon tea you would like to have. You may find that afternoon tea becomes a tradition in your house, providing an opportunity for friends and neighbors to drop by in a casual environment.
Before discussing how to prepare an afternoon tea, it is important to distinguish between afternoon tea and high tea. Afternoon tea is a light meal, generally eaten between three and five o'clock in the afternoon. In addition to tea, afternoon tea can include things like tea sandwiches, scones, pastries, and desserts. High tea, on the other hand, is actually a full meal, with serious savory dishes, and it is eaten later in the day.
There are three types of afternoon tea you can choose from when you prepare an afternoon tea. The lightest is cream tea, which simply features tea, scones, jam, and cream. A light tea includes sweets along with the cream tea components, while a full tea also incorporates savories, such as tea sandwiches. In all cases, a mixed spread of items is usually provided, with several types of scones offered, an assortment of desserts like cupcakes, tarts, jelly rolls, and so forth, and an array of tea sandwiches, from classic cucumber to ham.
Before you prepare an afternoon tea, take the time to formally dress the table. If you have linens for the table, use them, and set the table with nice china and silver. Even if you don't have formal table settings, you can ornament the table with flowers, and set out matching plates, cups, and so forth, if you can. If your household is lacking in matching items, choose your table settings carefully, so that the mismatching appears artful. Tidy up the room where you plan to serve tea, to make guests feel like guests, rather than intruders in a busy home.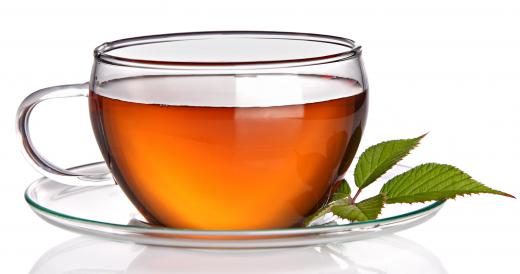 Many of the items used in an afternoon tea can be made the day before. Desserts, for example, generally do not suffer when prepared on the previous day. Scones should ideally be made fresh, so that they will be warm at tea time, and tea sandwiches can be assembled several hours before, especially if you take the time to butter your bread to seal it from moisture. All of the food items at afternoon tea are traditionally served in a tiered stand, although you can use platters if a stand is not available. Make sure to have tongs available so that people can pick up items without handling food which will be eaten by others.
The high point of afternoon tea is, of course, the tea. If you have several tea pots, you may want to have an assortment of teas on offer for guests to choose from. In all cases, you should warm the teapot with a swirl of hot water before adding loose tea leaves and water at the right temperature for those tea leaves. Black teas can tolerate boiling water, while green and white teas require water at a lower temperature. Do not oversteep your tea, either, or it will become bitter. Make sure that guests are served promptly, or strain the tea into a clean, warmed pot and cover it with a tea cozy so that it stays warm. Milk, sugar, and lemon slices should be brought out along with the tea.
While it can seem like a lot of work to prepare an afternoon tea, you can cheat by buying some things at the bakery, and enlisting the help of family members. If afternoon tea starts to become a tradition, you might also see if other people in your circle of friends are willing to host tea, distributing the labor more evenly.
AS FEATURED ON:
AS FEATURED ON:








A teapot.

By: daseaford

Cakes and sandwiches for tea.

By: gtranquillity

A cup of black tea.

By: Sergii Moscaliuk

Honey should be available for guests to add to their tea.

By: vgstudio

Afternoon tea is popular in Britain.

By: Natalyaivania

An afternoon tea is a light meal that might include pastries and other snacks.

By: Andrew Mills

Scones, clotted cream, and jam are often served at afternoon tea.