How can I Tell if a Cake is Done?
Most cake recipes provide some guidance when it comes to baking time, but it can still be challenging to know when, exactly, a cake is done. There is no single way to know when a cake has finished baking, but there are some tips and tricks bakers can follow in order to better their chances of success. First, you should follow any instructions about pan size and oven temperature as closely as possible. Keep a close eye on the cake as it bakes so that you can see if the edges are getting overcooked or burned. You can test the center with a toothpick or lightly tap the surface with a few fingers to see if more time is needed.
The Toothpick Test
One of the most popular methods of testing a cake for doneness involves little more than a toothpick and a bit of patience. You can insert a clean toothpick into the center of the cake when the estimated baking time is nearly up. If the toothpick comes out clean or nearly so, the cake is usually done. Wet batter from an undercooked cake will stick to the toothpick, showing you that more cooking time is required.
Serious bakers often invest in dedicated "cake testers," small wire-like appliances used in place of a toothpick. There is no need to be so fancy, however, and a raw spaghetti noodle or a clean, unbent paperclip will work just as well.
It is important not to use a knife to test the cake, as this can create a big hole. If a lot of air escapes, the cake can collapse in on itself. This is all but impossible to fix, and should be avoided if possible.
The Touch Test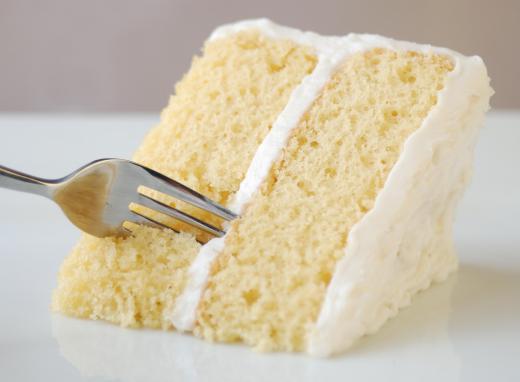 Some cooks swear by the "careful hand test," or "touch test," to assess when a cake is done. While the cake is still in the oven, a baker will carefully press the top surface with a few fingers. If it feels firm and does not give under the pressure, it is likely done. Any significant give or bounce indicates that the cake needs to stay in a bit longer. This method should be done carefully and quickly, since the cake will be quite hot. Press down very lightly, so as to not deflate or puncture the cake.
The Edge Test
Experienced bakers may find that a good look at a cake, particularly those that are yellow or white, can provide a lot of information about its doneness. Cakes tend to shrink from the sides as they get close to being done. If the top seems to be turning a darker golden or yellow, the cake is probably nearly ready. A cake that still seems very pale may benefit from a few more minutes in the oven. This isn't a foolproof system, however, because an oven that's turned up too high can cook the outside of the cake quickly while the inside is still liquid.
Follow the Recipe
Usually, the best way to ensure that a cake is done is to closely follow the recipe. Most will tell you what size pan to use and material the pan should be made of, as well as oven temperature. If the instructions call for a metal pan, for instance, using one made of glass can change the required cook time; similarly, using a pan that is deeper or wider than what's called for can change things, as well.
Paying attention to the ingredients is also very important. Substitutions like honey for sugar, or additions of wet ingredients like blueberries or bananas, may result in a longer baking time. Doubling or tripling a recipe may also have an effect on how long the cake needs to bake. Even if each cake is in its own pan, most recipes are designed — and tested — on the assumption that a single cake is the only thing in the oven. It can take more time to distribute the heat when there are multiple cakes (or cake layers) in the oven.
Calibrate the Oven Temperature
Cooking time is largely dependent on how hot the oven is. If the temperature is hotter or cooler than what the recipe calls for, your cake may be done either before or after the estimated time. You may want to use an in-oven thermometer if you're concerned about how accurate your oven's temperature gauge is.
Special Considerations
Cooks who are working at high altitudes or who are using convection ovens often need to adjust the overall baking time to compensate for these special circumstances. Most of the time, baking under either of these conditions is faster. An unprepared cook may find that a cake is done or overdone before ever getting a chance to test it.
AS FEATURED ON:
AS FEATURED ON:








By: Dan Race

The toothpick test is a popular method for checking if a cake is done.

By: cobraphoto

Yellow and white cakes should turn a golden brown on top when done.

By: auremar

Closely following the recipe is a good way to make sure a cake will bake correctly.

By: Chris Tefme

An unfolded paperclip may be used to test a cake.