How Do I Choose the Best Bread Slicers?
If you're thinking about buying a bread slicer, your choice will probably rely on how much bread you need to slice, how much kitchen space you have available to store equipment, and what you can spend. There are several types of bread slicers available on the marketplace, ranging from large and medium-sized automatic machines to much smaller manual slicers. Choosing the bread slicer for your own needs requires comparing the type best suited to your purpose and budget.
If you need a home bread slicer, chances are you'll be looking at a smaller, manual slicer, although there are a few automatic models that are small enough for some home kitchens. These manual slicers provide a surface for your loaves and a guide of some kind that allows you to evenly and quickly cut slices. They can be made of wood, stainless steel, or plastic, and are relatively inexpensive. Choosing one might seem to be a question of how they look, but you should also try to find reviews because some are better than others.
When buying a manual home bread slicer, usually you'll need your own bread knife, although a few models include a cutting instrument. Slicers with adjustable guides are a good choice if you want to be able to determine how thick you like your slices. Some reviewers have complained that their knives cut into the bed of certain slicers, so be wary of models that receive that complaint. Stability and safety are also concerns, since you'll be applying pressure to the unit with a knife. Also look for models that will catch the crumbs, as not all do this. Using a website that has customer reviews is the best way to compare and contrast equipment.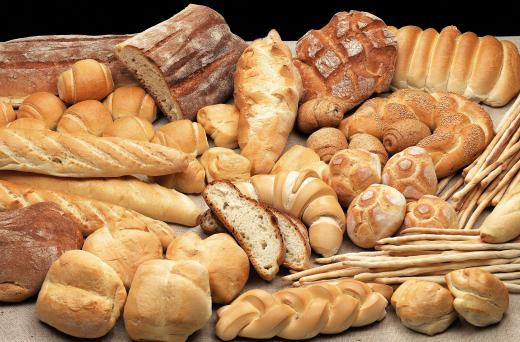 Those who need industrial bread slicers or bakery bread slicers will generally be shopping for expensive equipment from restaurant supply stores. Automatic bread slicers come with a series of specifications, allowing you to compare things like slice adjustability and number of cut loaves per hour. They can usually cut both soft or hard crusted bread, anywhere from a couple hundred to 500 loaves per hour. Again, comparing reviews is helpful, and you might want to see how the equipment works by visiting a store in person.
Other types of bread slicers include bagel slicers and slicers for different types of loaves such as French bread or baguettes. If you're buying one for a restaurant or business, you'll want a fast slicer that can keep up with demand and handle all the shapes of loaves you're selling. For both home and commercial use, another thing to consider is how easy your bread slicer will be to clean. Finally, read the warranties, especially if you're buying expensive equipment.
AS FEATURED ON:
AS FEATURED ON:








By: Irochka

Slices of bread.

Bread in a bakery.