How Do I Choose the Best Broccoli?
The keys to choosing the best broccoli include finding a quality produce purveyor, examining each bunch carefully, and making sure that it is firm and not bruised or discolored. A broccoli floret should be dark green in color while its stalk may be a few shades lighter. The head of broccoli should be reasonably compact, and it is a good idea to carefully evaluate it by turning it over in your hands and viewing it from all sides.
As is true when shopping for most types of food and consumer goods, you will often find that certain stores have better quality produce than others. Some supermarkets are capable of sourcing very high-quality fruits and vegetables on a regular basis, though you may have to spend some time searching for one that does. In addition, green grocers or specialty produce stands may not only offer superior-quality produce, but you may be able to get a better price on their offerings. If you are concerned about pesticides or other environmental toxins, you may wish to select a store that offers a selection of organic produce. Farmer's markets can also be a good way of finding quality broccoli and will afford you the opportunity to actually speak to the grower to find out about his or her growing standards.
Broccoli is generally green in color, although there are also some novelty strains that produce purple or golden varieties. If you are looking for standard broccoli, experts generally advise that you look for a head of florets that are consistently dark green. Variations in color, such as browning or yellowing, can indicate the vegetable is no longer fresh. Stalks should likewise be consistently green in color, although they will typically be lighter than the florets themselves. Gently squeeze the bunch to determine whether it is firm and tight, which can also be signs of quality and freshness.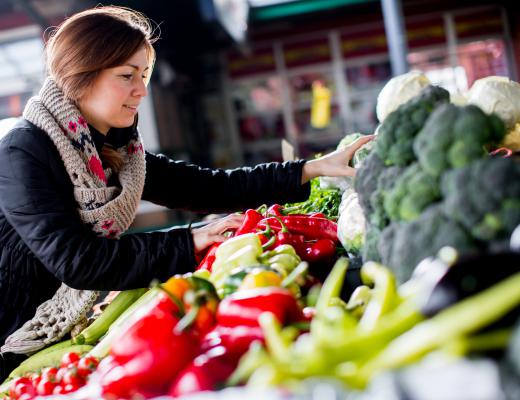 Once you have selected a fresh, high-quality bunch of broccoli, you should keep it wrapped in a plastic bag and refrigerated until you will use it. This will help maintain its freshness and flavor. Experts advise that you not rinse or wash it before storage, as the residual dampness can contribute to bacterial growth, which can shorten the shelf life of the vegetable. Properly stored, the fresh broccoli can keep well for up to five days, although it is important to keep an eye on it for signs of withering or browning, both of which can affect its flavor.
AS FEATURED ON:
AS FEATURED ON:








By: Daddy Cool

Choose broccoli that has dark green florets and is firm to the touch for best quality.

By: Goran Bogicevic

Depending on the season, farmers' markets often stock organically grown broccoli.

By: anjelagr

After selecting the best broccoli, keep it refrigerated in a plastic bag until eating it.