How do I Choose the Best Enamel Roasting Pan?
One of the easiest ways to choose the best enamel roasting pan for your needs is to consider the various dishes you might plan on preparing in such a pan, and then choose a pan that suits your needs. Through this consideration, you should look at certain features, such as the size and shape of the pan, though these will often be determined by your roasting needs. You should look for a pan that is not too heavy — though most enamel pans are fairly heavy — you might want a pan with a lid, and you should look for an enamel roasting pan with strong, solid handles you can rely on for moving it in and out of a hot oven.
An enamel roasting pan is a large pan typically used for roasting large pieces of meat, whole fowl, or other similar dishes in an oven. It can be made entirely out of enamel or it may have a cast iron body coated with enamel. The latter option is typically a better choice, as the inner metal works well to conduct heat more evenly through the pan. One of the first considerations you may want to examine is the size and shape of the enamel roasting pan that will work best for you.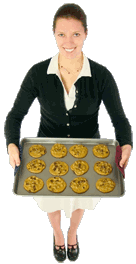 This can most easily be considered based on the types of dishes you are planning on using your enamel roasting pan to make. If you plan on roasting a whole turkey, for example, then you will want a pan large enough to accommodate a fairly large bird. Similarly, you may want to consider pans that are rectangular compared to more oval. While the oval pans may work well for turkeys and chickens, if you plan on cooking several roasts or similar dishes, the rectangular pan may fit multiple items more effectively.
You will want to find an enamel roasting pan that is not too heavy, since you will be moving the pan into and out of a hot oven. A large turkey is already quite heavy, and when added to a pan that is also heavy, the effort can be exhausting and potentially dangerous. Similarly, you will want to find an enamel roasting pan with good handles that are solidly connected to the pan.
Many pans will simply flair out at the sides to create handles, and while these are strong, you should be sure they are large enough to let you get a good grip. The sides of a roasting pan should also be fairly deep to allow you to gather juices or include vegetables with a roast. You may also want to find a pan with a lid, though this is rarely a necessity, as foil typically works quite well in the absence of a lid.
AS FEATURED ON:
AS FEATURED ON:








Woman baking cookies