How Do I Choose the Best Galangal Substitute?
Galangal is very similar to ginger — both are roots with pungent flavors, though galangal is generally spicier and much harder in texture than ginger. Ginger also features a papery, brown coating while galangal has a shiny, yellow skin. While both are very popular in Thai, Malaysian, and Indonesian recipes, ginger is generally more popular in Europe and the United States. For this reason, galangal may be difficult to find in some grocery stores, meaning a substitution may be needed. Cooks may replace fresh galangal with dried or frozen versions, or mix ginger together with some spices to replicate the flavor.
Fresh galangal root may be very difficult to find in most North American grocery stores. Cooks determined to use this spice in their foods may have luck looking for it in the Indian cuisine section. Some stores sell it either in dried slivers or in powder form. Generally, the flavors of the dried root are much stronger than fresh versions. Only a small spoonful of powdered galangal substitute is necessary to replace about 1 inch (about 2 cm) of the fresh root. When using dried slivers, cooks should generally grind it up with a mortar and pestle or an electric coffee grinder. It is very hard and doesn't usually break down well in liquid.
Though some cooks advise strongly against it, ginger is often recommended as the best galangal substitute. The ratio for substitution is usually 1:1, meaning cooks don't have to do any special measuring for their recipes. Some cooks may even want to use ginger as a galangal substitute without searching for this hard-to-find root. Ginger is usually cheaper than its rare cousin, and some people don't like galangal's peppery undertones.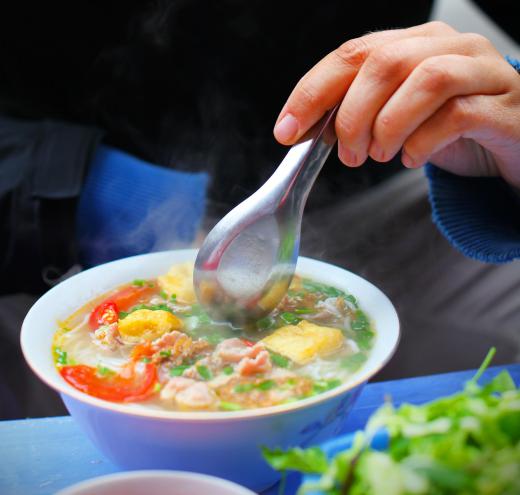 Cooks making a traditional Indonesian or Malaysian recipe may run into trouble because ginger and galangal may both be called for in the recipe. In these cases, the cook has several options. He or she may simply decide to use the ginger called for and leave the galangal out altogether. Others may prefer to double the amount of ginger in the recipe to make up for the lack of galangal. Another option involves making one's own galangal substitute mixture with ginger and a few other spices.
Cinnamon, mace, black pepper, and ginger — mixed in the right proportions — could become the perfect galangal substitute. Cooks should generally experiment with different ratios to see which flavors they like best. Some might use all four herbs, while others might prefer the flavors of ginger and cinnamon only.
AS FEATURED ON:
AS FEATURED ON:








By: margo555

Ginger is usually cheaper and easier to find than galangal.

By: sugar0607

Some cooks advise against using ginger as a substitute for galangal in soups and stew.