How Do I Choose the Best Pastry for Quiche?
When it comes to choosing a pastry for quiche, you have a number of options. You can decide to use a standard pie crust, made of butter and flour. Another option is to substitute the pie crust with a puff pastry for quiche or with phyllo dough. Some cooks prefer to use a pastry made with whole wheat flour, while others prefer the taste of all-purpose flour. The type of pastry you choose depends on whether you care about the quiche having a lot of fat and how much time you have to prepare the quiche.
Typically, the standard pastry for quiche is a buttery pie crust. The pie crust is made by cutting small pieces of cold butter into flour and then adding a small amount of water. This type of pastry for quiche is very high in fat, as most recipes require a lot of butter. You also have the option of using lard or shortening or a combination of fats, which changes the texture of the crust slightly.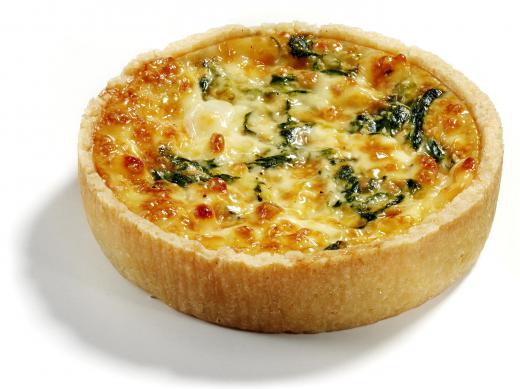 One way to make the standard pie crust a bit healthier is to substitute whole wheat flour for all-purpose flour. You may also want to reduce the amount of saturated fat in the crust by using oil instead of butter or lard. Another lower saturated fat option is to use margarine that is free of trans-fat in place of butter.
Puff pastry is another option for quiche. While puff pastry also contains a lot of butter and is high in fat, it has a lighter texture than standard pie crust. The pastry is made by layering butter with flour. You can purchase frozen puff pastry to use or attempt to make your own.
Phyllo dough is another pastry for quiche. The dough is sold in frozen sheets. When preparing the quiche pastry, you layer the sheets, spreading a thin layer of oil or butter between each sheet. The resulting pastry is crisp and lighter than pie crust or puff pastry. Using phyllo dough is usually quicker than making a pie crust from scratch.
Pre-made dough for a quiche is an option if you do not have time to make a pie crust or layer sheets of phyllo dough. Some pre-made pie crusts are sold frozen in the shape of a pie, so you simply need to pour the contents of the quiche into the crust. Others are sold as rounds that you need to unroll and place in a pie pan.
AS FEATURED ON:
AS FEATURED ON:








By: MIGUEL GARCIA SAAVED

There are various pastry options for quiche and choosing one depends upon the cook's preference.

By: whiteaster

Traditional quiche crusts are made with lard, butter, or shortening.

By: Anticiclo

Some quiches are made without a crust so as to reduce the carbs and fat found in a traditional quiche.