How Do I Choose the Best Professional Wok?
A professional wok may be made from several types of metal, including cast iron and carbon steel, which are usually considered the best. Some of these types of pans may already have non-stick coatings, but others may need to be seasoned periodically. If you will have a large crowd to feed, such as in a restaurant, you should also consider purchasing an oversized commercial wok. Finally, you should consider whether you need a flat or round bottomed wok. Unless you have the right type of stove or a wok ring, you may need to choose a flat bottomed wok.
Woks are special frying pans used primarily for cooking Asian dishes. Traditional Chinese dishes, such as stir-fry and fried rice, are often cooked in woks. This type of cookware is usually bowl shaped, with high sides and a round bottom. The high, angled sides of a professional wok help keep the food inside the pan as it is stirred around and tossed.
Traditional woks are generally made from cast iron. This type of metal is able to stand up to the high heat needed when using a professional wok, but it is also very heavy and needs to be seasoned to prevent food from sticking to it. Another excellent wok material is carbon steel, which is much lighter than cast iron. Like a cast iron wok, however, a carbon steel wok also needs to be seasoned periodically.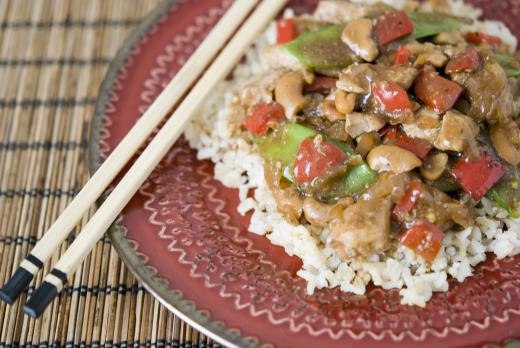 Woks with non-stick coatings are also available. A professional wok with a non-stick coating will usually enable you to cook Asian dishes with little to no oil or fat, which is generally much healthier. Cookware with non-stick coatings, however, are usually unable to stand up to the high heat that most wok dishes require. In fact, many experts agree that non-stick coatings can even give off toxic fumes when they are put over high heat.
If you will use your wok to feed an average size family, you will most likely only need one that's about as big around as a regular kitchen frying pan. On the other hand, you may need a much larger professional wok if you will be using it to feed large groups of people. Restaurants, for example, usually have very large woks.
Most woks generally have rounded bottoms that make it difficult to set them on an electric burner. If you will be using an electric stove with your professional wok, you will most likely need to use a wok stand, or wok ring. This metal ring enables a user to place the wok on top of the ring over a stove burner or other heat source. Flat bottomed woks, however, are also available, and these usually require no special wok accessories to use.
AS FEATURED ON:
AS FEATURED ON:








By: 22 North Gallery

With larger size woks you may have to use a wok stand or ring, which sits over the stove burner.

By: Periwinkle Studio

Stir-fries and other traditional Chinese dishes are typically cooked in a wok.

By: Stepan Popov

Virtually any type of stir-fry can be served over brown rice instead of white rice.