How Do I Choose the Best Yellow Watermelon?
Yellow watermelon is a popular variation of the common type of fruit which usually has a pink to red edible flesh. The yellow versions of the fruit tend to have a stronger taste, and they also contain slightly fewer calories than their red counterparts. In order to enjoy the best tasting yellow watermelon, it is important to first pick versions that are just ripe. There are also certain measures to take in terms of storing cut and whole watermelon to preserve its freshness.
Red is the most common type of watermelon, but many people prefer yellow versions for their distinct taste. Like red types, yellow watermelon flesh is juicy and sweet. The yellow flesh of this fruit is actually slightly sweeter than its red counterpart, and it even has a rich honey-like undertone when ripe. This watermelon complements other types of fruit in a salad or by itself in a mixed platter.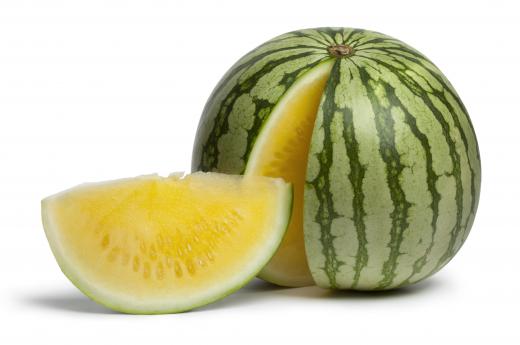 Watermelon is widely sold in stores and at farmer's markets across the world. Although considered a summer fruit, watermelon is actually sold year-round in many countries, thanks to the transportation of produce overseas. When seeking the fruit, it is first important to select perfectly-ripe yellow watermelon, which tends to be heavy and has an even exterior. Yellow markings on the side of the fruit usually indicate where it grew in the ground, and does not affect the quality of the flesh inside. Another method to determine freshness is by tapping the melon with your palm; a deep tone should result.
The fact that yellow watermelon is available year-round in many countries can sometimes give shoppers the falsehood that all fruit that is chosen is in good condition. Aside from the state of the exterior of the fruit, there are certain signs to look for that indicate a spoiled watermelon. Fruit that leaks any type of liquid means that the yellow flesh inside is no longer edible. If you cut open a yellow watermelon at home and find the flesh to be mushy, it is best to discard the fruit immediately.
Although you do not eat the skin of a yellow watermelon, it is still important to take certain preparations so that anything on the outside does not affect the sweet flesh inside the fruit. Spots on the skin of a watermelon might mean that there are spoiled lesions throughout the fruit that can extend to the yellow flesh. Before cutting up the watermelon, make sure that there is no dirt or debris on the rind that can make its way to the interior meat.
Storing yellow watermelon properly will also help to ensure that the fruit stays at its freshest longer. After buying a watermelon, it can stay fresh for a couple of weeks at room temperature, so long as it is not cut. Once you cut a watermelon, the leftovers must be refrigerated, and the fruit usually lasts five to seven days.
AS FEATURED ON:
AS FEATURED ON:








By: Picture Partners

Yellow watermelon.