How Do I Make a Cake in a Rice Cooker?
It is fairly easy to make a cake in a rice cooker. The properties of a rice cooker are not unlike those inside a standard oven, although the exact type of cooker might need to be considered so the correct cooking mode is selected. The recipes for most cake batters do not need to be modified very much, if at all, to create a cake in a rice cooker. The resulting cake can turn out very moist, light and perfectly cooked without any scorch marks. The non-stick coating that many rice cooker inserts employ also can help to make the cake easy to unmold and the surface very smooth and almost glossy.
When baking a rice cooker cake, the type of cooker is important to consider. A standard rice cooker usually has a single setting for making rice, and this will work perfectly well for a cake, although the cooking cycle might need to be run more than once to finish the cake. Some cookers have a bake setting that will adjust the heat so the cake will bake properly. A few cookers might have a steam setting, which should not be used for most cakes, unless the recipe is specifically for a steamed cake. Some microwave rice cookers will work for baking a cake, although common sense needs to be applied as to which ones will actually work, and which will just heat the batter without allowing it to set.
In general, the batter recipe used to bake a cake in a rice cooker should not need to be modified. Considerations need to be made about the volume of the cooker, especially if it is small. The batter should not fill the cooker more than halfway, although it is possible to fill it as much as two-thirds full and still have good results. The actual cooking bowl or insert needs to be greased well with oil or butter to ensure the cake does not stick, even if the interior surface is coated in a non-stick material.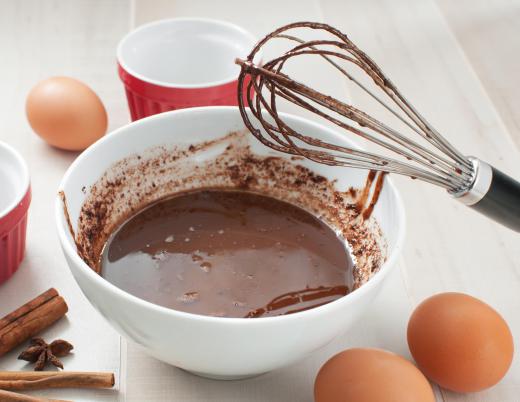 To bake the cake in a rice cooker, the batter is poured into the greased cooking insert and the cooker is set to a standard cycle. After the cycle is completed, the cake should be tested for doneness with a toothpick. If the cake is not done, then the cycle should be run a second time, although the cake should be tested again for doneness after only a few minutes to prevent it from burning. Once completed, the cake can be unmolded and treated just as if it were a cake that was baked in a standard oven.
AS FEATURED ON:
AS FEATURED ON:








By: blue eye

A rice cooker.

By: razmarinka

Most cake recipes require few or no changes when making them in a rice cooker.