How Do I Roast Cashew Nuts?
The fruit of the cashew tree, widely cultivated throughout the equatorial tropics, is one of the world's most popular nuts. It is used as an ingredient in savory cooked dishes, as well as other food preparations, but it is most commercially common as a roasted snack. They are relatively expensive due to harvesting conditions and their rather short shelf life. One way to mitigate that cost is to roast cashew nuts at home, an easy process. Raw cashews can be roasted either dry or wet, flavored or unseasoned, in a pan, oven or any other heat source.
Technically, the cashew is not a nut, but the exposed seed of a sweet fruit called a drupe. The cashew nut has more in common with pitted fruits such as peaches and cherries. Mass production of roasted cashews will normally cook the fully encased seed, making its tough outer shell more brittle, easier to break and separate.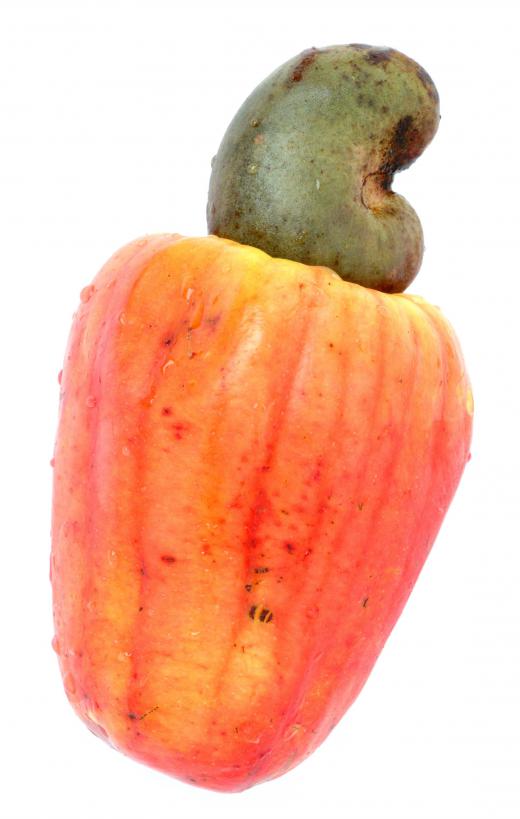 The term dry roast cashew nuts is also somewhat of a misnomer. A wet roast adds additional oils such as butter or a frying liquid to the cooking process. Dry-roasting does not; raw cashews are scattered on a simple pan and placed over the heat of a stove or exposed to the heat of an oven. Heat releases cashew's natural oils and it therefore cooks in its own wet medium. The addition of evaporative aids such as the circulating air of convection ovens is primarily to control the propensity of oils to burn.
Roast cashew nuts are delicious on their own, but to accommodate personal tastes, they are often flavored. Basic enhancement includes salt and/or sugar, best sprinkled after roasting. Sugar, melted to a syrup or made into a caramel with the additional fat of milk, can coat the raw cashew prior to roasting. Other common flavorings are typically extensions of the two basic tastes, and can include pungent wasabi powder or a covering of chocolate.
A few additional points should be added if considering to roast cashew nuts at home. Immature raw, still green nuts contain a corrosive and toxic compound called urushiol. Proper roasting will destroy and inactivate it, but droplets of it can suspend in smoke and water vapor. On rare occasions it can irritate the lungs and cause a severe allergic reaction if inhaled. When roasting nuts in general, cashews do burn easily and must be tossed, stirred and monitored well during the roasting process.
AS FEATURED ON:
AS FEATURED ON:








By: Vinicius Tupinamba

A raw cashew.

By: Shariff Che'Lah

Cashews.

By: siamphoto

Roasted cashew nuts can be eaten as part of a salad.

By: JJAVA

Cashews are rich in unsaturated fats and fiber.

By: Popova Olga

Some people prefer to roast cashews in the oven in a roasting pan.

By: Yogesh More

The nuts grown on oriental, or Indian, cashew trees are believed to have medicinal qualities, unlike other cashew nuts.