What are Champagne Grapes?
Champagne grapes are the name given to a specific type of grape, the Corinth. They should not be confused with the various groups to make wine in the Champagne region of France. These grapes also are commonly used as currants.
This variety of grape is usually small and black, and it does not contain seeds. There are also both red and white varieties of the Corinth, but they are much less common. Champagne grapes are the smallest of all seedless grapes, which is one reason they are so popular, particularly for drying. The "Champagne" name actually comes from a photo shoot done for the grapes in a magazine, in which the fruit was shown alongside a flute of champagne.
The actual grapes used to make wine in the Champagne region of France vary. Producers there may choose from either Chardonnay or the black grapes of Pinot Meunier or Pinot Noir. Some may use Arbane, Petit Meslier, or Pinot Blanc, but rarely do. Corinth grapes are rarely used to make wine, and never in Champagne or any other major wine producing region in the world.
Champagne grapes, after they have been dried, are often sold as Zante currants, or sometimes simply as currants. Despite this name, they should not be confused with true currants, which are the berries of the Ribes plant and are usually called by a color name, such as redcurrants or blackcurrants. In some older cookbooks, people may see references to the raisins of Corinth, as well, which refers to dried Champagne grapes. The very word "currant," in fact, comes from the name of these Corinth grapes.
These grapes have an incredibly sweet taste and are bursting with flavor. They are visually very appealing because of their small fruit and tight clusters, and they are used often in situations where appearance is important. They are seen widely in the United States in food service, particularly in catering or as table decoration. Because of their lack of seeds and sweet flavor, they also make an ideal snack to accompany other fruit that may be laid out.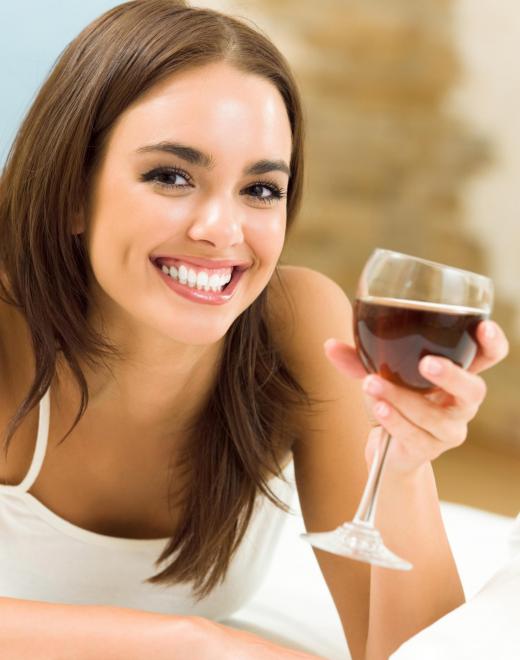 When buying Champagne grapes, shoppers should look for dark grapes, as this indicates ripeness and sweetness. The grapes will not gain much more sweetness after being picked, so they should be eaten as soon as possible. The skin should be taut and the bodies should be hard. Grapes that have started to wrinkle or become softer have passed their prime.
AS FEATURED ON:
AS FEATURED ON:








By: fafoutis

Corinth, or champagne, grapes are usually small, black and seedless. They are rarely used to make wine.

By: Igor Normann

Champagne grapes are not the same grapes used to make champagne.

By: benkenogy

Champagne is a specific type of sparkling wine, produced in a particular way, in a certain region of French known as Champagne.

By: vgstudio

Black champagne grapes may be used to make pinot noir.