Cheese eggs are any of several breakfast recipes built around a combination of eggs and cheese. Some of these combinations are very simple in nature and require little preparation time. Others are more elaborate and may require a degree of advance planning before the actual preparation takes place. Here are some examples of cheese eggs that are ideal for breakfast, brunch, or even a quick snack.
Perhaps the simplest of all cheese eggs is the combination of scrambled eggs and grated cheese. In order to prepare cheese scrambled eggs, all that is required is a frying pan, a small amount of butter, some grated cheese and a few eggs. After mixing the egg whites and yellows thoroughly, place them into a preheated pan that contains the melted butter. Allow the eggs to cook slowly, turning and scrambling the eggs as they set. As they near completion, the grated cheese is sprinkled on top and tossed in the scrambling eggs. This simple dish takes very little time to prepare and can be quite filling.
A variation on scrambled cheese eggs is the omelet. With this recipe, the eggs and a small amount of milk are combined and allowed to form a solid layer that serves as the basis for the omelet. When the layer is almost done, grated cheese is added to the top of the layer, which is then folded to create a pocket. Like the cheese scrambled eggs, cheese omelets can be prepared quickly and are ideal for breakfast or serving at brunch.
For a quick snack, creating a sandwich with cheese eggs is a great option. In order to make the sandwich, simply toast two slices of bread. Add a thin layer of mayonnaise to each slice, then add scrambled eggs with cheese on top of one slice. Top with the other slice and cut into sections. This is a nutritious snack ideal for after school or when hunger pangs emerge during the course of the day.
It is even possible to prepare cheese eggs in the oven. Simply combine the eggs, stirring the whites and yolks together. Pour the combined eggs into a baking dish, and slip into the oven to bake. As the eggs begin to solidify, add cheese to the top and place the dish back into the oven for a couple of minutes. This makes it possible to cut the cheese eggs into squares and serve them with fruit and some type of muffin for a nutritious and visually appealing offering for breakfast or brunch.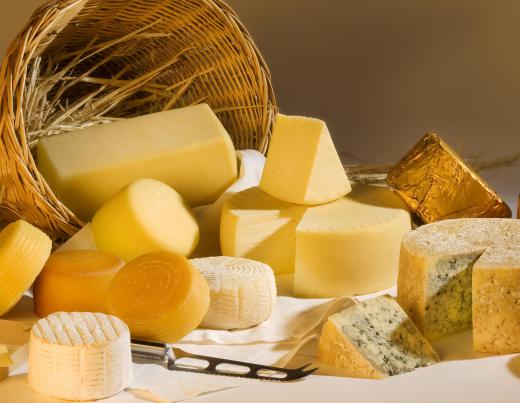 The great thing about cheese eggs is they are extremely versatile in nature. Any type of cheese can be used in the recipe. If mild or sharp cheddar is not desirable, then mozzarella or even something more exotic like goat cheese may be an option. The eggs and cheese can be layered or mixed thoroughly, depending on personal preferences.
Because of the relative simplicity of making various types of cheese eggs, just about anyone can master at least one of the basic recipes. As a good source of nutrition, eggs coupled with cheese is a great alternative to snacks and commercial foods loaded with sugar and preservatives.
AS FEATURED ON:
AS FEATURED ON:








By: CrackerClips

A carton of a dozen eggs.

By: MSPhotographic

Scrambled eggs and cheese are a common combination.

By: seqoya

Eggs and cheese are both good sources of protein.

By: manuart

Cheese eggs can be made using numerous types of cheese, including smoked Gouda or mild yellow cheddar.