What are Cold Smoked Foods?
Cold smoked foods are foods which have been cured using a cold smoking technique. One of the most well known examples of a cold smoked food is cold smoked salmon, or lox, although bacon and ham are often cold smoked as well. The cold smoking process yields a flavorful food with a texture which closely resembles the food in its raw state, since cold smoking does not actually cook the food. Many groceries and butchers sell an assortment of cold smoked foods, ranging from imported Gouda cheese to locally cured meats and seafood.
When foods are cold smoked, they are brined or salted first. The brining helps to preserve the food while it cures, and inhibits the growth of bacteria. After brining, the food is usually rinsed so that it will not be overwhelmingly salty, and then it is hung in a cold smoker, usually for an extended period of time. Unlike hot smoking, which can be accomplished in a few hours, cold smoking requires days or weeks of slow exposure to cooled smoke.
The temperatures in a cold smoker hovers around 70-90 degrees Fahrenheit (21-33 degrees Celsius). Often, aromatic smoke is produced by burning woods in a separate chamber, so that the heat of the burning does not elevate the temperature in the cold smoker. The cold smoker may also be kept dry, as humidity can promote the growth of mold and bacteria. The smoke is piped in and allowed to slowly penetrate the food. After cold smoking, the color of the food has usually altered slightly, and the flavor has layers of complexity from the smoking process.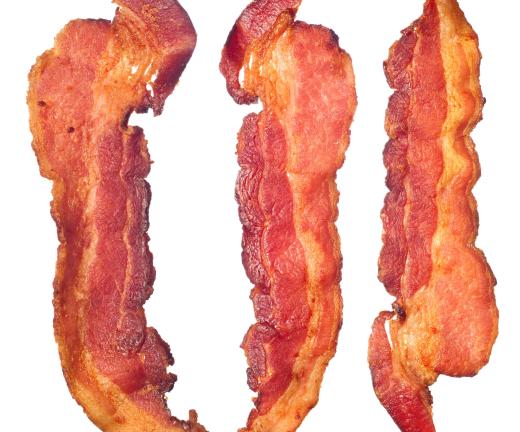 Because cold smoked foods are not actually cooked, many require refrigeration and relatively rapid use after curing. The directions for each cold smoked food are different, however, so consumers should always check when purchasing individual cold smoked foods. Many cold smoked foods also need to be cooked before they are safe to eat, as is the case with bacon. Proper handling directions should always be printed on food packaging or delivered orally.
There are many uses for cold smoked foods. Cold smoked salmon, for example, is often eaten on bagels with cream cheese, or tossed with creamy pasta sauces. Cold smoked meats make up an important part of the culinary heritage of many regions, and are used in a wide assortment of dishes. Enterprising cooks can often come up with new ways to use cold smoked food, or new combinations of wood and brine to flavor cold smoked foods in a new way.
AS FEATURED ON:
AS FEATURED ON:








By: rafcha

Gouda, a type of cold smoked cheese.

By: Kelpfish

Bacon is typically cold smoked.

By: Colinda McKie

Cold smoked foods may include salmon.

By: Lisa F. Young

Lox, which is commonly served with cream cheese on a bagel, may be prepared via cold smoking.

By: podm

The cold smoking method causes meats to taste particularly salty.