What are Different Countries' Favorite Pizza Toppings?
Some people think that pizzas come in two varieties: cheese and pepperoni. But the range of pizza toppings is actually quite varied and different pizza toppings prove to be popular in different parts of the world. In the United States, while there are national favorites, different regions and cities also have particular preferences. In the end, your pizza possibilities are limited only by your imagination.
Seafood
Seafood pizza toppings are popular in a number of places: squid and eel pizza in Japan; red herring or mockba — a combination of mackerel, salmon, sardines, tuna, and onions — in Russia; and shrimp and pineapple in Australia. But it you think there are no seafood pizza toppings in the United States, think again: oysters, crayfish, tuna, and Cajun shrimp show up on gourmet pizzas. In fact, though seafood doesn't make the top ten at either Papa John's or Domino's, anchovies are number 13 on an AOL survey of favorite toppings, while shrimp came in at 16.
Meat and Fowl
In three recent US surveys, pepperoni is the number one meat topping in American, with sausage a close second. What comes next depends on who you ask: it could be ham, or Canadian bacon, followed by ground beef, bacon, or chicken. In India, ground lamb is a pizza topping of choice. Meanwhile, although they haven't reached favorite status — yet Unites States pizza makers have also experimented with venison and duck pizza.
Additionally, you can go beyond talking about just laying different items on the pizza and talk about preparation styles. In the United States, favorites include barbecue pizza, Mexican pizza, white pizza, and five-cheese pizza. In other countries you can find such favorites as barbecued pizza in Australia, curried pizza in Pakistan, and Tandoori-style pizza in India.
Fruits and Vegetables
Polls differ on the top vegetable in the United States for pizza toppings, but mushrooms, onions, green peppers, and olives are often in the top ten. Also popular are tomato slices, pineapple — the top fruit, spinach, garlic, eggplant, broccoli, and potatoes. In other parts of the world, one can find preferences for pickled garlic in India, sweet potato in Korea, and coconut in Costa Rica. If you think those are unusual, consider that there are United States, pizzas made with dandelions, sprouts, and nuts.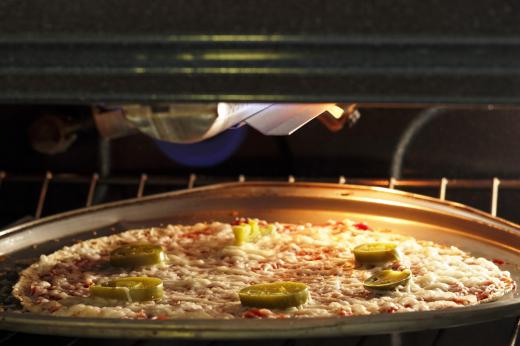 Combinations
Combination toppings are also popular. Examples are Mayo Jaga in Japan — a combination of potatoes, bacon, and mayonnaise, and "Double Dutch" in the Netherlands — a combination of double cheese, double onions, and double beef. For green peas and hard-boiled eggs, try Brazil, and for sunny-side-up eggs, head to Germany for a breakfast pizza.
AS FEATURED ON:
AS FEATURED ON:








By: Igor Dutina

Hard boiled eggs, which are used to top pizza in Brazil.

By: robert lerich

Canadian bacon, which is used to top pizzas in many countries.

By: Alessio Cola

Spinach, which is often used to top pizzas.

By: Serenethos

A pizza with jalapenos on it in an oven.

By: Kayros Studio

Pepperoni is a popular pizza topping in the US.

By: mbongo

Mushrooms are a common pizza topping in the US and many other places.

By: uckyo

Mayonnaise is used as a pizza topping in Japan.

By: dulsita

Salmon may be used as a topping on a seafood pizza.

By: nito

Sardines are used as a pizza topping in Russia.

By: JJAVA

Barbecue chicken is a favorite pizza topping in the United States.

By: dalajlama

Mushrooms are a popular topping for pizza.

By: hiphoto39

In Japan, a pizza may be topped with squid.

By: Francesco Italia

In some regions of Italy, including Sicily, leftovers are used on pizza.

By: sherstobitov

In the U.S., pizza toppings can include anchovies, duck or chicken.