What Are Drunken Noodles?
In Thai cuisine, drunken noodles is a popular rice noodle dish. The food is composed of wide noodles treated with soy sauce, garlic, fish sauce, and other seasonings. It typically contains some sort of meat element or tofu as a protein, as well as bean sprouts.
A common misconception about drunken noodles is that the meal is made with alcohol. This is typically not the case. Instead, most people say that the name of the meal refers to the spiciness it tends to have, making diners heavily drink to combat the heat. Other names for the dish include pad kee mao or pad kimao.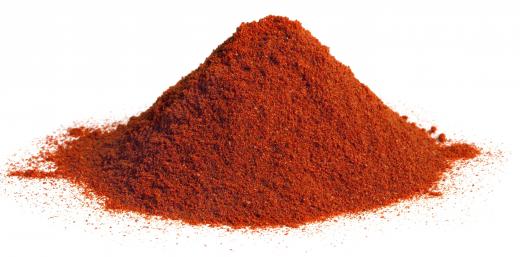 To officially be considered a drunken noodle dish, the recipe must contain some sort of Thai basil. Holy basil is the most common and traditional choice. Sweet basil, however, may also be used. Vinegar and oyster sauce are also often used, though recipes do not require them to be considered drunken noodles. Sugar and other sweeteners may be added for a touch of sweetness as well.
Chili powder is a common spice used to flavor drunken noodles. Many other spices, particularly hot ones, are also often used. Some chefs even include whole chili peppers, as well as other vegetables, such as tomatoes, baby corn, and green peppers. Peppercorns are another popular ingredient that most cooks include. Westerners who wish to make pad kee mao can usually find the ingredients needed at an Asian food store.
Drunken noodles is made by stir frying the ingredients together. Its composition is very similar to the dish known as phat si lo, a Chinese street food that consists of the same broad noodles treated with other elements, such as various spices and vegetables. Other similar dishes include khao phat khimao, and drunken fried rice.
Plates are usually used to serve these noodles. Since they are often used to top meats or other foods, the bulky foodstuffs typically absorb most of the wetness, if any, of the prepared noodles. Bowls, however, can make the food easier to eat, especially if it is not mixed with meats or many vegetables.
Chinese people living in Laos and Thailand made drunken noodles a popular meal. The noodles are often served with seafood in these areas. The original Chinese name of the dish literally translates to "stir-fry and someone who likes to drink too much". Some local beliefs about drunken noodles in these areas include that it makes a good hangover reliever, and that it is a good dish to serve with alcoholic beverages, much like Spanish tapas.
AS FEATURED ON:
AS FEATURED ON:








Chili powder is often used to flavor drunken noodles.

By: S.White

Thai basil is used as an ingredient in drunken noodles.

By: Giuseppe Porzani

Some chefs use whole chili peppers in their recipes.

By: valery121283

Peppercorns are a popular ingredient used in drunken noodles.

By: WimL

With its high smoking point and mild flavor, peanut oil is ideal for stir-frying drunken noodles.