Kebabs are a popular Middle Eastern food made by mounting pieces of meat and/or vegetables on a skewer and mounting the skewer on a grill. This food can be found in places like Greece, Turkey, Egypt, Israel, Iraq, and numerous other nations in the Middle East, going by a variety of names. It is also popular in areas with a big Middle Eastern population, such as parts of Britain and the United States.
The word "kebab" is Turkish for "grilled meat." The most familiar form of kebab for many people is the shish kebab, made with meat which is cut into chunks and lightly seasoned before being skewered. Many people also like to add vegetable chunks to their shish kebabs, such as onions, peppers, squash, and mushrooms. It is also possible to find kebabs made with long strips of meat, along with doner kebabs, made by grinding meat, forming it into a cylinder around a skewer, and slow-roasting it. In India, people eat kathi kebab, a form of kebab cooked in a tandoor oven.
Lamb is one of the most common meats for kebab in the Middle East, although chicken and beef are not unheard of. Pork kebabs can be difficult to find, as both Jews and Muslims avoid pork for religious reasons, and in India, beef can be rare, due to the large Hindu population. The seasoning for kebabs is typically kept simple; sometimes only salt, pepper, and olive oil are used, allowing the natural flavor of the meat to develop during the grilling.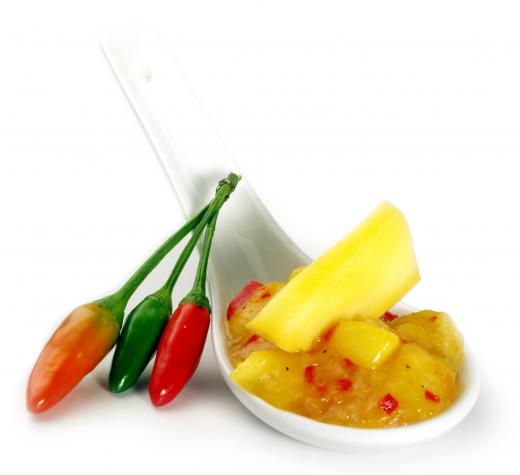 Kebabs can be eaten as street food, often paired with a flatbread, and they may also be served over rice, lentils, and other foods. An assortment of sauces can be used to dress kebabs, depending on regional tastes. Tangy yogurt sauces, tahini-based sauces, savory chutneys, and spicy pepper sauces are all fairly common in the Middle East, and some cooks get more adventurous with things like peanut sauce, coriander chutney, or even slightly sweet sauces such as fruit chutneys.
Many Middle Eastern restaurants offer kebabs as part of their menu, since this food is so well-known. Kebabs are also very easy to make at home. If you have a grill, you can make kebabs in the traditional style, but you can also roast kebabs in the oven or fry them in a pan. Kebabs can make an excellent casual party food, and they can be served chilled as well as hot. If you have picky eaters in your household, an assemble-your-own kebab night can be one way to get them more involved in the cooking process.
AS FEATURED ON:
AS FEATURED ON:








By: zoë biggs

Kebabs are often flavored with coriander.

Mango chutney, which can be served with kebabs.

By: TRITOOTH

Kebabs are eaten in many parts of the Middle East.

By: mbongo

Whole mushrooms are often added to kebabs.

By: andersphoto

Squash may be added to a kebab.

By: uwimages

Kebabs may be seasoned with and pepper.

By: valery121283

Bell peppers are commonly included on kebabs.

By: Andrey Starostin

Shish kebabs are often made with spice-rubbed chicken.

By: Jag_cz

Some kebabs are made solely using vegetables.