Like ground beef and ground turkey, ground lamb can be formed into patties, cooked, and served on buns or another type of bread. When a person makes a burger out of ground lamb, it is typically referred to as a lamb burger. Often, people make lamb burgers because they provide a distinct flavor and can be a nice change from the beef and turkey many people are used to consuming. These types of burgers are usually prepared with a range of herbs and spices to bring out the flavor of the meat and then grilled or pan fried. Many people also incorporate some type of breading or other filler in order to help the meat retain its form during the cooking process.
Ground lamb is the main ingredient in a lamb burger. The availability of this type of meat can depend on where an individual lives, however — ground lamb can prove hard to find at local grocery stores in most places. As such, a person who wants to use it may have to visit a butcher shop and request it. An individual may also find it at a local specialty food market, and some online food delivery services sell it as well. Additionally, a person could choose to grind his own lamb from shoulder and leg meat.
Preparing lamb burgers usually includes the use of various spices and herbs. A person usually chooses them specifically to bring out the flavor of the lamb and to make for a spicier burger. Some of the spices commonly used include pepper, garlic, cumin, oregano, and sumac. Some people also use fresh mint, parsley, curry, coriander, marjoram, or allspice when making burgers out of lamb. Onions, fennel, peppers, ginger, and cilantro are frequent additions as well.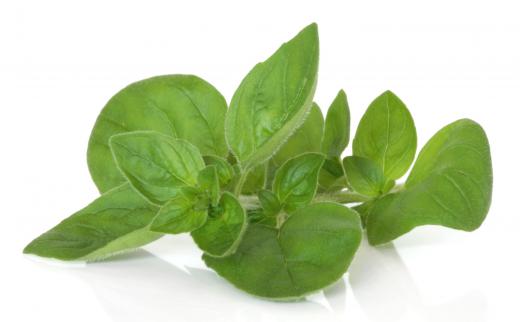 To make lamb burgers, a person usually combines ground lamb with the other ingredients he has chosen and forms patties. Often, a person uses egg and breadcrumbs to help hold the meat together and ensure that it won't fall apart during cooking. Most people cook these burgers on a grill or in a large pan on a stove top and serve them on hamburger buns.
When cooking lamb burgers, it is important to keep food safety in mind. This means cleaning and disinfecting surfaces that come in contact with raw meat, keeping cooked food separate from raw lamb, and preventing utensils that have touched raw meat from touching cooked burgers. Additionally, a person may do well to cook lamb burgers to the safe temperature of 160°F (about 71.11°C).
AS FEATURED ON:
AS FEATURED ON:








By: zoë biggs

Lamb burgers often include coriander.

Marjoram, which is often included in lamb burgers.