Lardons are small pieces of fat, typically pork fat, that are used extensively in French cooking, as well as in some cooking from other regions. They add a distinctly rich, salty flavor to food which some consumers find quite enjoyable. The term "lardon" is also used to refer to the strips of fat that are used to lard meat; in larding, strips of fat are threaded into a roast of meat to help keep it moist while it cooks.
Some recipes call for lardons in the early stages; many French soups and stews, for example, use them to provide a starting layer of fat for browning meats and vegetables. The fat pieces can also be cooked until they are crispy to add texture and flavor; crisped lardons may be sprinkled onto salads, roasts, and other dishes. They may also be added to quiches, omelettes, and an assortment of other foods.
In some regions, lardons can be found for sale, prechopped, in sealed packaging. In other cases, cooks may purchase a piece of fatback and slice it to the right size. Fatback in a fatty cut of pork from the back of a pig that is also used to make bacon. In areas where lardons or fatback are not available, some cooks improvise with fatty strips of bacon cut into small pieces.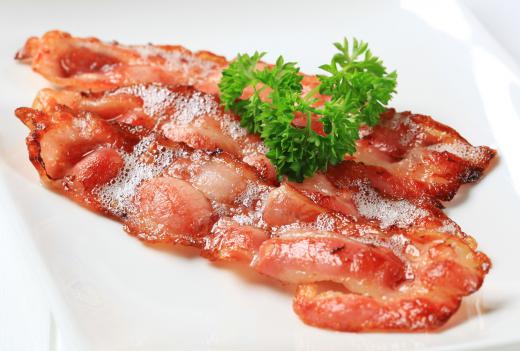 The pork used to produce lardons is typically cured so that it acquires a salty, slightly smoky flavor and so that it will keep for an extended period of time. Salt curing can also integrate other spices such as pepper and bay leaves, so it is possible to find the fat with a wide range of seasonings. Some cooks like to cure their own fatback, if they have access to fresh pork; this allows them to control the salt and spicing. Lardons should not be confused with rendered lard, pig fat which is processed to make it uniformly smooth and creamy.
Although the thought of adding small chunks of pure fat to food might seem odd to some people, lardons really do add a distinctive flavor without making food feel greasy or oily. Pork fat is also a great frying medium, which is why it is used to brown and cook vegetables and meats. When crispy, lardons have a rich, salty flavor that could be likened to potato chips and other fat-rich, salty, crispy foods. When used as the base of a soup or stew, the the fat itself is almost undetectable, but the rich flavor is certainly noticeable.
AS FEATURED ON:
AS FEATURED ON:








By: claireliz

Lardons are used in cooking to add a rich, salty flavor to food.

By: Viktor

Bacon can be used as a substitute for recipes calling for lardons.

Slices of fatback can be substituted for lardons.