What are Oil-Cured Olives?
Oil-cured olives are olives which have been dry cured and then soaked in olive oil to restore their plumpness and act as a preservative. The resulting olives are very dense, with a rich, meaty flavor which some people find quite enjoyable, and they can be distinguished by their wrinkled appearance. Many markets stock oil cured olives, along with an assortment of other olive varieties, and they are also very easy to make at home, assuming you have access to fresh olives.
When oil-cured olives are made, they are first packed in salt and allowed to dry out. Traditionally, the olives are packed into burlap sacks with layers of salt and then hung in the open air. The heat and wind pull the moisture out of the olives and into the salt, creating wizened, hardened dried olives. These olives can be packed as-is, in which case they need to be rehydrated before use, or they can be packed in oil to make oil-cured olives.
For the oil curing stage, the olives are simply packed into an airtight container and then oil is poured over them to cover them. In many regions, flavored oils are used, with ingredients like rosemary and thyme being very common. The oil rehydrates the olives slightly, giving them a plumper appearance, and it preserves them so that they can be stored or shipped.
Often, oil-cured olives are made with their pits in, so some caution is needed when eating them. They can be used in a wide assortment of dishes. Many people enjoy eating them out of hand as a snack, for example, and they can also be mixed into an olive spread, added to baked goods once their pits have been removed, and blended into sauces. If cooked too long, however, oil cured olives can acquire an unpleasant bitter flavor, so when you add them to sauces, use caution to keep them tasting fresh and flavorful.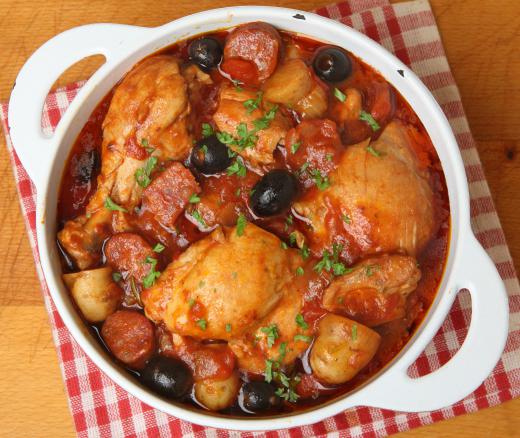 You should store unopened oil-cured olives in a cool, dry place, preferably in the dark. Once a package has been opened, you can either keep them in your cold pantry, if you have one, or in the fridge. Be aware that the oil can go rancid, so try to keep your oil-cured olives from growing too warm.
AS FEATURED ON:
AS FEATURED ON:








By: Lsantilli

Different types of olives, including oil-cured olives.

By: Luis Carlos Jiménez

Oil-cured olives are soaked in olive oil.

By: Joe Gough

Rustic French chicken stew with oil-cured olives and potatoes.