What Are Peppermint Creams?
Peppermint creams are a type of candy treat flavored with peppermint extracts. These candies have a soft and creamy texture similar to nougat or fondant. In some cultures, peppermint creams are closely associated with certain holiday celebrations, and represent a traditional part of holiday menus. They have also spread to other areas, where they are simply enjoyed as a minty treat at any time of the year. Most people are probably most familiar with this candy in the form of a mass-produced, chocolate-coated version that's just slightly smaller than a compact disc.
Most recipes for peppermint creams call for only basic ingredients. Traditional versions start with the whites from a raw egg, though people concerned with the potential health impact of raw eggs may switch to condensed or regular milk instead. A sweetener like confectioner's sugar or molasses is also included, though this may take the form of icing sugar or even frosting in some recipes. Finally, peppermint oil or extract is used to add a minty flavor. Some users may also add mints like spearmint or wintergreen for variety.
To make peppermint creams, chefs must mix the eggs or milk with the selected sweetener. These ingredients should be blended together until they form a thick paste. Next, drops of peppermint are added a few at a time until the right taste is achieved. The paste is rolled out flat like cookie dough, and small circles are cut using a cookie cutter to form the creams. All peppermint creams should be allowed to set overnight so they can harden and form the proper texture.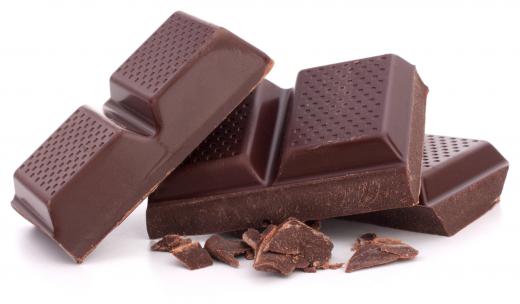 Some people may choose to add colorful food dyes to these creams to create a festive look. They can also be cut into any number of unique shapes using cookie cutters or even a knife. Many parents have a tradition of making peppermint creams with children, as they are an easy treat for kids to make themselves. The completed creams may also be dipped or coated with melted chocolate for added flavor.
While no one knows exactly when and where peppermint creams originated, they have a rich history in Scotland and other Celtic regions. Just as the peppermint cane has long been associated with Christmas, peppermint creams play a longstanding role in Christmas and Easter celebrations in some areas. These treats can also be enjoyed year round, as many are sold prepackaged in grocery and candy shops. Most commercial versions feature a dark chocolate coating designed to complement the minty flavor.
AS FEATURED ON:
AS FEATURED ON:








By: volff

Peppermint.

By: Natika

Peppermint creams are often coated in melted chocolate.