What Are Pork Shoulder Ribs?
Pork shoulder ribs, often referred to as country style ribs, are a cut of meat that comes from the pork blade shoulder of the animal. This variety of ribs is meatier and larger than other types of pork ribs and requires different methods of cooking and eating, but is not always made up of rib bones. In fact, pork shoulder ribs are usually not ribs at all, but are rather an end cut from the shoulder blade of the pig. They come in bone-in and boneless varieties depending on the way the butcher cuts them. Shoulder ribs can be mislabeled so there are certain things that should be looked for on the package before buying them.
This type of rib comes from the pork blade of the pig, which is located in the shoulder where the ribs meet the back. The end of the ribs nearest to the shoulder can be included in the cut on occasion, which are often referred to as rib tips. Rib tips have not always been a hugely popular cut of meat, so a new method of cutting was created to make them thicker and larger. Another cut for pork shoulder ribs comes from the Boston butt portion of the animal, which is located more in the shoulder than the rib tips connected to the pork loin. This cut can include some of the shoulder bone or can be cut to be boneless, but is still referred to by the name pork shoulder ribs.
Ribs that come from the shoulder are often tougher and contain more fat than those from other parts of the animal. Since pork shoulder ribs are larger than other types of ribs, they often need to be eaten with a knife and fork rather than by picking them up. A slow cooking time can contribute to tenderer pork shoulder ribs. They can be seasoned similarly to any other type of ribs with a dry rub or barbecue sauce, depending on the tastes and preferences of the cook.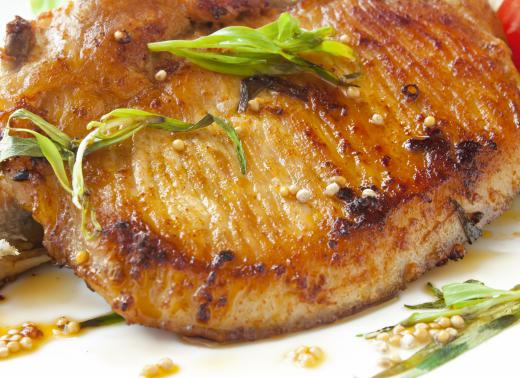 Shoulder ribs can be mislabeled as being ribs rather than containing pieces of shoulder bone, so individuals interested in purchasing this cut of meat should talk to their butcher to make sure they understand what they are getting. Ribs can be a cut in the shape of traditional ribs without actually coming from the rib area of the pork. Pork shoulder ribs should be labeled as country-style ribs, Western-style ribs or pork blade ribs to be accurate.
AS FEATURED ON:
AS FEATURED ON:








By: Eric Isselée

Pork shoulder ribs are cuts of pork from the shoulder blade.

By: marrakeshh

Pork is high in protein and B vitamins, but also high in fat and saturated fat.