Pork trotters are, as you might have imagined, the feet of a pig. They are typically sold with part of the shank attached, although it is also possible to find pig's feet sold alone. Both the front and hind trotters are edible, and they can be used in a variety of dishes. They are especially popular in Asia and parts of the American South, but they also pop up in cuisine from other regions, such as France and Germany.
The practice of consuming pork trotters dates back to a period when people felt obligated to use every part of the animals they hunted or slaughtered. The need to use meat efficiently was the inspiration for a number of creative recipes, and many of these dishes are actually quite flavorful and complex, sometimes out of a desire to conceal their origins. Today, such dishes continue to be prepared to celebrate regional cultural heritage, and they are often available at traditional restaurants.
One classic preparation for pork trotters is pickling. Before pickling, the feet are cooked so that they are tenderized, and then they can be submerged in a brine. Any number of things can be added to the pickling brine; in Asia, for example, very spicy pickling preparations can be found. Pickled pig's feet are often eaten as a standalone snack, and they can also be shredded over salads and other dishes.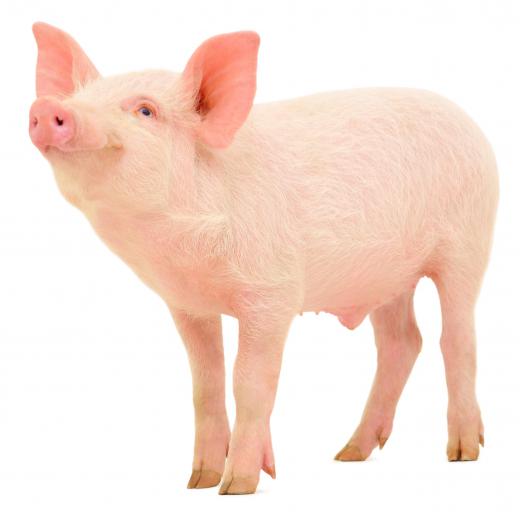 Pig's feet can also be braised, stewed, baked, roasted, or cooked in other ways. Because the muscle and tendons on pork trotters are very stringy, it is important to cook them slowly, and for a long time, to ensure that the meat tenderizes. Once the meat is falling from the bone, the feet are ready to be served.
One nutritional bonus to this dish is that it is very high in gelatin, because as the feet cook, the hooves will release their natural gelatin. Gelatin promotes the growth of healthy hair and nails, for people who have problems with thin or brittle hair and nails. Some people also believe that the high collagen level in pork trotters is beneficial, as it can help the skin retain natural moisture.
AS FEATURED ON:
AS FEATURED ON:








By: Jiri Hera

Pickling salt, which is used for pickling pork trotters.

By: Anatolii

Pork trotters are pig's feet.

By: Marco Mayer

Pork trotters are often sold with part of the shank attached.

By: marrakeshh

Pork is high in protein and B vitamins, but also high in fat and saturated fat.

By: Denis Tabler

Pork trotters may be sold with part of the shank attached.