What are Rainier Cherries?
Rainier cherries are especially large, sweet cherries developed by researchers at Washington State University. These cherries are highly prized in the Pacific Northwest for their superb flavor, and several nations, including Japan, also import large amounts of them when they are in season. As a general rule, these cherries are more costly than other cherry varieties, but some consumers feel that the added price is worth the superb flavor.
These cherries were bred in 1952 by crossing the well-known Bing variety with the Van cultivar. The result was an unusually large golden to orange cherry with sweet yellow flesh. The pomologists who developed the Rainier cherry named it after Mount Rainier, a landmark in Washington State, and a number of cherry orchards began producing the crop commercially.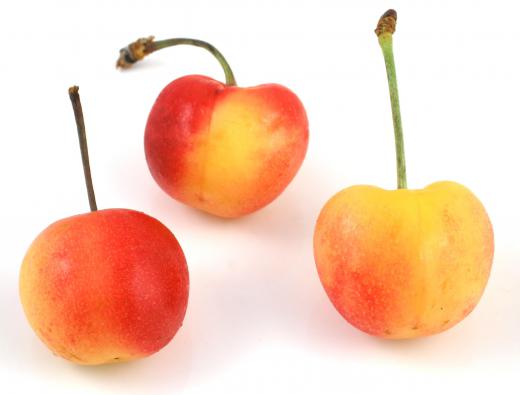 Several things distinguish Rainier cherries from other cherry varieties. The first is the unusual and distinctive color discussed above. Rainiers also have a tender texture which is almost creamy, and their sweetness is much higher than that of ordinary cherries. Many producers wait until their cherries are at the peak of sweetness before picking, so that they can negotiate the best price for them. This can expose farmers to loss, because birds are big fans of the sweet fruit, and they can consume up to a third of a crop.
The window of opportunity for obtaining Rainiers is small; they come into season in late June, and vanish by mid-July. These cherries are very flavorful, so they are usually eaten fresh out of hand or included in simple fruit salads. As a general rule, they are too sweet for piemaking, although they can be used in jams and preserves.
When selecting Rainier cherries in the store, look for large specimens which feel reasonably firm. Scars and discolored spots are a sign that the cherry is especially sweet, just the like the sugar scars on watermelons, but avoid cherries which feel mushy, or cherries which appear to be decaying. Rainiers can be kept refrigerated for several days before use, and it is a good idea to wash them well before consumption.
Rainier cherries grow in USDA zones five to eight, for gardeners who want to try their hand at growing their own. It is important to space the trees well so that they get plenty of sunlight, and it is critical to prune them each year to ensure maximum sun exposure for individual branches, ensuring that the cherries will fully develop. These cherry trees can also be finicky to grow, so they may require some patience.
AS FEATURED ON:
AS FEATURED ON:








By: Harris Shiffman

Rainier cherries.

By: berc

Rainier cherries may help to add a unique flavor to fruit salads.