Rolled cookies are a type of cookies prepared from a dense cookie dough that is rolled out flat onto a counter, and cut into the desired shapes. There are many different recipes for rolled cookies, but they are especially popular for the holiday season because they can be made into shapes like gingerbread men. These types of cookies can also make great gifts.
A simple rolled cookies recipe might just include ingredients such as sugar, flour, butter, eggs, salt, vanilla, and and baking powder; search online for the measurements, but these are the items that are generally included in a simple sugar cookie recipe. Other ingredients such as chocolate, mint, cinnamon, nutmeg, ginger, or nuts may be added for extra flavor, of the cookies may be iced or covered with powdered sugar, colored granulated sugars, or small candies after they are made for decoration.
It is important to refrigerate the dough before attempting to create rolled cookies. Generally, most recipes only require the dough to be refrigerated for approximately half an hour, but some recipes might require longer refrigeration, so be sure to follow the directions. The refrigeration process ensures that the dough is stiff enough to be rolled out and cut into shapes without falling apart.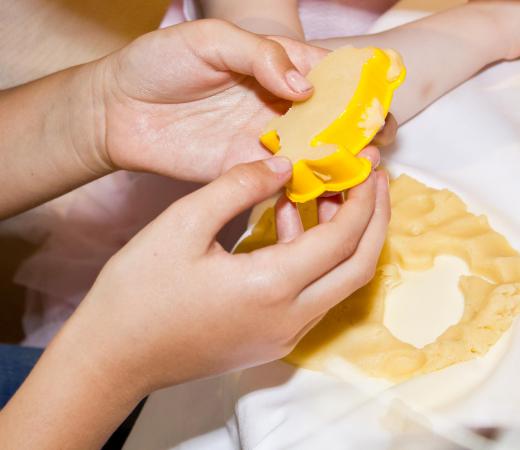 When the dough for the rolled cookies is rolled out on the counter, be sure to place wax paper or a layer of flour down first to prevent it from sticking. It is important to roll the dough so it is thin and flat, so that each individual cookie will be the same thickness. This helps to make sure that the cookies will bake properly, and that some will not be burned or undercooked when they come out of the oven. Once the dough is rolled out, a cookie cutter may be used to cut shapes from the dough.
Try to maximize the amount of dough that is available, and make as many cookies as possible. It is not necessary to make all cookies the same shape; in fact, creating cookies with a number of different shapes can be great if one plans to give the cookies as gifts. Aside from holiday shapes, one might be able to find cookie cutters in the shape of stars, birthday items, or animals, for example. Of course, cookies may simply be cut into standard circle shapes as well. It is entirely a matter of personal preference.
AS FEATURED ON:
AS FEATURED ON:








By: bit24

Sugar is one of the basic ingredients in rolled cookies.

By: 0635925410

Rolled cookies are a popular variety of holiday cookie, as they can be molded into various holiday-themed shapes using cookie cutters.