What are Some Cheeses Made from Goat's Milk?
Cheeses made from goat's milk are noted for their delicate flavors and creamy textures. While being somewhat less common that cow's milk varieties, cheeses made from goat's milk have an ancient history and a variety of fans all over the world. The slightly tangy bite of goat cheese makes it a great escape from the everyday versions of cheddar and Swiss cheese.
One of the most popular homes for cheeses made from goat's milk is France, where it is said to have been made since the 8th century. French goat cheese, also called chevre, is made all over the country, but is a particular specialty of the lush Loire Valley region. Most French goat cheeses are soft and spread able, sold in logs or pyramid shaped containers. Roquemador, from the Perigord region of France, is eaten quite fresh, sometimes only aging for two weeks. One of the most famous French goat cheeses, crottin de Chavinol is made in a tiny village of only 200 residents and is beloved for its nutty and tangy taste.
In Greece, cheeses made from goat's milk have an long history, dating back to the days of the ancient Greek city-states. In Homer's The Odyssey, eating goat cheese with wine is mentioned by the hero. The most famous Greek goat cheese is actually a blend of milk from sheep and goats called feta. This white curd cheese is brined, meaning aged and stored in water flavored with salt. Feta is often eaten on its own, grilled, or used in salads.
The United States of America has become a major producer of cheeses made from goat's milk, with small producers common in farming communities across the country. Many small goat cheese farms produce a basic soft version of the cheese that is flavored with additional ingredients. The famous Redwood Hill Farms in California offers many varieties of goat cheese, including versions with garlic and chives, peppercorns, and even with a rind washed in apple cider. American goat cheeses are often used as spreads for crackers and sandwiches, and have even gained popularity as a pizza topping.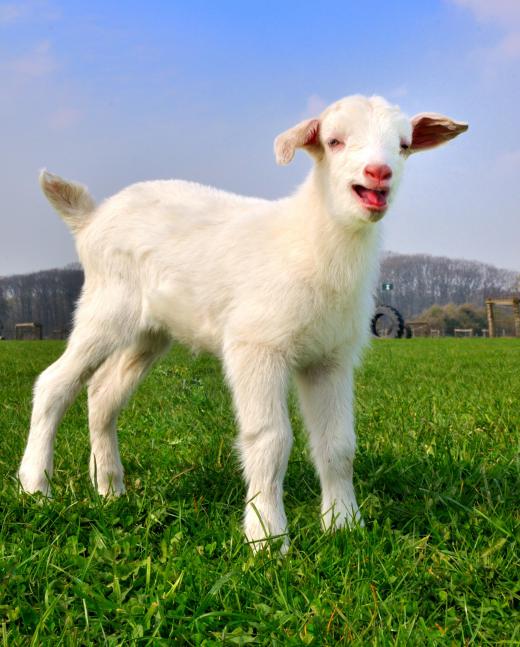 Cheeses made from goat's milk are wonderful to explore for many reasons. For the calorie conscious, they typically contain considerably less fat that cow milk varieties. Goat cheese can also be consumed by some of those sensitive to lactose or allergic to cow's milk, though you should check with your doctor before trying. Environmentally conscious consumers may also prefer goat cheese as goat farming operations typically take up less space than cattle farms and are less damaging to the environment. All in all, there is a world of reasons to wander past the everyday cheese section at the grocery store and hunt down some goat cheese for your next snack.
AS FEATURED ON:
AS FEATURED ON:








Chevre.

Cheese-making factory.

By: Gerhard Seybert

A young goat.

By: valery121283

Redwood Hill Farms in California offers goat milk cheese seasoned with peppercorns.

By: Denis Tabler

Greek salad with feta, a crumbly cheese made from goat's milk.