What are Some Different Types of Martini?
Martinis are considered by some to be the smooth, suave choice of the drinking set. The traditional gin, vermouth, and olive combination, while adored by purists, is hardly the only choice available these days, however. Over the years, adventurous mixologists have put their own spin on this classic beverage, taking it from standard style to individual preference. Drinks given this name can now be found made with vodka, flavored liqueurs, fruit juices, and other additions.
The classic version is made of gin, dry and sweet vermouth, and a cocktail olive or two. Nearly as popular, though looked down upon by purists, is the vodka martini, identical except for the liquor. A Gibson, probably the first shake-up of the drink, differs only by adding a cocktail onion rather than an olive.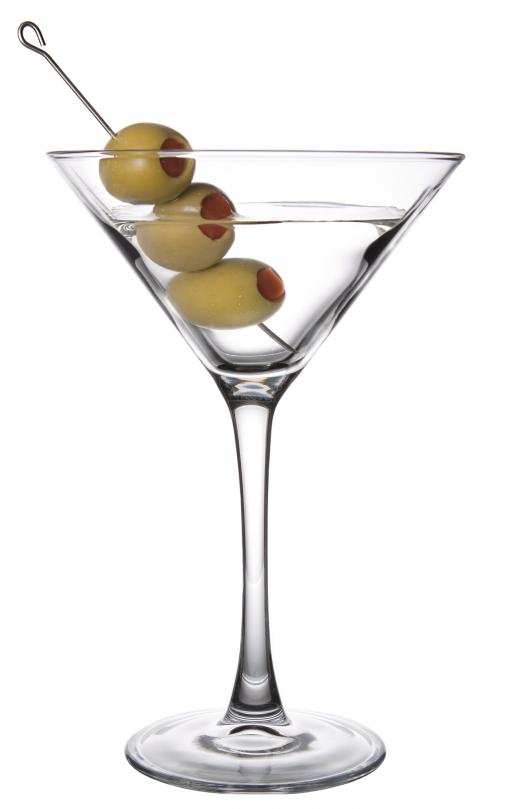 People who are looking for a celestial sipper might try a Stardust. This glittering cocktail uses Goldschlager, a cinnamon-flavored liqueur speckled with flecks of real, edible gold that sparkle and float in the glass. A classic Stardust combines four parts vodka with one part of crème de cacao, which are shaken over ice in a cocktail shaker. After pouring the mix into a glass, the bartender will slowly and gently add the sparkling Goldschlager, so the gold flakes slowly descend through the drink.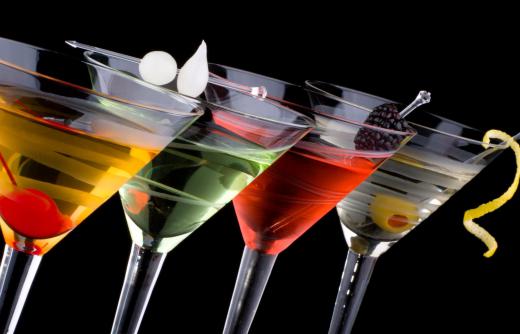 Chocolate lovers are not denied their favorite ingredient in a chocolate martini. A classic version of this drink is a combination of vodka, crème de cacao and half and half, but variations are endless. An orange-chocotini has citrus-flavored Grand Marnier added. A holiday version uses a shot of peppermint schnapps and crushed mint candy. A snowy white chocolate version uses clear crème de cacao and vanilla vodka, and the drink is sprinkled with flaked coconut.
It is now possible, mixologists report, to get caffeine from a mixed drink. The espressotini is a popular version with an iced shot of espresso, vanilla vodka, and coffee-flavored liqueur. Though most people will not want to trade their morning latte for such a drink, it can serve as an excellent post-work pick-me-up.
Citrus ingredients can be a refreshing addition, and may be perfect as a cooler on hot days. In an April Rain martini, bartenders combine lime juice with vodka and vermouth, and garnish the glass with a lime wedge or spiral-cut lime peel. A peeled kiwi can be muddled with vodka and sugar syrup, then shaken over ice and poured for a kiwitini.
Truly decadent versions are rich and flavorful, and can serve as a swanky dessert. To make a caramel appletini, a bartender will drizzle the glass with caramel sauce before pouring in apple vodka and butterscotch schnapps. To cut the sweetness, it can be garnished with a tart apple slice. The perfect fall drink may be the pumpkintini, a decadent combination of pumpkin spice drink syrup, vanilla vodka, and crème de cacao, with a dash of whipped cream and a cinnamon stick garnish. The delicate lotus blossom, a concoction of lychee fruit, sake, and vodka, is an appealing tropical drink.
Martinis have become expressions of personal choice and style. The endless variations allow drinkers years of sampling to find or design their own personal version. Whether someone longs to be James Bond or simply enjoys a particular flavor combination, the versatile drink can often be tailored to suit any style.
AS FEATURED ON:
AS FEATURED ON:








By: dondesigns

A traditional martini is made with gin and vermouth.

By: evgenyb

There are hundreds of variations of martinis.

By: tashka2000

A Cosmopolitan is a cranberry, lime and Cointreau martini.

By: redav

An apple martini.

By: JJAVA

A lemon drop martini.

Kiwis can be used to make a kiwitini.

By: Roman Sigaev

Vodka can be used to make martinis.

By: karandaev

A jigger is used to measure alcohol to make a martini.

By: Andres Rodriguez

Some bars specialize in fruit-flavored martinis with fruit garnish.

By: nikkytok

The look and presentation of a martini can be as important as the taste.