What are Some Drinks Made with Grenadine?
There are over 500 drinks made with grenadine. Most of these contain alcohol, but there are several that are popular among those who don't drink alcohol. The two most popular non-alcoholic drinks are the Roy Rogers, which uses cola and grenadine, and ginger ale and grenadine, called the Shirley Temple.
A few other non-alcoholic options include the pineapple-orange twist, a mix of pineapple juice, orange juice, and grenadine. Grapefruit lemonade and pink lemonade can also be made with grenadine.
Perhaps one of the most unusual drinks made with grenadine is a combination of mint syrup, grenadine and milk. This is often called a Tropical and may appeal to a more adult palate. Adults may also enjoy an ounce of grenadine mixed with plain soda water.
When preparing non-alcoholic drinks, as for children, be sure to use a grenadine brand that is alcohol free. A few versions of grenadine on the market do contain alcohol.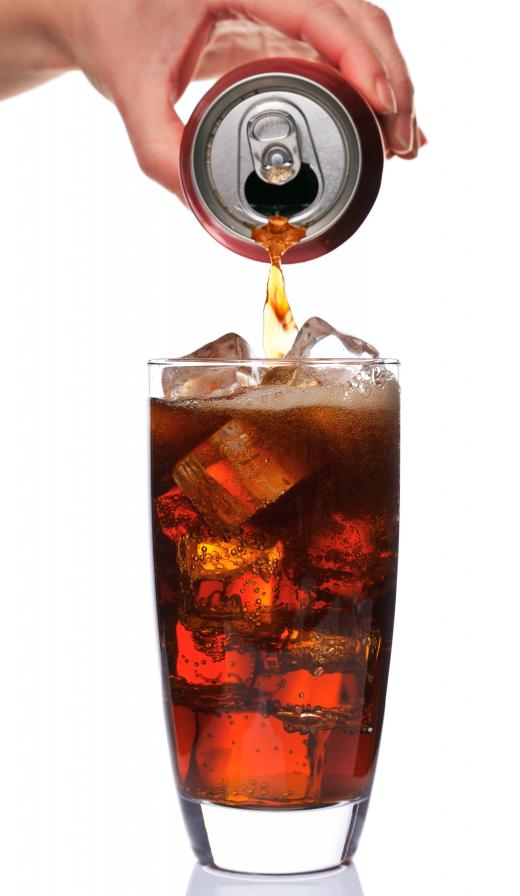 Most would list the tequila sunrise as the best known of the drinks made with grenadine. This is a combination drink of orange juice, tequila and grenadine. It has to be mixed properly so the grenadine drops to the bottom of the drink and distributes upward, looking like streaks of red in a sunrise.
There are many variants of the tequila sunrise. These include the Tequila Pink, made of vermouth, orange juice and grenadine. The Hawaiian Sunrise combines coconut rum, mandarin flavored vodka, pineapple juice and grenadine to create the sunrise effect.
Many drinks made with grenadine are sweet and include the relatively new and popular Sex on the Beach, which has many variants. Sex on the Beach is extremely alcohol-powered in virtually all its forms. Some include an ounce each of vodka, triple sec, two kinds of schnapps and whiskey, which is combined with orange juice, lemon-lime soda, and grenadine.
More traditional drinks include the Singapore Sling, a combination of cherry brandy, grenadine, gin and Collins mixer. The Pink Squirrel is another more traditional drink, which combines creme de cacao, grenadine and milk. The Pink Lady mixes gin, grenadine, egg white and cream, a variant of the Gin Fizz.
Many drinks follow the tradition of having quite interesting names. These include: Shattered Dreams, Silent Broadsider, Devil's Advocate, Shark Bite, Flying Moose, Evil Princess and Klingon Blood-Wine. Most new drinks are variants of older versions. However, bartenders are inventive, resulting in many new popular drinks for the grenadine aficionado.
AS FEATURED ON:
AS FEATURED ON:








By: umbertoleporini

Tequila sunrise is made with tequila, orange juice and grenadine.

By: RTimages

Grenadine can be added to cola for a "Roy Rogers."

By: margo555

A tropical is a drink made with mint syrup, grenadine and milk.

By: tarasov_vl

There are many variations of the tequila sunrise.