What are Some Picnic Side Dishes?
Planning a picnic is all about the food. Beyond the basic necessities of plates, napkins, cups, silverware and a blanket, you must have something to eat, plenty of it, too. However, when planning a picnic, it is easy to fall into the trap of bringing easy, boring food. It is easy to bring prepackaged items. With only a slight bit more effort, your can easily jazz up your picnic side dishes, and bring a whole new life to your food!
For example, though the traditional choice to serve hamburgers and hot dogs is always nice, simple and easy, serving potato chips and baked beans as your picnic side dishes can result in a tired, been-there-done-that meal. However, there are ways to wake up the tried and true hamburgers and hot dogs method without having to stress yourself. Simply get creative with your side dishes!
One of the most popular picnic side dishes is the potato salad. A new rendition of this crowd pleaser is a sweet potato salad. The tangy side dish will surprise and delight the picnic goer.
To make sweet potato salad, dice three sweet potatoes and boil in water for eight to ten minutes. In a medium bowl, whisk together two tablespoons (29.5 ml) olive oil, three tablespoons (44.3 ml) lime juice, one tablespoon (14.8 ml) ketchup, 1.5 teaspoons (7.4 ml) sugar, one minced garlic clove, one tablespoon (14.8 ml) Dijon mustard, three dashes hot pepper sauce, and two dashes Worcestershire sauce.
Drain the boiled potatoes, mix with the dressing, and add 1 red bell pepper diced, one yellow bell pepper diced, one small red onion diced, and three tablespoons whole cumin seeds (for extra fragrance, toast cumin seeds in a dry skillet until just lightly browned). Let the dressing and potatoes chill until room temperature, and then add 1/4 cup (59.1 ml) chopped cilantro, and two cups (473.2 ml) roughly chopped greens (such as spinach and Boston lettuce).
Another easy, yet delicious, choice for a picnic side dish is a fruit salad. As fruits will brown once they've been cut, a salad that is prepared at the picnic will look prettier on the table. Simply pack bananas, plums, strawberries, oranges, mangoes, and any other fruit you desire, a large bowl, a little bit of sugar, and a knife, and prepare your salad on-site.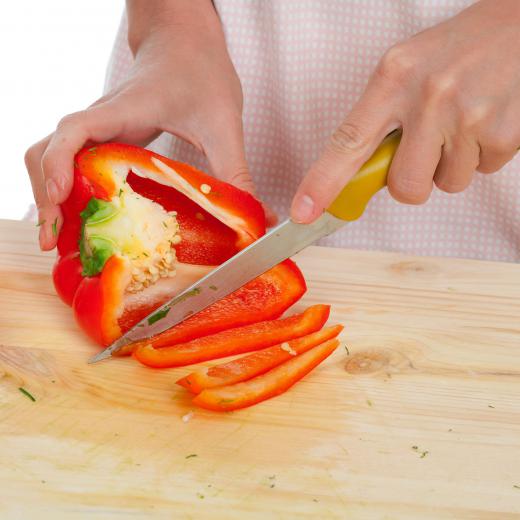 Another fantastic and tasty option for picnic side dishes that is sure to please your picnic crowd is goat cheese-stuffed cherry tomatoes. At home, mash goat cheese and a drizzle of milk until creamy, then stir in finely chopped mint leaves, salt and pepper. Also at home, cut cherry tomatoes in half and remove the insides from both halves. Transport the two elements separately, on ice, in watertight containers. At the picnic, stuff the tomato halves with the goat cheese mixture, and serve.
While the picnic is about more than the food, side dishes are one of the most important food items to bring. New and fun picnic side dishes will add spice to your meal, but also be available for snacking throughout the day. Be sure to bring plenty!
AS FEATURED ON:
AS FEATURED ON:








Arugula salad with cheese, tomatoes and pine nuts.

By: lily

A picnic basket with food.

By: Bert Folsom

Plastic silverware is useful for picnics.

By: Fanfo

When making potato salad, include a red bell pepper for extra taste and color.

By: pilipphoto

A fruit salad is good for picnics because it can sit at room temperature without spoiling.

By: anjelagr

Homemade potato salad is a mainstay side dish at many picnics and barbeques.