What Are the Best Tips for Boiling Shrimp?
One of the most popular types of seafood all over the world, shrimp are often boiled. Boiling shrimp is an easy way to prepare these shellfish but, if not done with care, can result in the shrimp becoming rubbery. Following a few tips can help to ensure that boiling shrimp produces shrimp that are tender and delicious.
A large stockpot is best for boiling shrimp. A large pot is important because the shrimp will turn out better if the water does not stop boiling after the shrimp are dropped in. Putting cold or frozen shrimp into boiling water can briefly stop the water from boiling if the water level is too low. The water should be heated with the burner on high and should be at a rolling boil when the shrimp are added.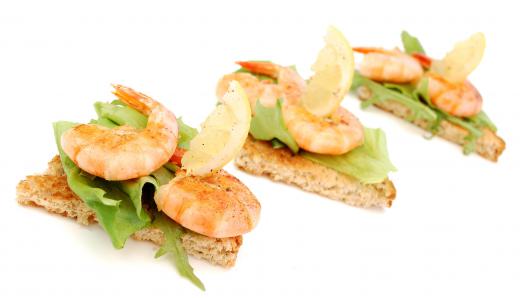 Seasoning the water is a good way to add subtle and delicious flavors to boiled shrimp, and many brands of shrimp, crab, or seafood boil seasonings are available at local grocery stores. Any of these will be good for cooking shrimp if the directions on the label are followed. The water for boiling shrimp should be salted as well, so if using a boil seasoning, check to see if it contains salt.
If the boil seasoning contains salt, adding 1 teaspoon (5 ml) of salt per quart (1 quart = 0.95 liters) of water should be sufficient. If not, about 1 tablespoon (15 ml) of salt per quart of water is required. Pickling spice is another popular addition, and about 1 tablespoon per quart of water is sufficient.
Shrimp may be cooked with the shell on, or they may be peeled first. The cooking time will not change significantly for peeled or shell-on shrimp of the same size. Shrimp may be boiled when frozen, but thawing them first will yield better results. The shrimp may be thawed by placing them in a refrigerator overnight or in a large bowl of cold water for a few minutes.
Many different sizes of shrimp are available and cooking times will vary according to size. Large shrimp, of course, will take longer to cook than small shrimp, but even large shrimp should only require a few minutes. Tiny salad shrimp will cook in less than thirty seconds. Shrimp are done as soon as they have turned an opaque pink or whitish color and have lost their translucency. As soon as the shrimp are completely cooked, the entire contents of the pot can be poured into a large strainer in a clean sink.
AS FEATURED ON:
AS FEATURED ON:








Boiled shrimp canapés.

By: nito

Shrimp.

By: roblan

A large stockpot is best when boiling shrimp.

By: mattiaath

Large, continuous bubbles covering the surface of the water signal a rolling boil.

By: uwimages

If the boil seasoning for shrimp already contains salt, adding 1 teaspoon of salt per quart of water should be sufficient.