What Are the Best Tips for Cooking Hake Fillets?
Cooking hake fillets may be done in several ways. Baking, sautéing, frying, and grilling are all acceptable ways to prepare this versatile fish. It also blends well with a number of flavors, from subtle and savory to acidic and spicy. Though these fillets are incredibly flexible, one must take care not to over-season them and to cook them to just the right consistency. This soft, mild fish can easily be overpowered by strong flavors and becomes chewy and dry when overcooked.
Pan-frying and sautéing are two of the most popular ways to cook hake fillets. Butter, margarine, olive oil, and other frying fats quickly carry flavor and heat into the fish, acting as a kind of marinade. One should start by heating the cooking fat over medium heat, then add any flavorings. The flavorings will infuse the fat with taste, which will then travel into the hake fish, which is added last.
Fried onions and garlic, lemon juice, olives, capers, and spicy pepper flakes are all popular flavorings to add to hake fish. Onions and garlic must be sautéed until soft and brown, but salty, spicy, and acidic flavorings only need a minute or two in the pan before the cook adds the fish. When the hake fillet is fully cooked, it should be golden brown on the outside, white on the inside — moist, flaky and tender. Hake sautéed in a lot of herbs may take on a hard crust but this isn't a problem, as long as the inside of the fish is fully cooked.
Baking and grilling hake fillets can be tricky when it comes to adding flavor and achieving perfect heating. Marinades work very well with hake because they boost the fish's mild flavor while infusing it with moisture. Acidic marinades, like lemon and garlic or tomato and herbs, sink deeply into the white flesh and help keep it tender. Spicy-sweet marinades, like Cajun honey and lime, usually also compliment the hake's flavor.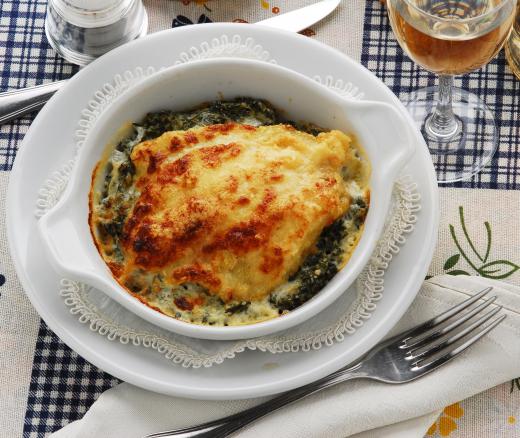 When baking hake, preheat the oven to about 350°F (180°C) and bake for only about 10 minutes. Any longer may make the fillets rubbery and difficult to cut and chew. Adding a little water to the baking dish and tenting it with some aluminum foil may create steam that can keep the hake moist. The fish may need an additional two or three minutes baking time, in this case.
Grilling hake fillets takes virtually no time at all, especially if the grill is very hot. When the cook first lays the fish on the grill, it may stick and fuse to the grate, this is expected. As the fish cooks through fully on that side, it will caramelize and release from the grate. The cook may then flip the hake, and repeat the process. The hake fillets should only need two to three minutes grilling on each side.
AS FEATURED ON:
AS FEATURED ON:








By: Bill

Hake is a versatile fish that can be prepared many ways.

By: Edward Westmacott

Hake should be baked for only about ten minutes in the oven.

By: Comugnero Silvana

Baked hake and vegetables with a rich mornay sauce.

By: Joe Gough

Hake can be grilled or cooked in a grill pan.

By: phasinphoto

Hake fillet marinades may feature garlic.