What Are the Best Tips for Cooking with Parsley?
Cooking with parsley offers may options, but it is important to recognize the types of parsley and how they differ. For adding flavorful taste to soups and stews, it's good to choose the curly parsley. Growing parsley in one's own garden can save money and offer the advantage of having this herb available at all times. Cooking with parsley can also add color and flavor to ordinary dishes, such as buttered noodles. If using fresh parsley, it should be finely chopped, and the stems should be discarded before adding to a recipe.
Parsley flakes are dried parsley pieces and can be found in most stores. Fresh parsley is more aromatic and flavorful. It's best to use flat leaf parsley when preparing simple soup recipes. This herb blends well with almost any type of soup, although cooking with parsley is often done with Italian soups. Also, cheese spread and dips may be garnished with fresh flat parsley.
Curly leaf parsley has a crunchy texture, therefore it is ideal for adding to salads. Fresh curly parsley can be sprinkled over grated cheese in most salads or pasta dishes. Pasta and salads look more appealing and appetizing,and cooking with fresh parsley seems to bring out the flavor of most fresh vegetables.
Many cooks prefer to make homemade bread crumbs using cubed bread, olive oil, garlic, and parsley. This mixture makes an ideal coating for pork chops and veal or chicken cutlets. When preparing chicken or veal parmigiana, fresh parsley or parsley flakes may be sprinkled over the tomato sauce.
Fresh chopped parsley can also be added to homemade spaghetti sauce. Cooking with parsley when preparing pasta sauce or pizza sauce adds more flavor and texture to the sauce. When preparing a homemade Italian meal, garlic bread will typically be on the menu. After adding the garlic, butter, and olive oil, the homemade bread can be garnished with fresh parsley.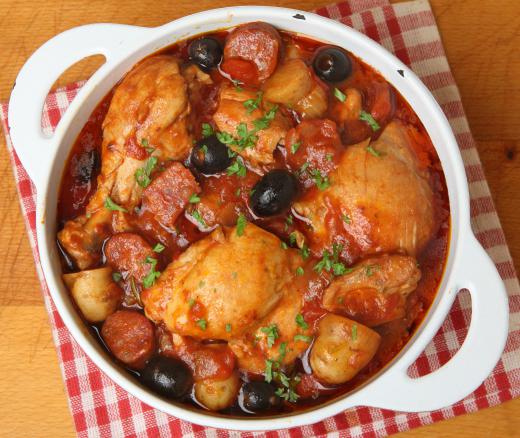 Flounder and other types of fish often look colorless on a dinner plate. Garnishing prepared fish with parsley flakes or fresh parsley leaves can add some color to the meal. In addition, fresh parsley is often added to tartar sauce. Breakfast foods can be enhanced by garnishing with fresh parsley as well. When preparing omelets with fresh onions and peppers, a sprinkle of parley on top can add the perfect touch.
AS FEATURED ON:
AS FEATURED ON:








By: alex555

Fresh parsley is commonly used to garnish food.

By: Studio Gi

Parsely can be included to help flavor chicken recipes.

By: Joe Gough

Chicken cacciatore sprinkled with parsley.