What Are the Best Tips for Food Hygiene?
Practicing proper food safety and food hygiene when cooking, storing, and preparing food is very important to prevent causing illnesses. In general, the rules are fairly simple and easy to remember, and revolve around avoiding cross-contamination. This can occur if a person does not wash his or her hands properly before handling food, for example, or allows cooked food and raw food to come into contact with each other. Another crucial aspect of food hygiene is to keep food at the proper temperature; i.e., food should be kept cold until cooked, then heated to the proper temperature for the correct amount of time to kill any bacteria or pathogens.
Food hygiene begins when first handling the food. It is important to always use clean hands and put food on cleaned surfaces. For instance, do not use a cutting board for one type of food and then immediately use it for another without washing it in between. This is particularly true if meal preparation includes raw meat or fish. It is very important to keep the raw meat or fish completely separated from all other foods until it is cooked thoroughly. Even when storing raw meats in the refrigerator, make sure they are sealed in isolated containers or located in such a place where they cannot drip down onto other foods.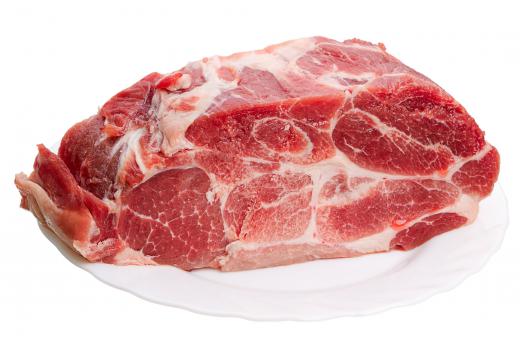 Do not leave foods out on the counter to defrost, and certainly do not run them under warm water, which can cause bacteria growth. This is very important for food hygiene as well. Instead, defrost frozen foods in the refrigerator, or run them under cold water. Then, immediately cook the food. It is important to ensure that foods are cooked at the proper temperature, and for the right amount of time, to heat them completely and kill any bacteria found there. Recommended cooking temperatures and times for different foods may be found online.
Safely storing food is another significant aspect of food hygiene. Again, prepared food should not be left on the table or counter, but should be stored in airtight containers in the refrigerator or freezer. Cooked refrigerated food typically does not last longer than a week, and that is really stretching it in some cases, so be sure to check and verify that the food is still safe to eat. Not following these rules for food hygiene can easily lead to instances of food poisoning, which can be dangerous or even deadly, so be sure to always be careful.
AS FEATURED ON:
AS FEATURED ON:








By: ra3rn

Using proper methods to defrost meat is important for food safety.

By: kornienko

Sanitizing a cutting board after it is used is an important part of food hygiene.

By: Photographee.eu

Discarding vegetables that have mold is an important food hygiene practice.

By: Николай Григорьев

Canned goods should be inspected to make sure they were properly sealed before their contents are eaten.

By: koosen

Leftovers may be placed in a resealable bag to keep them fresh.

By: Photographee.eu

Fruits and vegetables should be rinsed before eating.

By: xy

People who handle food should make sure to wash their hands regularly.

By: Lars Zahner

Food hygiene is important to prevent food poisoning.

By: michelaubryphoto

When bringing a sack lunch it is a good idea the use an ice pack so food stays fresh.

By: Jake Hellbach

Cooked food should be kept in sealed containers, not sitting open in the refrigerator.

By: sattriani

Keeping food warm is an important part of food hygiene for buffet restaurants.