What Are the Best Tips for Grilling Chicken Thighs?
There are several tips for grilling chicken thighs that can make the process easier as well as produce a tastier meal. One tip is to begin with equally-sized pieces whenever grilling chicken thighs. Another tip is to remove the excess fat and skin from the pieces prior to placing the thighs on the grill. A tip that aids in removing excess fat from the chicken as well as simplifies the task of cooking the meat thoroughly is to boil the meat prior to grilling chicken thighs. Other tips include lubricating the grill properly and seasoning the thighs before cooking.
Another tip that will aid in the equal and speedy cooking of the chicken is to allow the chicken to reach room temperature before grilling chicken thighs. This allows all of the pieces to begin cooking at the same time and saves cooking time as compared to bringing the thighs up to an even temperature on the grill. This will also allow all of the thighs to cook equally through instead of overcooking the smaller pieces and under-cooking the larger ones. If using barbecue sauce on the chicken, placing a sheet of non-stick aluminum foil on the grill grate will aid in the clean up process.
To avoid unwanted barbecue fires, trim the excess fat and skin off of the chicken before cooking. Thighs typically have a great deal of extra skin on each end of the thigh that can be removed along with a large quantity of fat. Left unaltered, this skin and fat can easily catch fire and ruin the grilled chicken. Another tip for removing this extra skin is to use a pair of kitchen shears to precisely cut the skin away, leaving an evenly trimmed thigh that adds continuity to the presentation.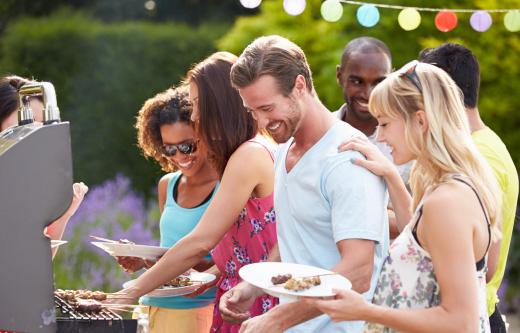 Boiling the meat before grilling chicken thighs will take away much of the unwanted fat and require less grilling time to finish cooking. The unwanted fat will melt away and can be easily discarded with the water when the thighs are done. This is also a good tip when preparing to grill a large quantity of food. The thighs can be boiled a day ahead of time, stored in the refrigerator and then brought back up to temperature by placing the meat on the hot grill. A tip to aid in grilling chicken thighs without sticking is to oil the grill with a light coating of oil before placing the thighs on the grate.
AS FEATURED ON:
AS FEATURED ON:








By: Bill

Extra skin may be removed using kitchen shears.

By: Monkey Business

When grilling chicken for a crowd, it's often best to choose a simple marinade that will appeal to diverse palates.

By: GraphicCompressor

Excess skin and fat on chicken thighs can easily catch fire in the grill and ruin the meat.