What Are the Best Tips for Making Opo Squash?
Opo squash is a long green vegetable that many people think tastes similar to a zucchini. Its skin is edible, as are the vegetable's seeds and stems. This squash can be served as a side dish and is a very popular ingredient in a number of Asian recipes. Popular cooking methods for this type of squash include grilling, roasting, baking, stir-frying, and stewing. The squash can be seasoned with a variety of items, and generally absorbs the flavors of other ingredients when it is used in a soup, stew, or casserole.
When making opo squash, the skin can be left on or peeled off, depending on personal preference. The squash can be cut into slices, sticks, or chunks before being cooked. The seeds inside the squash are edible, but they can be removed if desired. A ripe opo is typically light green in color and can be purchased year-round in most places.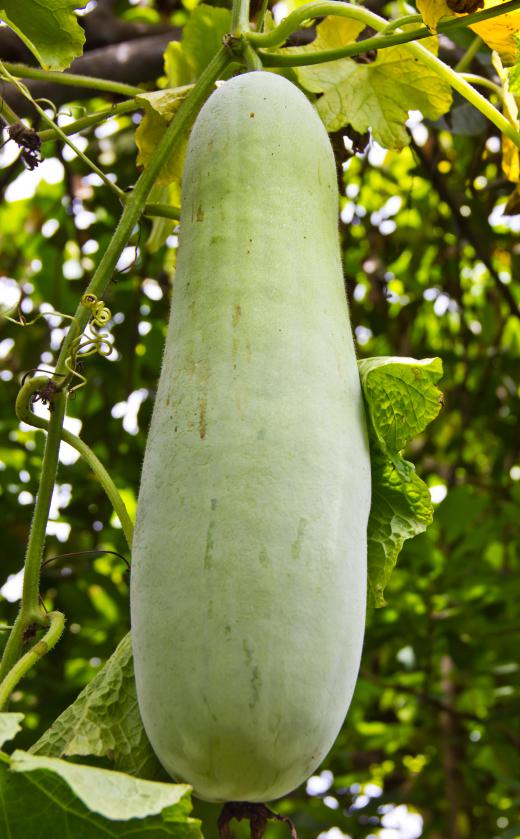 Roasting is an easy method for preparing opo squash. To do this, it should be cut into pieces and then brushed with olive or vegetable oil. Salt and pepper are typically used to season the squash, but other herbs and seasonings, such as garlic or oregano, can be used for extra flavor. The squash should be placed on a baking sheet or in a roasting pan, and cooked until tender. An interesting, similar way to make this type of squash is to cut it into thin sticks and bake them until crisp. These can then be eaten much like French fries, often with a dipping sauce.
Grilling opo squash generally results in a flavorful vegetable that has a smoky flavor. The vegetable can be skewered before grilling or cut into slices that are large enough not to fall through the grill grates. Cooking oil should be applied to the squash to prevent it from sticking. When properly cooked, the squash should be warmed through and slightly tender, while still having some crispness.
Opo squash is a very popular ingredient in many Asian dishes. These recipes may call for raw squash to be added to stews or casseroles, so it can cook in a sauce with other ingredients. Since Asian dishes tend to use many flavorful ingredients, the squash usually absorbs the other flavors. Opo squash may also be added to several different Asian soups. Another relatively quick way to prepare this type of squash is to stir-fry it with other vegetables in a wok.
AS FEATURED ON:
AS FEATURED ON:








By: jiggo

Opo squash is a popular ingredient in Asian recipes.

By: Popova Olga

Opo squash can be placed in a roasting pan and roasted in the oven.