What Are the Best Tips for Shopping for Vegan Groceries?
Shopping for vegan groceries can be a bit more challenging than regular grocery shopping, but it will become easier with practice. When going shopping for vegan groceries, it is a good idea to be prepared and to know specific foods to purchase, rather than simply browsing the aisles. Get ready to read labels as well, because certain foods that might appear to be vegan might still contain some animal products in the ingredients list, such as eggs or gelatin. Fortunately, many grocery stores now have entire sections dedicated to vegetarian or vegan products, now that this lifestyle is becoming much more mainstream.
One of the best ways to find a good variety of options for vegan groceries, however, is to shop at non-traditional stores. Supermarkets don't always offer the best selection of vegan foods. Instead, places like food co-ops or natural foods stores frequently offer the best selections of vegan foods, as well as organic choices. In addition, shopping at a farmer's market is a great way to get fresh vegan groceries, as well as to support the local economy and local agriculture. If all else fails, it is now possible to order groceries online, even fresh foods, and have them shipped directly to the home.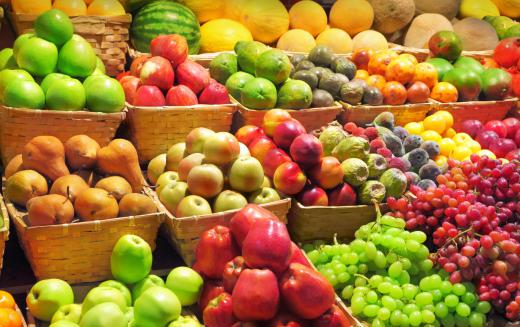 Aside from reading labels and being aware of what certain ingredients are when shopping for vegan groceries, it is important to look for a variety of products to ensure variety in the diet. Though many people simply stick to the produce and boxed or canned goods sections when searching for vegan groceries, many stores will now offer other options as well, sometimes in unexpected places. The meat section, for example, might include imitation meat products that are completely free of animal products, as well as the frozen food section. There are now vegan dessert options, breakfast foods, and other prepared and packaged meals available in the frozen food section.
It is a good idea also to search online for recipes that contain ingredients not commonly used. Searching for those vegan ingredients in grocery stores can help shoppers to discover new products and come up with new ideas for foods to cook. If local grocery or natural foods stores do not have these ingredients, searching for them online can also be helpful when looking for new foods. Vegan Internet forums and local organizations may also be very helpful sources of information and ideas.


By: monticellllo

Fruit and vegetables, which make up a large part of a vegan diet.

By: WavebreakmediaMicro

Vegans often choose to bake with produce that has been purchased at a farmer's market.

By: adisa

Food co-ops tend to have a good selection of vegan foods.

By: Kadmy

Vegans have to read food labels carefully to ensure they are not buying a product that contains animal products.