What Are the Best Tips for Tenderizing round Steak?
When tenderizing round steak, it is often helpful to break up the meat fibers by pounding the beef manually. There are special blends of spices that can be used while doing this, and an added bonus is that pounding the meat with a mallet can also help drive the seasoning deep into the steak. Some cooks like to marinade round steak with an acid-based sauce, as this tends to help break down the meat fibers and make them tender. Cooking round steak should be done on low heat, and a slow cooker is ideal for doing so.
Using a meat mallet is one way of tenderizing round steak. This device resembles a hammer, with the exception that it has tiny raised knobs on its surface. It is used by placing a sheet of waxed paper over the steak and then pounding the entire piece of meat with the device. To make sure the meat is completely tenderized in this manner, it can be a good idea to flip the steak over and then repeat the process.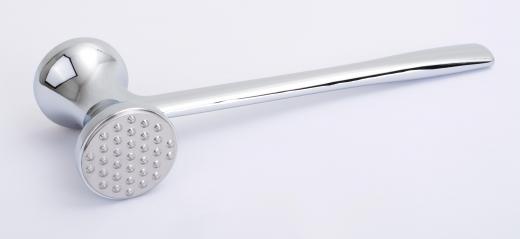 Some cooks like to add a commercial meat tenderizer to their round steak after they have used a meat mallet. For especially tough pieces of meat, the mallet may need to be used again. Doing so could also distribute the seasoning into the meat, as merely rubbing the round steak with meat tenderizer might only season the top of the meat. This seasoning could also be used for tenderizing round steak by sprinkling it over the meat just before placing it in the oven.
Several types of marinade can be used for tenderizing round steak, especially those that have a vinegar base. This is because vinegar tends to break up meat fibers and make them more tender. A number of seasonings could be added to a vinegar marinade, including garlic, seasoned salt, or onion powder. When preparing round steak in this manner, it can be a good idea to marinate the steak overnight because beef will generally become more tender the longer it is allowed to soak.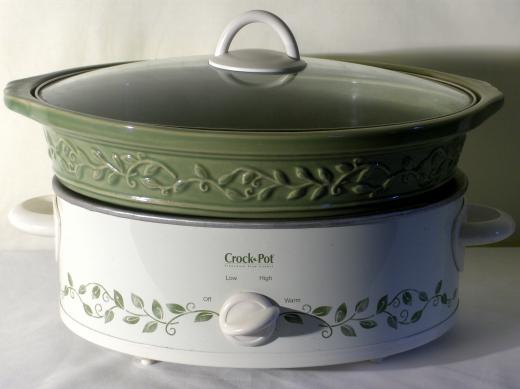 Regardless of which method is used for tenderizing round steak, it is very important to cook this meat very slowly. This is because cooking this steak on high heat could result in a finished product that is very tough and chewy. The best way to prepare these cuts of beef is in a slow cooker, but if one is not available, the meat can be baked or fried over very low heat instead.
AS FEATURED ON:
AS FEATURED ON:








By: VolkOFF-ZS-BP

A meat tenderizer, which can be used to tenderizer round steak.

By: Louella Folsom

Round steak is typically an inexpensive cut of beef which tastes best when it is cooked slowly.

By: Leticia Wilson

Many cooks recommend preparing round steaks in a slow cookers.