What Are the Different Types of Cans for Canning?
Basically, there are two types of cans for canning. These are metal cans and glass jars. Often, metal cans are associated with the kinds of cans for canning foods, but they require additional tools and aren't reusable. Since glass canning jars are reusable and don't require any extra tools except for replacement lids, more people choose them for their home canning needs. Although both types of are available online, glass jars typically are available at more types of offline stores than are metal cans for canning.
Since they actually have the word "cans" in their title, metal cans probably are the containers that most people associate with cans for canning. Unlike glass jars, metal cans pose no risk for breaking if they're dropped. Like glass jars, they can be used for canning both dry foods and heat-processed wet-packed foods.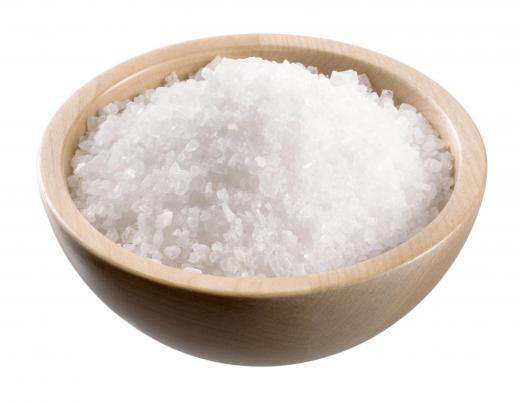 Yet, tin cans require lid-sealing equipment. This equipment requires a few extra steps that not everyone wants to deal with when conducting simple home canning. Most can sealers are designed to seal cans within certain size ranges, but not every size of can, which can pose problems for people who use various sizes of tin cans for canning. Too, can sealers present an expense not all people who enjoy canning at home are willing to pay. For example, depending on the can sealer, a customer may pay anywhere from a few hundred US Dollars (USD) to more than $1,000 (USD).
Thus, glass jars probably are the most popular container options for canning foods at home. Unlike metal cans, glass jars don't require any special equipment and the jars themselves usually are more affordable. Glass jars are reusable, as long as the person replaces the lids or uses clamp-style jars, which keeps costs down and satisfies environmentally conscious consumers. Too, when people use glass jars for preserving food, they can see inside the container. This feature allows them to not only identify the food inside, sometimes months later, but also check for any discoloration or other problems that can indicate spoiled food.
Due to the multitude of online shops that specialize in tools for preserving food, it's easy to purchase both glass jars and metal cans for canning. Yet, for those consumers without Internet access or who prefer to shop locally, it might be easier to purchase glass jars than metal cans. Most brick-and-mortar retail locations sell glass canning jars, and this is especially true of stores that don't specialize in tools for preserving food.
AS FEATURED ON:
AS FEATURED ON:








By: Viktor

Canning salt.

By: ChantalS

A canning jar of pickled cornichons.

By: natalyka

Many people choose glass jars for home canning.