What are the Different Types of Dehydrated Foods?
Dehydration is a process that involves the drying out of an item. This is sometimes done intentionally with certain foods to help preserve them. Sometimes it is done to produce an alternative flavor. There are several ways to accomplish this, such as sun drying or wind drying. Examples of dehydrated foods that can be produced by these methods include biltong, raisins, and dried fish.
There are many types of dehydrated foods. Some are associated with certain cultures. Others are widely consumed on an international level.
Meats are commonly dehydrated foods. Depending on the area of the world, the types of meat that are dehydrated can greatly vary. Examples include elk, ostrich, and pork.
Two examples of dehydrated meats that could be mistaken for each other include jerky and biltong. Both biltong and jerky can be made from the same meat, such as beef and deer. The difference lies in how these two dehydrated foods are made.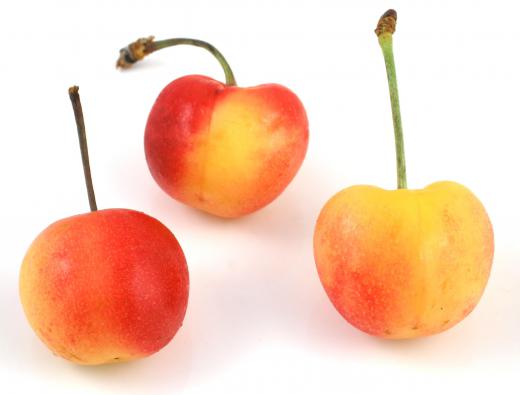 Jerky is generally cut differently and prepared with salt, spices, and heat. Biltong is often cut much thicker, includes vinegar in the preparation, and is dehydrated in cool conditions. Although jerky is common among many cultures, biltong is most associated with South Africa.
There are many dehydrated foods that come from the sea. For example, several types of fish are smoked and commonly used by people who often lack refrigeration in western Africa. In parts of the southern United States, dried salty fish called hake fish is commonly sold. People of Hadhramout, a place in Yemen, are known for their love of dried shark meat.
Fruits are commonly dehydrated by companies as well as homeowners. Some examples of commonly dried fruits include apples, apricots, and cherries. Oddly enough, some fruits even change names once they are dehydrated. For example, a plum becomes a prune and a grape becomes a raisin.
Methods for drying fruits include sun drying, oven drying, and using dehydrating machines. Dehydrated fruits such as bananas, peaches, and strawberries are often used in hot and cold breakfast dishes. Smaller dehydrated fruits such as raisins, cherries, and dates are often added to salads or used to create trail mix.
Vegetables are not as commonly dehydrated as meats and fruits. There are commercial sources that offer a variety of dried vegetables including pumpkin, carrots, and cabbage. These may be added to soups, stews and pasta sauces. Onions, celery, and peppers are three types of vegetables that are commonly dehydrated and marketed as spices.
AS FEATURED ON:
AS FEATURED ON:








By: Harris Shiffman

Dehydrating cherries concentrates their antioxidants.

By: Dionisvera

Raisins are dried grapes.

By: Thibault Renard

Apples can easily be dehydrated.

By: Malyshchyts Viktar

Apricots are a commonly dehydrated fruit.

By: sdubrov

A food dehydrator can be used to dry fruit.

By: Edward Westmacott

There are many dehydrated foods that come from the sea, including hake.

By: Volodymyr Shevchuk

Dried apricots and other forms of preserved fruit are made commercially and at home.

By: Leslie Seaton

Astronauts must bring dehydrated or freeze dried food into space.

By: satori

Jerky and biltong can be made from deer meat.

By: Bert Folsom

Freeze-dried fruits contain even less water than dehydrated fruits, although their nutrient content is similar.

By: andersphoto

Dehydrated celery is often marketing as a spice.

By: radomir54

A plum becomes a prune when it is dehydrated.

By: Christopher Bartlett

Residents of Hadhramout in Yemen love dried shark meat.